The former mayor of Paterson, Joey Torres, had committed to seeing the restoration of the stadium by the end of his term in 2018. He left office in 2017 and accepted a plea deal in response to charges of corruption. Further improvements to the stadium may come with the efforts to upgrade the area around the Paterson Great Falls National Historic Park.
Hinchliffe Stadium was named after Mayor John Hinchliffe, who made his fortune from Hinchliffe Brewing before it closed due to Prohibition. After the 1932 opening, for decades onward, the stadium's 10,000-seat capacity proved an instant draw for football, boxing, auto-racing, major track and field meets, and star-studded musical entertainment.
Hinchliffe Stadium was opened in 1932 as a schools stadium for the City of Paterson, primarily serving the athletic programs of Eastside and Central (now J.F. Kennedy) High Schools. However, other events frequently took place at the oval, including semi-professional baseball and football and even auto racing. Home team: New York Black Yankees, Negro National League (1936-37, 1939-45).
New Project – The Lost New Jersey Racetrack Project
By this has turned into an obsession. We keep digging and we keep finding more! Have one to share? Let us know (Post in comments section below)
Ironically, the stadium's first season also launched the twentieth-century New York-Metro area tradition of basing Big Apple sports teams in "Joisey." In fact, two New York Negro League teams, the New York Black Yankees & the New York Cubans, made Hinchliffe "home."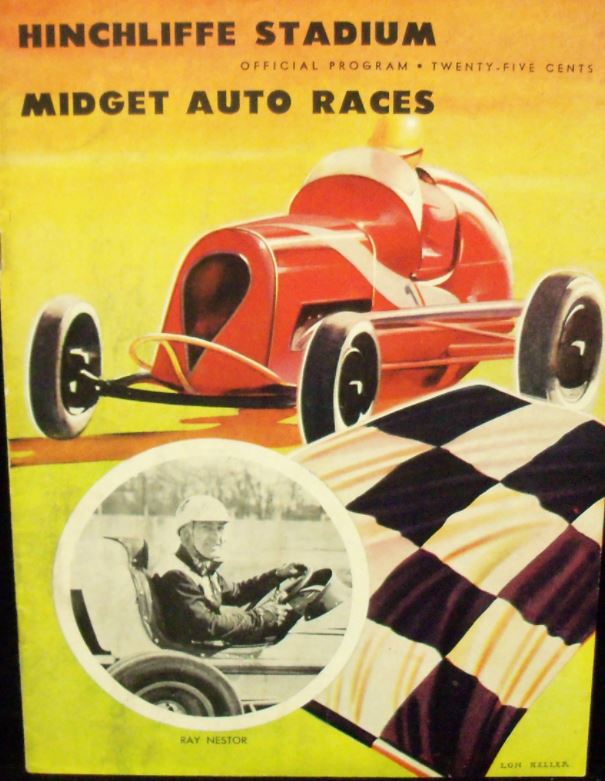 There are tons of venues that can support baseball, football, track and multi-use fields. But auto racing back at Hinchliffe? This would bring a unique urban appeal back to a grass roots track that was once a New Jersey icon.
Hinchliffe National Exposure
In an exploratory look at great racing cathedrals of the past, third-generation NASCAR champion Dale Earnhardt Jr. hosts a journey across the country to unearth the secrets of long-forgotten racecourses, now abandoned and overtaken by nature. In New Jersey, Dale Earnhardt Jr.'s crew treks to Hinchliffe Stadium, home to yesteryear's booming heyday of midget car racing. The episode is called CONCRETE PALACE ON THE PASSAIC (Season 1 Episode 5).
Additional Information
If you think it's time to bring racing back to New Jersey and Hinchliffe Stadium, get involved.
On March 15, 2013, Hinchliffe Stadium was officially added to the list of some 2500 iconic places nationwide considered NATIONAL HISTORIC LANDMARKS. On December 18, 2014, the stadium was included in the Paterson Great Falls National Historical Park.
New Jersey Mapped Tracks
Time for a roadtrip to go do your own search to tracks that have been lost in New Jersey. Send us your photos!