Known as The Race of Gentlemen, the event has been a resurrected event dating back to the 50s by a local club called the Oilers of New Jersey. For one weekend in early October, racers, gassers, and fans gather on the beach in Wildwood, New Jersey for one of only two instances of beach racing in the United States. The Mr. Local History Project takes a look at this iconic event and its history.
Tucked between the Atlantic Ocean and one of America's most popular boardwalks, the smells of cheasesteaks, french fries and pizza mix gasoline, roller coasters, water parks, and balloon games that bring a carnival feel to The Race of Gentlemen, a three day motorsports festival on the Wildwood beach.
Entrance to the beach were modified in 2021 to go thru Morey Piers, a legendary amusement pier on the Boardwalk that provides a more organized entrance to the event along with food and beverages for event goers improves the experience.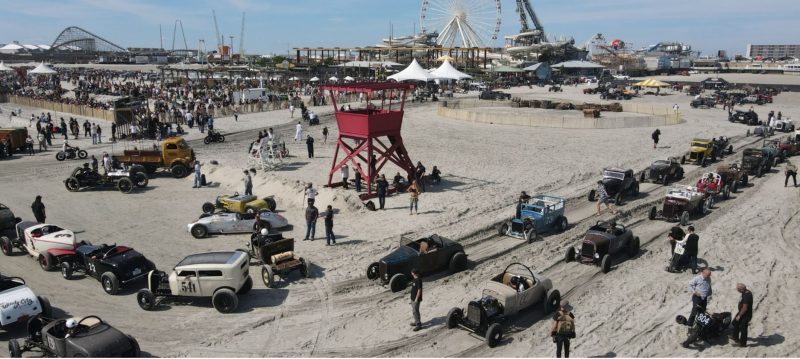 A crowd of almost 15,000 people make their way to Wildwood, New Jersey, America's doo wop capital, to compete or cheer not necessarily for any particular driver, but for the sheer joy of the experience of racing on the beach. Sponsored by The Oiler's Car Club of New Jesey, revived over the past decade by Mel Stultz, Michael Kliman, Tom Larusso and about 6 others, is carrying on the tradition that gets bigger every year.
The inaugural Race of Gentlemen was held in 2012 on the beach in Asbury Park, NJ, just days before Hurricane Sandy made landfall and became an instant classic. After the first run in Asbury Park, that beach has been Wildwood, New Jersey, as a move 100 miles south was necessitated by what Super Storm Sandy did to Allenhurst's Asbury park beach.
New Jersey Racing History
New Jersey has a storied tradition of beach racing, including an epic 1-mile beach race in Cape May during the summer of 1905. The exhibition featured the likes of Henry Ford, Louis Chevrolet and speed record holder Walter Christie. At the time, the Cape May beach was deemed the "finest racing beach" in the world.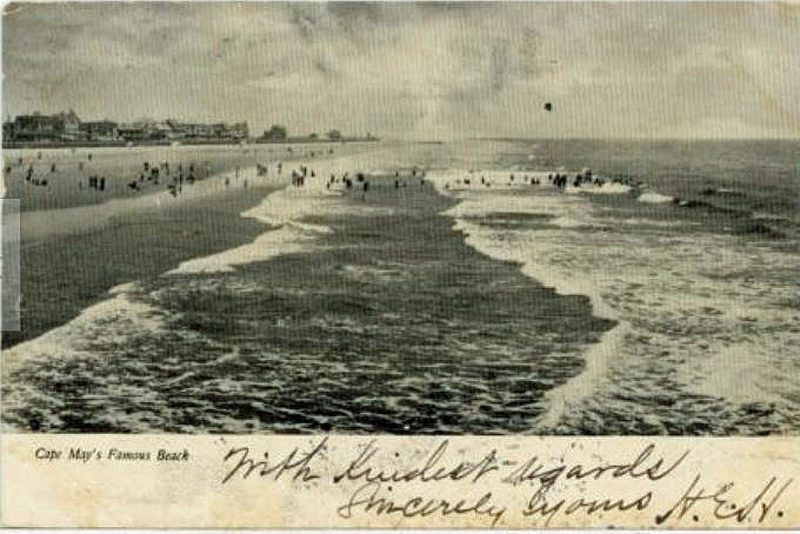 Only the famous Ormond Beach, Florida strip was considered better than Cape May for racing new machines on the beach. All eyes were on Cape May on August 25, 1905 when Henry Ford, Louis Chevrolet, A. L. Campbell, and Walter Christie and 25 other drivers/machines came to race for two trophies. The Cape May Trophy would be awarded for the best time over a straightaway beach course for one mile. The other cup ($500) called the Kilometer Cup would be awarded for the best time on the beach's kilometer course. The race, scheduled for July 29, 1905, was rained out and held the following day. Christie was victorious in his 8 cylinder, 180 hp Blue Flyer and took his great machine over the course several times. In these heats, the times were very close to the record and in three heats his time was 25.2 seconds or 90.72 mph. Finally, as the spectators and officials looked on, he was clocked at 25 seconds flat (89.28 mph) – a new kilometer record. The later August races were run in sub par conditions but as you can see below, traveling at over 90mph on a beach in 1905 is pretty darn impressive. Racers would move on to Atlantic City the following weekend.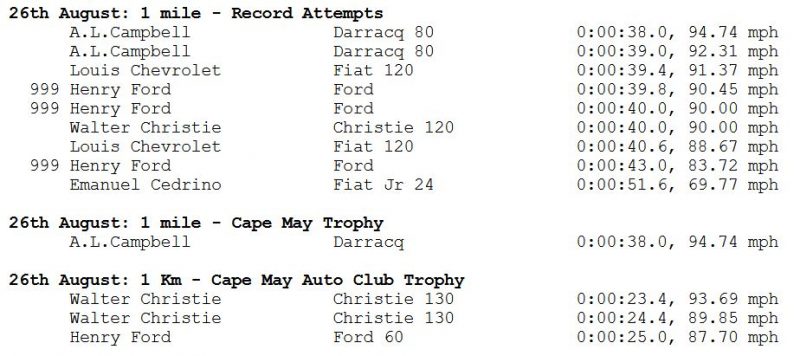 TROG Brings Racing Back to the Jersey Shore

To qualify for The Race of Gentlemen, all cars and motorbikes must be pre -1950s, each with accurate parts and tires from that era. "Two lanes, a flag girl in the center, and 1/8th mile of sand to prove you did something right to this car. 1/8th mile to race an Indian Chief against a Harley Knucklehead. 1/8th mile to see if that car you built in just enough time to put it on the line.
The crowd isn't your typical racing fans that you see at NASCAR and Indy Car events. "We are our own kind," said one attendee. "We love the feeling that this is our event, our way of life, and our people." Yes,known as the Troglodytes, they are indeed a unique breed. Let's just say you know when you see one. The great event kicks off on Friday with a welcome party on the beach called the Dance of the Troglodytes, an enduring term for the 50s-ish looking greasers from a bygone era. Vintage cars, motorcycles, dress ups and plenty of tattoos adorn the party goers.
"I've been a fan "beach racing for decades," says Brooks Betz of the Mr. Local History Project. "Many don't know that NASCAR got their start on the sands of Florida's Ormond Beach and Daytona Beach." This event takes you back to those days in every way and we should be honored to have such a great event on the Wildwood Beach."
Not Just For The Amateurs
If my memory is correct, we remember going back to 2016 when Jersey's own Ray Evernham showed up to TROG Wildwood to run the 1/8th mile in his 1924 Model T Roadster. But to his surprise, his pregnant wife Erin Mary Crocker Evernham also showed up for the race, and she took the Jersey legend down, not just once but a few times.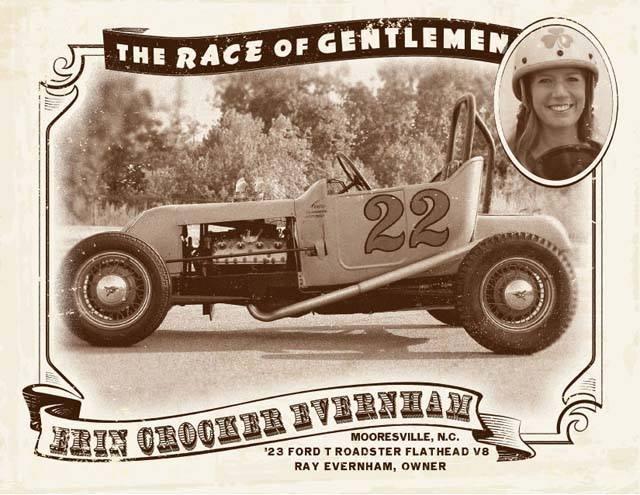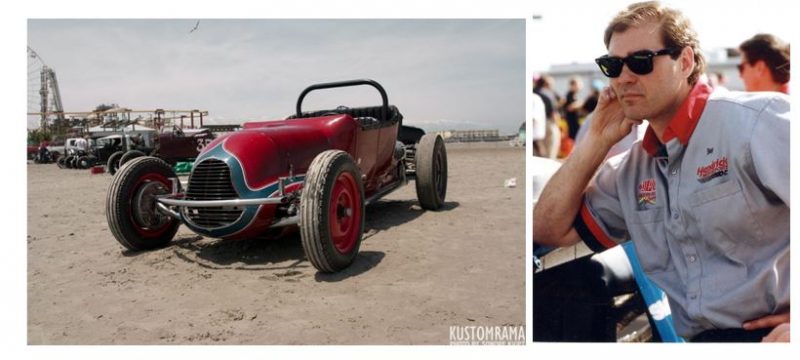 Aaron Kaufman of Gas Monkey Garage fame and his builders rushed in 2018 to get the Model A Dragster and Harley WLA ready for the Race of Gentlemen. But problems with the dragster threatened his chances. A show was created about the story called Wildwood Or Bust .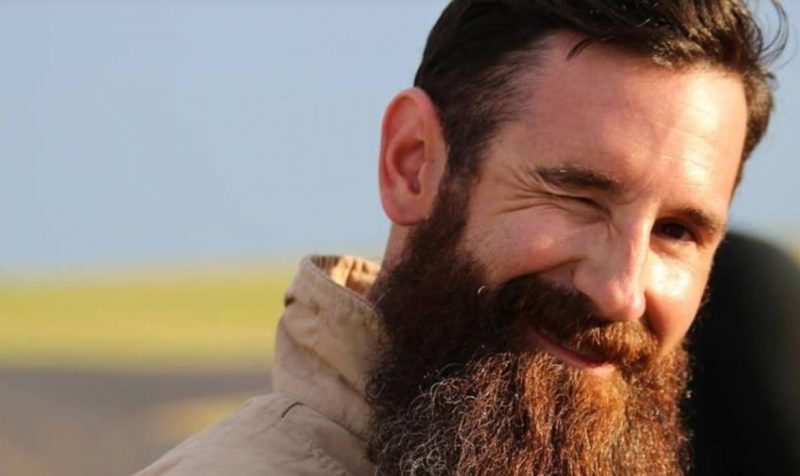 The Oilers Car & Motorcycle Club
"The Oilers Car Club was founded in 1947, by five guys returning from World War II. They dreamt, not only of girls while they were away, but of speed. They were a bunch of guys that were interested in going fast, and trying to figure out ways to go faster. One of the founders names was Jim Nelson– he plays cards with a gentleman named Robert Genat– he puts out a book called "The Birth of Hot Rodding." Many don't know that Jim Nelson helped Wally Parks form the NHRA.
In 2010, the keys to the club were handed to Meldon Van Riper Stultz III, a Jersey Shore native who, with his colorful crew of vintage car and motorcycle revivalists, now stage the TROG events in Wildwood, New Jersey and Pismo Beach, California.
What Happened to the Wall of Death?
Those who attended earlier TROG events were given a true legendary treat known as the Wall of Death, a death defying activity where stunt cyclists would enter a 12 foot high wooden barrel and grab money from onlookers at the top of the structure while spinning around the barrel at 30mph. "And these weren't tiny motorcycles, they were full blown Indian motorcycles! Watch the video below and tell us that these guys aren't crazy. Truly nuts! But we loved it!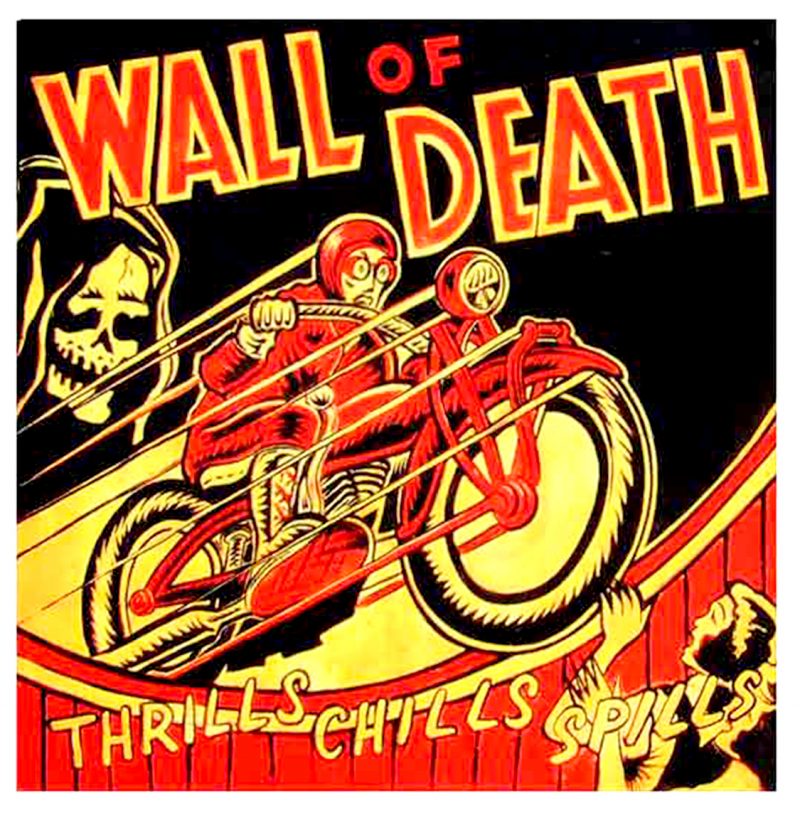 Rhett Giordano is the ringmaster. While his two assistants stand in the center, Giordano rides around the Wall of Death — sometimes with no hands, on the tank, and he even does powerslides — in jeans, a t-shirt and helmet-less. The danger is the entertainment. Giordano knows it; he also loves it. Watching him ride around on a wall parallel to the ground is amazing, and I bet it's even more incredible to actually do it. Face it: sometimes to have the most fun in life, you have to put safety in the rearview and say, "fuck it."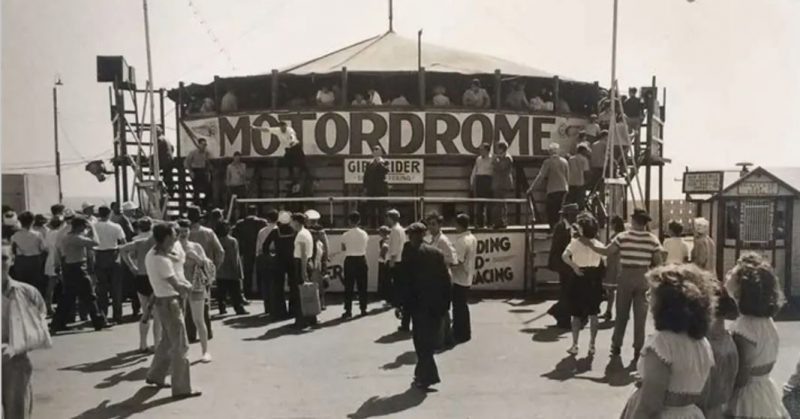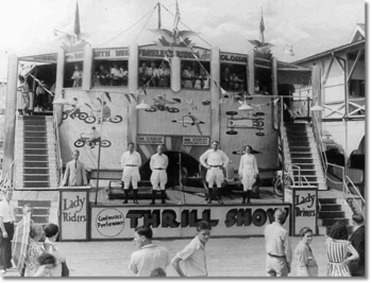 Mel Stultz Sums it Up
Stultz, who grew up in Keyport, but now resides in Neptune summed it up well,"Part of what makes the event special is a mindset of not taking oneself too seriously, and that extends from the organizers to the entire TROG community," said Stultz.
"Entrants come from all over the world and represent varying professions, though many maintain at least some aspects of this retro culture in their everyday lives. Babies play in the sand while septuagenarians congratulate millennials on keeping the scene alive."
MLH TROG Photo Gallery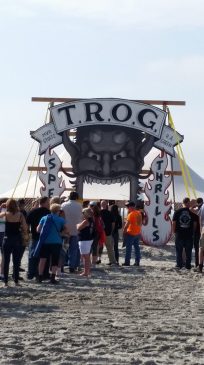 Wanna Race?
2022 TROG "Competition" Car Specs
Year: Car bodies must be 1934 or older, American made only.
Engine: American made 4 cylinder and V8 flatheads up to 1953. OHV 1949-1954
Fuel: Gas only, NO ALCOHOL OR NITRO!
Running gear: 1953 and older. No modern transmissions, disc brakes, alternators, etc.
Wheels & Tires: No 15 inch wheels. 16, 17 & 18 inch only. No widening of wheels, stock only. No aggressive knobby or paddle tires. No wood T wheels, no stock A wheels
Paint: Period paint that emulates the early days of racing. No late model graphics, No vinyl stickers or emblems, etc. Cars can be shiny, primed or have old paint. No sponsorship/advertising allowed on cars or bikes without written consent. 3 number maximum. Do not letter your car until you receive your approved number.
ALL cars must have a modern 5 point harness. Black or dark green with the modern tags removed.
All car racers need a DOT half helmet dated within the last 7 years.
Cars must have visible race numbers. 3 number maximum for race numbers. Paint, white masking tape or shoe polish.
No headlights,
No white wall tires unless pre-approved by TROG or aggressive tread,
No Fenders on hot rods (some very early-teens racers and speedsters may be exempt but must be pre-approved).
No stock body sedans, or closed cab pickups unless heavily modified!!
Vintage reproduction parts are accepted. i.e.; frame rails, intakes, cylinder heads, ignition systems, Stromberg carb's, etc. Converted 12 volt generators are ok, no alternators.
Absolutely no fiberglass bodies.
VINTAGE STYLE ROUND OR SQUARE ROLL BAR IS NEEDED ON ROADSTERS. NO CAGES, JUST LIKE THE ORIGINALS. When sitting, the roll bar needs to be 2 inches over the drivers head with a helmet on.
Additional Stories