Those who follow the Mr. Local History Project know that we also love Jersey food and iconic food outlets. Along with the grand ethnic diversity comes food concoctions that over the years have become iconic Jersey staples on the Jersey food scene. One of those food concoctions started in an upstairs apartment in Newark, New Jersey way back in the 1930s and is still being made by the family business. We introduce you to Jimmy Buff's and the Italian hot dog. We'll start with the sandwich first, then move to how it all happened.
---
UPDATE:
Order your very own keepsake of Jimmy Buff's, keepsake number 25 of the New Jersey Historic Wooden Village Collection
---
The Italian Hot Dog
First known as the "Newark Hot Dog" the sandwich quickly caught on and became simply the "Italian Hot Dog." The Italian hot dog (or sausage) goes inside a quarter of a large Italian pizza bread roll. Mustard is spread on the inside of the roll before adding the dog/sausage. The dog is traditionally cooked in oil and then topped with fried onions, peppers and chip-style potatoes.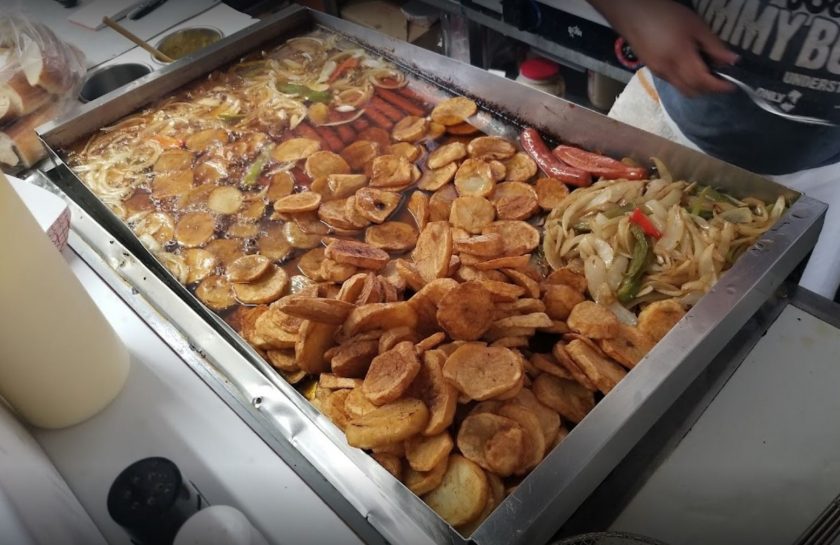 Pizza bread is not something you can readily find in New Jersey anymore. With so many processes to create the perfect pizza bread, we've always relied on our friends at Sorrento Bakery in East Hanover and Nicolo's Italian Bakery in Montclair.
And not that you need another tie back to Newark, but there is, and it's the critical ingredient; the hot dog. At Jimmy Buff's, they've been using Best brand hotdogs from Best Provisions since Best's started. Founded in 1938, Best Provision of Newark have been used at Jimmy Buff's since their beginning. Back then, hot dogs ran 25 cents/pound. Started in a Newark basement, their butcher shop quickly grew and still brings their quality products to market across the country.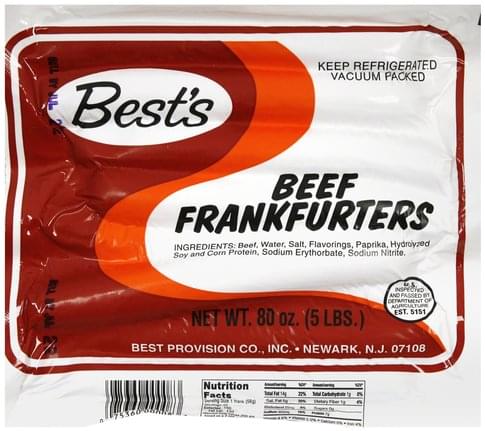 Best's Provisions never shuts down during the week; there is always meat to be prepared, chilled, cooked and delivered. At the small retail counter, closed only on Sunday, all-beef hot dogs, skinless and natural casing, beckon. You know the old-timers and hot dog doyens by their coded language — W8, for the eight-to-a-pound hot dog once sold at Woolworth's; B11 for the 11-to-a-pound dog sold at Bambergers. Best's is a true Newark institution.
Originators of the Italian Hot Dog
Jimmy Bluff and his Wife Mary – 1930s
We start off our story with a brief introduction of our two key personalities, Mary and James (Jimmy) Racioppi. Pronounced "ra-CHEE-oh-pee" of 4th Street in Newark, New Jersey. The two were married and living in an apartment with a basement in what was known as Newark's West Side where many fellow Italians settled prior to World War II.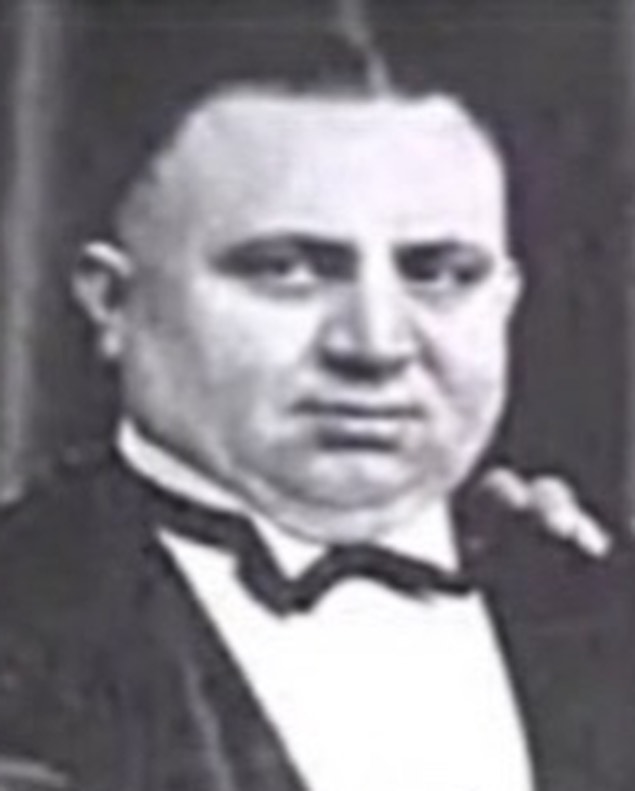 This part of the story has been well documented as it was known that Jimmy Racioppi enjoyed playing cards at this home. His wife Mary would often heat up the frying skillet in the kitchen and prepare her custom made pizza bread sandwiches on a 1/2 loaf, insides pulled out and inserting two fried hot dogs, fried onions and peppers, topped with fried sliced potatoes and mustard. Safe to say they haven't changed much over the years thanks to the family entrepreneurial spirit.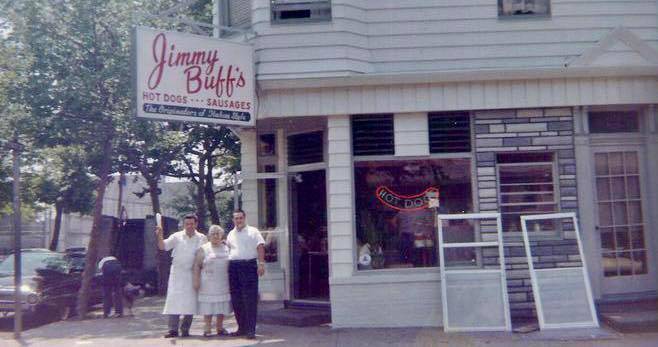 The Jimmy Buff's Expansion Years
The ancestors of the creator of the Italian Hot Dog continue to serve up Italian hot dogs every day. Over the years, Mike Loikith says that about twenty locations came and went as his great-grandfather and grandfather passed away, but his cousins Jimmy and Tommy still run a West Orange location and Loikith owns the Kenilworth store.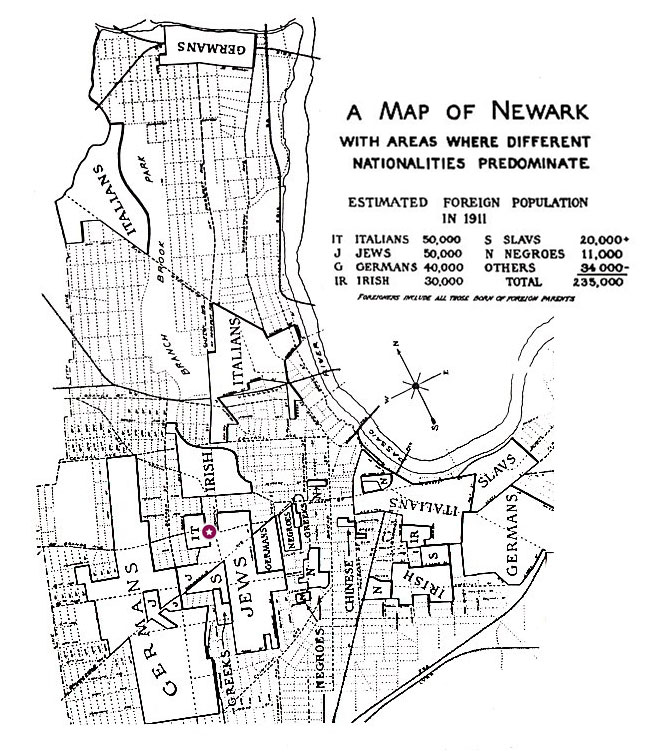 Today, there are two Jimmy Buff storefronts in New Jersey. We thought it'd be fun to note some of the notable storefronts over the years. You can see that most of the stores were opened in Essex and Union Counties and tie to the lineage of two families; the Racioppis and the Loikiths.
1932 – 1974 Newark – 202 14th Ave. & 9th St. in Newark, NJ in the Rutgers University Hospital section. The area was so affected by the Riot's of '67 that James made the decision to sell the landmark store.
1960 – Current; West Orange – 60 Washington Street West, West Orange, New Jersey
2010 – Current; Kenilworth – 506 Boulevard, Kenilworth, NJ 07033 – Jimmy Buff's of Kenilworth was originally on Michigan Avenue and then sold to Charlies Hot Dogs. Mike Loikith then reopened on the 506 Boulevard in Kenilworth and lives nearby in Cranford. The original 1932 Jimmy Buff's sign hangs in the restaurant.
Jimmy Buff's locations that have closed but are not forgotten. If anyone has any photos or stories from any of the closed stores, Mr. Local History would love to hear from you.
1963 – 2007 Irvington – 4 Elmwood Ave & Springfield Ave. Irvington, New Jersey
2000 – 2012 East Hanover – Castle Ridge Plaza, 354 NJ-10, East Hanover, New Jersey 07936
1980-1986 – N. Plainfield – 855 Route 22W
1986 -2012 Scotch Plains – 2881 US Hwy 22 W Scotch Plains, NJ 07076
Others: 1019 S. Orange Avenue, Newark (Upper Vailsburg), North Arlington – 390 Belleville Pike (Closed 1999), Pinebrook, Randolph, Prudential Center, and Caldwell.
o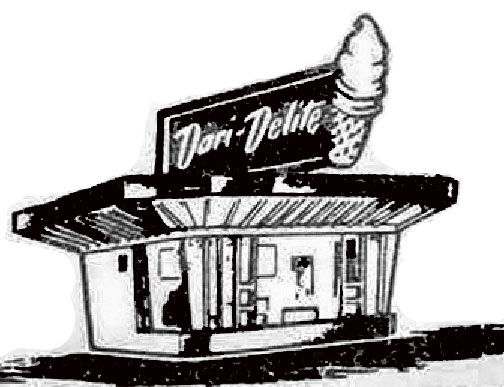 As word spread about Jimmy Buff's Newark hot dog creation, other players started joining the hot dog market. Buff's didn't stand still with a single location and began to expand their operations across what Jerseyans call central New Jersey. As many Newark residents moved west, opportunities in Essex, Morris and Union Counties were targeted. So the obvious call was to head out west via Springfield Avenue and US Route 22 to new fertile Jersey hot dog locations where you would later find new Jimmy Buff's locations.
Click any image to start slideshow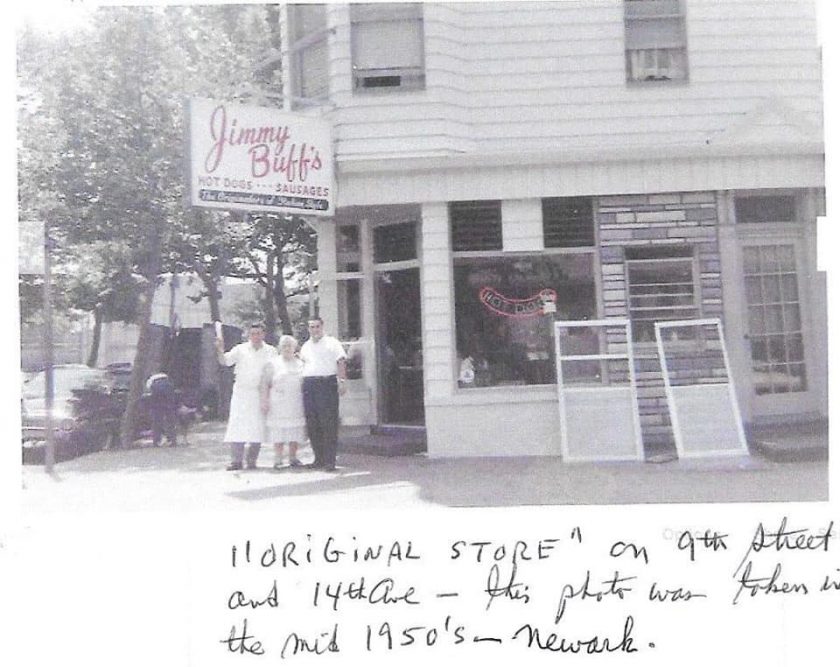 At the Kenilworth location Loikith orders about two thousand hot dogs per week and while that's his bread and butter for the business, he also offers, cheese steaks, chicken fingers, veggie sandwiches and burgers too.
In W. Orange, a little known fact; over 2,000 pounds of potatoes are cut up for the Italian hot dogs every week. That's a ton of potatoes every week!
The Jimmy 'Buff' Family
While the Italian hot dog originator goes to Mary & James Racioppi, we have generations of the Racioppi and Loikith families to thank.
West orange is owned by Jimmy's son Tom Racioppi. Kenilworth is owned by Jimmy's cousin Mike Loikith. The tent catering is Tom's also. Jimmy himself is retired and regulated to social media duty (his own words).
Click any image to start slideshow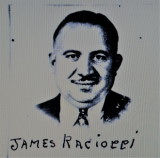 90th Anniversary – August 1, 2022
On August 1, 2022 it was a really hot summer day in West Orange but that didn't matter. To honor the exact opening day of the first store in Newark 90 years ago, the Racioppi family met their friends, family and customers at their West Orange and Kenilworth locations to celebrate 90 years and four generations as a family institution. For the day, for each Italian hot dog purchased, customers were allowed to purchase up to four additional sandwiches for just a nickel. Reporting back with photos, the West Orange Jimmy Buff's had a line around the block for the entire day.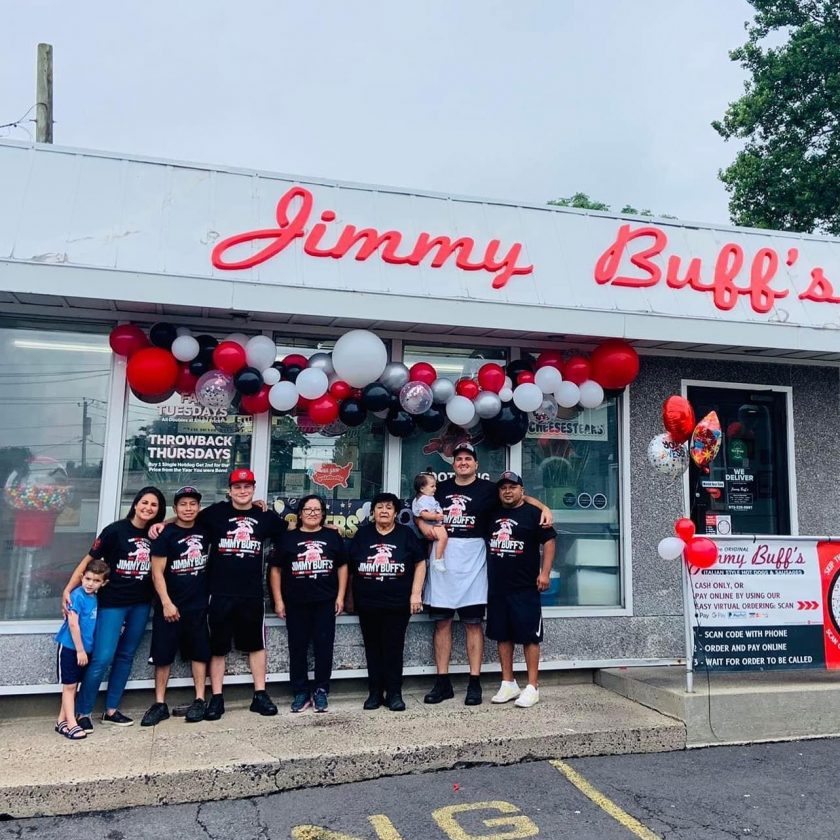 Favorite Story
We often like to ask "what's the best story you remember while working the store." Jim took a moment and said he had a few and would get back to us. And then it hit him. You know, Marc and Scott Kelly are one of West Orange's most famous residents. The pride of Pleasantdale Elementary School in West Orange, Captain Marc Kelly is a naval aviator who has traveled to into space four times, including voyages on the Space Shuttles Discovery and Endeavor. He was a pilot and a commander, leading his teams on missions to the International Space Station. Kelly's twin, Scott, is currently aboard the ISS as part of a year-long study to determine whether travel to Mars may be possible (the trip to Mars would take three years). NASA will study both brothers upon completion of the study, to help determine the effects of extended space travel. The Kelly brothers also attended Roosevelt Middle School and graduated from Mountain High School in 1982.
"Do you remember those astronauts that went into space from West Orange years ago? Gimme a second…..ah yes; Marc and Scott Kelly, the NASA twins that were up in the space station. Well they come into the store to the counter and they handed me one of my Jimmy Buff's t-shirts and said 'this is for you.' Thinking to myself why are these guys giving me my own t-shirt? Then Scott said, 'Do you know, I took this shirt onto the ISS space station where it stayed for 256 days' and now I want you to have it. I was blown away.

Now that's some Jimmy Buff's love.

Jim Racioppi
Jersey Humor and the Italian Dog
Remember that Jimmy Buff's is a Jersey institution and it comes with all the humor, attitude, and swagger that makes Jersey, well, Jersey. You can take the person outta Jersey, but you can't take the Jersey outta the person. That includes a Buff's Italian hot dog. One of the best fun stories includes Orange, New Jersey's heavyweight boxer "Two Ton Tony Galento". It's a known fact that Tony Galento has the record for Italian Hot dogs eaten in one sitting – 6 doubles and 6 singles.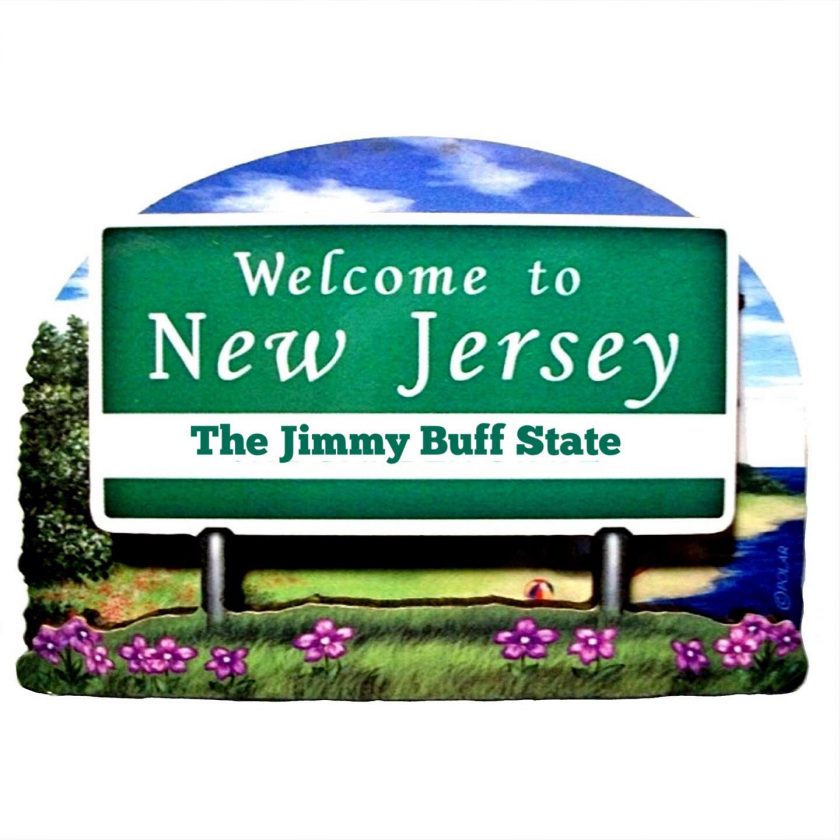 Media Accolades
Over the years there's been many television and media showcasing what should be regarded as the "Official Hot Dog of Jersey." Jimmy Buff's has been showcased on Rachel Ray, Travel Channel, Man v. Food, Diners, Drive Ins and Dives. Road Food, New Jersey Monthly, and Zagat's.
Side Story – Why No Ketchup on a Italian Hot Dog
We found that the side story at Jimmy Buff's is not uncommon at other hot dog eateries. It seems that there's a reason why ketchup is not just a no-no on hotdogs, it's downright bad for the sandwich.
Jimmy Faruggia, who opened Jimmy's Red Hots in 1954 on the west side of Manhattan, believed ketchup was used to cover up the rotten taste of spoiled meat. He maintained his hot dogs were too fresh to be covered up – and Jimmy's has never offered ketchup since it opened. Like the signs at Jimmy's say: don't even ask!
Apparently no less an authority than National Hot Dog & Sausage Council, the official trade association based in Washington, DC, agrees. It has codified the rule in their paper on "Hot Dog Etiquette and everyday guidance for eating America's sacred food". There it is in black and white "Don't use ketchup on your hot dog after the age of 18."
Nobody drove home the point more profoundly than Dirty Harry. In the film "Sudden Impact", Clint Eastwood, playing San Francisco detective Harry Callahan, a.k.a. Dirty Harry, appearing at a crime scene, blows his top while watching a cop munching on a hot dog:
"Nah, this stuff isn't getting to me, the shootings, the knifings, the beatings, old ladies being bashed in the head for their social security checks… Nah, that doesn't bother me. But you know what does bother me? You know what makes me really sick to my stomach? It's watching you stuff your face with those hotdogs. Nobody, I mean nobody puts ketchup on a hot dog."

Dirty Harry
Comments/ Story to Share?
Have a comment or Jimmy Buff's story to share? There's a comment section at the bottom of this story
---
Like elite athletes at their peak, our history journalists are highly trained in the art of digging up history. It takes skill, endurance and and pure will typing to deliver interesting stories of the life and times of the great history in New Jersey and the areas you love.
And that all costs more than just our time and energy. So we're asking you to support us with more than your attention.
If you enjoy reading stories like these from our volunteer writers, please make a contribution today.
You'll help power the dedicated team behind this story and hundreds of others like it.
And your contribution is TAX DEDUCTIBLE as we are a IRS recognized 501C-3 non-profit education charitable organization.

MORE Jersey "Classic Foodie" Stories