Help map New Jersey (and surrounding areas) Historic Schoolhouses! It's growing everyday – and it's FREE.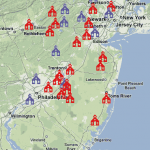 A great new mapping effort. We're looking for people to post information regarding any old one room type schoolhouses that you know of in and around New Jersey.
Using Google Maps in a collaborative effort, it is the intention to create a workable map whereby all historic schoolhouse preservation efforts, program efforts, and build an online network of New Jersey historic schoolhouses.
If you know about a school, please feel free to post a comment to the blog. Feel free to reach out to others via the comment section as well. You can also feel free to post or update a location on the map directly. We're busy posting as many of the schoolhouses that we know and hope it continues to grow.
TELL YOUR FRIENDS! PASS IT AROUND.
In partnership with county and local historical societies, sometime in 2009, the Historical Society of the Somerset Hills will be sponsoring a historic schoolhouse symposium. Check their website for updates.
Not on the list – just add a comment to this post with your info and it'll be added.
Name (put build date and schoolhouse name)
Address
URL to your site (if you have one)
Curator/Executive Director -Contact Info
Brief History
PER-REQUISITES
Schoolhouse should be at least 100 years old.
One Room Schoolhouses only.
If the schoolhouse is PRIVATELY OWNED – please note! All so far on the list are publicly owned/operated.
Feel free to write if you have any questions/comments/suggestions.
Historic New Jersey Schoolhouse Listings:
(County/Year/Schoolhouse/City)
Bergen 1873 – Ridgewood Schoolhouse Museum Ridgewood, NJ 07450
Bergen 1893 – Lyndhurst One Room Schoolhouse Lyndhurst, NJ 07071
Burlington 1759 – Old School House – (Oldest in NJ) Mt Holly, NJ 08060
Burlington 1792 – Friends Schoolhouse Burlington, NJ
Burlington 1800's – Billy K. Haines Schoolhouse Vincentown/ Burlington, New Jersey 08088
Burlington 1809 – Little Red Schoolhouse Mickleton, New Jersey 08056
Burlington 1812 – Chesterfield School Maple Shade Twp, NJ 08052
Burlington 1852 – Clara Barton Elementary School Bordentown, NJ 08505
Burlington 1857- Cross Key School Medford, NJ 08055
Burlington 1870 – Smithville School Eastampton, New Jersey
Burlington 1890 – Friendship School Tabernacle, NJ 08088
Burlington Little Red Schoolhouse Willingboro, NJ 08046
Cape May 1874 – Dennis Twp Little Schoolhouse Dennisville, NJ 08214
Essex 1784 – Newark One Room Schoolhouse Newark, NJ 07102
Hopewell Junction – Harbourton School1513 Harbourton-Rocktown Road,Hopewell Township, NJ
Hunterdon 1840- Cold Brook School Readington, NJ 08885
Hunterdon 1860 – Red Mill Museum & Bunker Hill Schoolhouse Clinton, NJ 08809
Hunterdon 1869 – Oak Summit One Room Schoolhouse Frenchtown, NJ 08825
Hunterdon 1889 – Pleasant Valley Schoolhouse Lambertville, New Jersey
Mercer 1840s-Griggstown Schoolhouse Griggstown (Princeton), NJ 08540
Mercer Hamilton Township, NJ
Middlesex 1800 – Smallytown School – East Jersey Olde Towne Village Piscataway, NJ 08854
Middlesex 1807 – Old Franklin School Metuchen, NJ 08840
Middlesex Rutgers University – Curriculum Development New Brunswick, NJ 08901
Morris 1830 – Stone German Valley School Long Valley, NJ 07853
Morris 1867 – Montville Schoolhouse Montville, NJ 07045
Morris 1869 – Washington Valley Schoolhouse Morristown, NJ 07960
Morris Parsippany-Troy Hills Schoolhouse Parsippany-Troy Hills
Northampton, PA 1880 – Lutz Franklin School Hellertown, PA 18055
Ocean 1860 – Lacey Schoolhouse – Historical Museum Forked River, NJ 08731
Ocean 1885 – Gifford Scholhouse
Philadelphia 1775 – Concord School House Germantown, PA 19144
Somerset 1809 – Brick Academy Basking Ridge, NJ 07920
Sussex 1840 – Price's Switch Schoolhouse
Sussex 1853 – Roseville Schoolhouse Museum Andover, NJ 07821
Union 1865 – Watchung Two Story Schoolhouse Watchung, NJ 07069
Warren 1869 – Port Colden Elementary School Washington, NJ 07882