Thinking of living in Basking Ridge? Why are people moving to Basking Ridge, New Jersey you ask? Contrary to the typical stereotypes, New Jersey has a lot to offer. Those who look at Basking Ridge, known formally as Bernards Township also typically look at Princeton, Madison and Westfield. So for those out-of-towners and out-of- staters considering these towns, this article is for you.
Situated about 35 miles west of New York City and 50 miles northeast of Philadelphia, PA, there are a number of reasons why Basking Ridge (Bernards Township) has matched or surpassed comparative towns like Madison, Princeton, and Westfield. Basking Ridge has become top ranked for a combination of reasons, notably by keeping taxes lower than Union and Morris County rates, yet providing one of the best public school systems in New Jersey (and nationally). The number one reason to live in Basking Ridge – Quality of Life, the combination of low taxes, less traffic, less people on top of you, good sense of community – you get the point.
Nestled in the middle of New Jersey's pharma and telecom areas, residents are privileged to be supported by area companies such as United Healthcare, Verizon, AT&T, Merck, Pfizer, Sanofi, Daiichi Sankyo, Memorial Sloan Kettering, Affinity Credit Union, J&J, EMC/Dell, UBS, Morgan Stanley, Fiserv,
Fedway Associates Distributors (liquor) just to name a few.
Basking Ridge is Part of Bernards Township
Basking Ridge, New Jersey is part of Bernards Township in Somerset County, New Jersey. Bernards Township has a wide variety of living options ranging from condo communities to sprawling 4-5 acre properties surrounded by orchards and working farms. The vast options in quality of life living separate Basking Ridge from the others. For those who don't know, traffic isn't an issue. Westfield has Route 22 madness, Mendham the Route 24 gridlock, and Princeton has the 202 nightmares. Comparatively speaking, Basking Ridge is a few clicks down on the aggression scale. It's just a calmer area to live in. Lower cost housing alternatives are more prevalent in Basking Ridge and Princeton. You want older homes, go to Princeton. McMansions with land – more in Basking Ridge. McMansions without land – more Westfield and Madison.
What Realtors Can't Tell You
With everyone fearful of litigation, Realtor's have gone silent when it comes to really giving you the lowdown on a particular community or neighborhood. Since Realtors are so bound by confidentiality agreements and threats of lawsuits, they often can't tell you what you really want to know. Questions ranging from "How many square foot is this house?" to What's this community like? e.g kids, crime, pedophiles etc" – they can't tell you those things. The Internet can only tell you so much. So let's see give it a try and give you some non-politically correct insight. Princeton is a very liberal town, followed probably by Chatham, Mendham. Westfield and Bernards Township rate about the same – conservative. Westfield is heavily catholic, but there's a very large Jewish community there as well. Basking Ridge – Protestant, yet has a very large Asian (including Indian) community with its heaviest concentration in "The Hills" section of the township. –
Township Identity
Each town has their unique identity. Westfield's a great town to walk around and eat. So's Madison. Shops are more mall like in Princeton and Westfield. Princeton – great town to walk/shop – but it's pricey. Madison pricey. Basking Ridge – modest shopping areas. Food shopping – don't expect much in all towns. Westfield goes to Shop Rite in nearby Garwood. Basking Ridge residents go mostly to Kings in nearby Bedminster, Kings/Shop Rite in Bernardsville, or Wegmans in Bridgewater. Madison – hit the Trader Joe's in Chatham or the Kings. Mall shoppers don't fret. Short Hills and Livingston support Westfield / Madison. Bridgewater Mall supports Basking Ridge. Quaker Bridge supports Princeton – all pretty much the same distances from town centers (5 or so miles).
Every town has it's identity. In fact, when you get to talk to the locals and really start to understand a township, then you can start to understand why people from out of town chose to live there. Princeton is great if you want a University town (Madison slightly with FDU & Drew). Westfield's best attribute is it's downtown. Mendham is good if you like to live near Springsteen's #1 fan (Gov. Christie) but the Union County tax base is ridiculous. Chatham is just a solid town but still in Morris County and subject to high taxes – but still not as high as the tax rates in Union County. Basking Ridge's #1 quality is it's Quality of Life.
New Jersey Monthly (2017) ranked Basking Ridge (Bernards Twp) 5th in New Jersey as one of the Top 20 Best Places to Live in New Jersey. (Chatham – 2nd, Westfield – 34th, Madison- 40th, Princeton-42)
US News & World Reports ranks Ridge High School 12th in New Jersey and 318th in the nation. (Chatham 8th (181 nationally ), Princeton -9th and 230th – Westfield 29th and 770th – Madison was un-ranked in 2018 for not taking NJ Tests)
Why Basking Ridge Ranks as Best Choice
Top 10 Reasons to Live in Basking Ridge, New Jersey
School System Rankings

Ranked 3rd in NJ – "Ranking America's High Schools" issue by The Washington Post, the school was ranked 3rd in New Jersey and 220th nationwide – 2011.
Ridge High School was ranked 194th in US , the second-highest in New Jersey, in Newsweek Magazine's 2010 rankings of America's Best High Schools.
National recognition in Forensics (Debate)
Ridge High School ranked 12th in New Jersey – 2010 NJ Monthly – NJ Monthly.
Part of the Skylands Conference in Sport – competitive in Lacrosse, Ice Hockey, Football, Cross Country

Lower Taxes (Township & County)

Lower than Union, Morris, Mercer counties.
Volunteer Fire and Rescue keep costs down
2019 – The combined tax rate for municipal and local library services is projected to rise from 32.8 cents per $100 of assessed property value last year to 33.3 cents per $100. That equates to $333 per $100,000.

Community – There is a great sense of volunteerism and community spirit. The community has a spirit that gives this town its greatest quality.
Business / Employment – US Healthcare, Optum, Verizon Wireless, Daiichi Sankyo, Affinity Credit Union all call Basking Ridge their home.
Space: Highest percentage of 4-5 acre properties throughout the township (vs. other towns).

Bernards Twp is also about 25 square miles so it has room for farms, orchards, business, condos, "The Hills"
Space (Parks/Sprawl)
Bernards Twp is 25 sq miles vs. the others which are about 6 square miles.

Downtown: Three downtown areas to support Bernards Twp:

Basking Ridge (Northern)
Liberty Corner (Southern)
Lyons (Central)
Nearby – Pluckemin(south western end) and Martinsville (southern end)

Transportation:

Rail-town – Railway to NYC and Hoboken
Route 78 and Route 287 nearby
Situated between Phila and NYC
Peapack -Gladstone Rail line – direct service to Hoboken (PATH to WTC) – Monthly rail cost: $15 each way,$436 monthly (almost double since our original post -$230) for Basking Ridge to NYC (Penn Station, NYC). $133/weekly.
Bus Service is also available. (Lakeland Bus Company)

Low Crime – that's a given – all the towns have relatively low crime.
Bernards Township was ranked 42nd among the 100 safest cities in New Jersey on the National Council For Home Safety And Security's list of the 2019 Safest Cities in New Jersey on alarms.org.
Basking Ridge had one violent crimes and 117 property crimes from 2016 and 2017, giving the town a violent-crime rate of 0.037 and 4.298 property crimes per 1,000 people.
For 2019 – The combined tax rate for municipal and local library services is projected to rise from 32.8 cents per $100 of assessed property value last year to 33.3 cents per $100. That equates to $333 per $100,000 which is the lowest of the three.
Demographics
Want to know every known demographic known to man? Each of the links below will give you just about everything you need to perform a statistical analysis.
Interestingly enough, each town has relatively similar demographics (see individual links for high level overviews) hence probably why people compare each area when making a consideration to move.
Statistically speaking, Bernards Twp betters the rest with higher rated schools, lower taxes, and open space. But your particular demographic might need something else. From a race perspective, all towns lead with white at top at 80-90% except Princeton at 66%. Asians / Hispanics are second/third in all areas. Basking Ridge and Princeton range 15-20% for Asian.
Population Growth
Regarding crowding, many people that grew up in Basking Ridge prior to AT&T choosing the town for its headquarters, it has clearly seen the largest population growth since 1950. But as you can see, it's still the least densely populated township out of the four.
Bernards Township, NJ Population: 1950 / 7,487 – 2018 / 27,205 (1,113.6 per square mile)
Princeton, NJ Population: 1950 / – 2018 / 31,386 (1,893.0 per square mile)
Madison, NJ Population: 1950 / 10,417 – 2018 / 16,522 ( 3,767.9 per square mile)
Westfield, NJ Population: 1950 / 21,243 – 2018 / 29,881 ( 4,512.2 per square mile)
Religion
Based on demographics, while each town has worship of just about every denomination, below is the ranking of religion in each town (by faith):
Basking Ridge – Protestant/Catholic/Methodist
Westfield – Protestant/Jewish/Catholic
Madison – Catholic/Protestant
Princeton – Catholic/Muslim
Additional Information
The Besties – All the Best in the Somerset Hills
For anyone moving to the area, check out our post about the best places to get just about anything in the Somerset Hills area of northern Somerset County.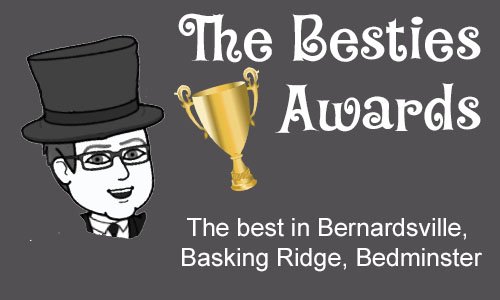 Demographics
| Bernards Two – Demographic | Town | National |
| --- | --- | --- |
| Population | 27,205 | 272,334,966 |
| Median Age | 37.13 years | 33.93 years |
| Median Household Income | $93,946 | $40,985 |
| % of Single Households | 37.39% | 30.22% |
| % of Married Households | 62.61% | 69.78% |
| % Families | 70.72% | 69.40% |
| Avg. Household Size | 2.42 people | 2.58 people |
| % College or Higher | 59.76% | 26.46% |
| % White Collar | 82.53% | 55.54% |
| Homes Owner Occupied | 79.84% | 57.72% |
| Avg. Dwelling Size | 6 rooms | 4.5 rooms |
Local History
How many areas have their own coloring book! Basking Ridge now does. It's called Somerset Hills History Coloring book – Great for the kids to learn about the history of the area. Learn More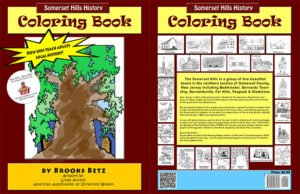 Updated: February 2019