Boy this has turned into an obsession. We keep digging and we keep finding more and more racetracks that were once in New Jersey! Have one to share?
The Mr. Local History Project is a non-profit organization that picks up on great local stories in New Jersey. The Lost New Jersey Racetrack-Racers Project is to shine the light on the great motorsports history in New Jersey. For example, did you know there was actually a 1.5 mile wooden oval built in New Jersey to rival the Indianapolis Motor Speedway? True. Did you know that they used to race inside negro league stadiums in New Jersey? True again.
Join us as we map every track and gather like minded people on Facebook to share their stories before we lose them forever!
Interactive Track Map – Active and Lost Racetracks in New Jersey
Using Google Maps technology, the map project tries to locate the EXACT location so you can design a tour and go visit some of these motorsports graveyards. Many are still there hiding in plain sight.
Make sure you understand the colors on the map. Red means "active", Black represents "Lost" and Yellow is either a "Wooden" racetrack OR it means we have found the general location and are looking for additional details on the location.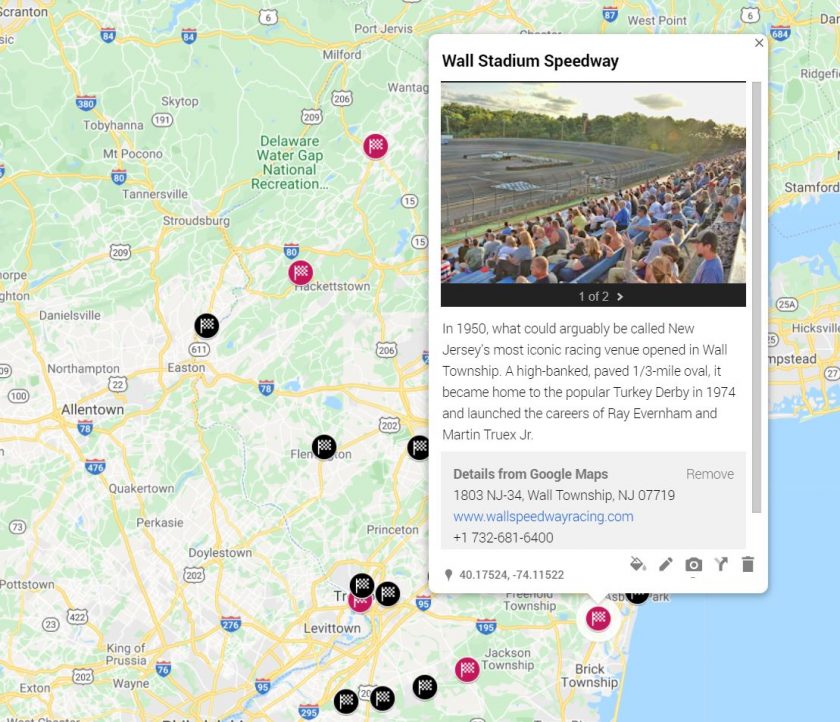 Join the Conversation on Facebook
In addition to the interactive map, there's a new Facebook public group called "New Jersey's Lost Racetracks-Racers" where like minded people can gather and discuss all things motorsports of the past from the great state of New Jersey. Open to anyone with a Facebook account.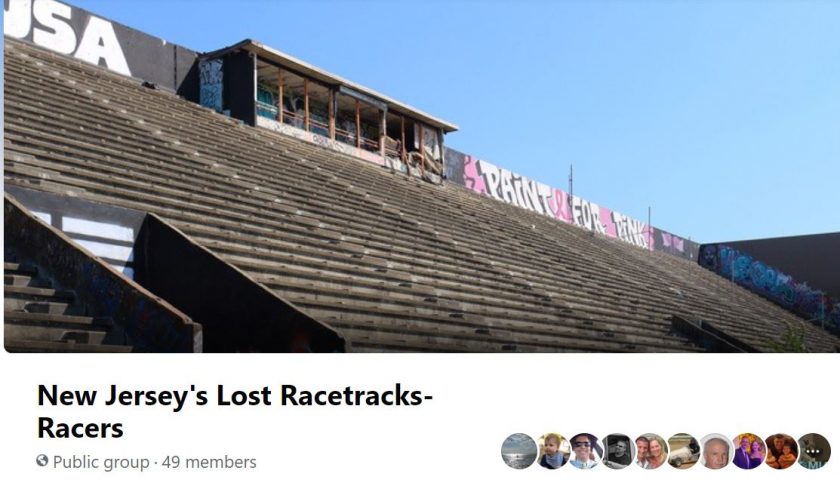 New Jersey Lost Track Videos
You keep posting, and we'll keep sharing. Lot's of great historic videos.
New Jersey Racetrack Map Addition/Correction Form
[contact-form-7 id="12782″ title="Contact form With Attachment"]
New Jersey Track List
(Alphabetical)
1. – Airport Speedway – Pennshawken, New Jersey – Dirt Oval
2. Lost – Alcyon Speedway – Pitman, New Jersey – ½ mile dirt oval
3. Lost – Arneys Mount Speedway * – Mt. Holly, New Jersey – Drag Strip, 1/4 mile Dirt Oval
4. Lost – Asbury Park High School Stadium – Asbury Park, New Jersey – Oval
5. Active – Atco Speedway * – Atco, New Jersey – 1/3 mile dirt oval, ½ mile paved oval, Drag
6. Active – Atlantic City Boardwalk Hall – Atlantic City, New Jersey – 1/5 mile concrete Indoor Oval
7. Lost – Atlantic City Speedway (Amatol) (Wood) – Hammonton, New Jersey – 1.5 mile Wood Oval
8. – Bayonne Speedway – Bayonne, New Jersey –
9. Lost – Brainards Raceway * – Harmony, New Jersey – 5/8 mile dirt oval
tri-oval, Drag Strip
10. Active – Bridgeport Speedway – Swedesboro, New Jersey – 5/8 mile dirt oval
11. Lost – Camden Convention Hall` – Camden, New Jersey – indoor concrete oval
12. Lost – Cape May Court House Fairgrounds – Cape May, New Jersey – ½ mile dirt oval
13. Lost – Capital City Speedway – Trenton, New Jersey – 1/5th mile dirt oval
14. Lost – Clark Township Speedway – Clark, New Jersey – 1/5 mile dirt oval
15. Lost – Corson's Speedway – Corson, New Jersey – Dirt Oval
16. Active – CURE Insurance Arena – Trenton, New Jersey – Indoor Oval
17. Lost – Delaware Twp. Speedway – Deleware Twp., New Jersey – 5/8 mile dirt oval
18. Lost – Dover Speedway – Dover, New Jersey – ½ mile dirt oval
19. Lost – East Windsor (Hightstown/Airport/Acella) Speedway – East Windsor, New Jersey – ¼ mile paved oval
20. Lost – Englishtown Raceway – Old Bridge, New Jersey – Oval
21. Lost – Essex County Speedway – Newark, New Jersey –
22. Lost – Flemington Fair Speedway – Raritan, New Jersey – 1/2 mile dirt oval, 5/8 paved oval
23. Lost – Flemington Speedway * – Flemington, New Jersey – 5/8 mile dirt oval, Paved Road Course, Drag Strip
24. Lost – Freehold Raceway (Approximate) – Freehold, New Jersey – ½ mile dirt oval
25. Lost – Garfield Stadium – Long Branch, New Jersey – 1/5 mile cinder oval
26. Lost – Harmony Raceway – Harmony, New Jersey – 5/8th dirt tri-oval
27. Lost – Heightstown Speedway – Heightstown, New Jersey – 1/4 mile paved oval
28. Lost – Hinchliffe Stadium – Paterson, New Jersey – 1/5 mile cinder oval then paved
29. Lost – Ho Hok Kus Speedway – Ho Hok Kus, New Jersey – 1/2 mile dirt oval
30. Lost – Ironbound Stadium – Newark, New Jersey – 1/5th mile Paved Oval
31. Active – Island Dragway * – Great Meadows, New Jersey – Drag
32. Lost – Linden Airport * – Linden, New Jersey – 2.0 mile paved road course, Drag Strip
33. Lost – Lodi Municipal Stadium – Lodi, New Jersey – 1/5 mile paved oval
34. Lost – Long Branch Municipal Stadium – Long Branch, New Jersey – 1/4 mile paved oval
35. Lost – Manahawkin Speedway – Manahawkin, New Jersey – ½ mile paved oval
36. Lost – Manville Airport * – Manville, New Jersey – Drag Strip
37. Active – Meadowlands Sports Complex – East Rutherford, New Jersey – 1.8 mile paved road course
38. Lost – Miller Municipal Stadium – West New York, New Jersey – 1/5th mile dirt oval
39. Lost – Morristown Speedway – Morristown, New Jersey – 1/2mile dirt oval
40. Lost – Mount Holly Fairgrounds – Mount Holly, New Jersey – Dirt Oval
41. Active – New Egypt Speedway – New Egypt, New Jersey – 7/16 mile clay oval
42. Active – New Jersey Motorsports Park – Millville, New Jersey – Road Course
43. Lost – New Market Speedway – South Plainfield, New Jersey – 1/2mile dirt oval
44. Lost – Nutley Velodrome (Wood) – Nutley, New Jersey – Oval
45. Lost – Olympic Park Stadium – Irvington, New Jersey – 1/2 mile stadium oval
46. Lost – Pine Brook Speedway – Montville, New Jersey – Oval
47. Lost – Powell / Pleasantville Speedway * – Pleasantville, New Jersey – ½ mile dirt
oval, Drag Strip
48. Active – Raceway Park – Old Bridge, New Jersey – Motorcross, Go Card, Street
49. Lost – Raceway Park – Englishtown Drag Strip – Old Bridge, New Jersey – Drag Racing, Jr. Drags
50. Lost – Roosevelt Stadium – Jersey City, New Jersey – Oval
51. Lost – Rupert Stadium – Newark, New Jersey – Paved Oval
52. Lost – South Orange Bowl (Wood) – South Orange, New Jersey – Oval
53. Lost – Strato Rods Raceway * – Wrightstown, New Jersey – Drag Strip
54. Active – The Sussex County Fairgrounds
– Agusta, New Jersey – Demolition Derby
55. Lost – Trenton Speedway – Hamilton, New Jersey – 1/2 mile dirt oval, 5/8 paved oval, 1.5 mile kidney
56. Lost – Trenton Speedway – Trenton, New Jersey – ¼ mile dirt oval
57. Lost – Tri-City Cinder Track – Newark, New Jersey – Cinder Road
58. Active – TROG -The Race of Gentlemen – Wildwood, New Jersey – Drag, Sand
59. Lost – Vailsburg Motordrome – Newark, New Jersey – Oval
60. Lost – Vineland Speedway – Vineland, New Jersey – Road Course
61. Active – Wall Stadium Speedway – Wall, New Jersey – 1/3 mile Asphalt Oval
62. Lost – Wildwood Motordrome – Wall of Death (Wood) – Wildwood, New Jersey – Oval
63. Lost – Woodbine Airport* – Woodbine, New Jersey – Drag Strip
64. Lost – Woodbridge Speedway (Wood) – Woodbridge, New Jersey – Wood Oval, dirt oval