The Mr. Local History Project is going to find out what were the most loved businesses that we lost in the Somerset Hills over the last fifty years. Follow the fun with hashtag #hgoat.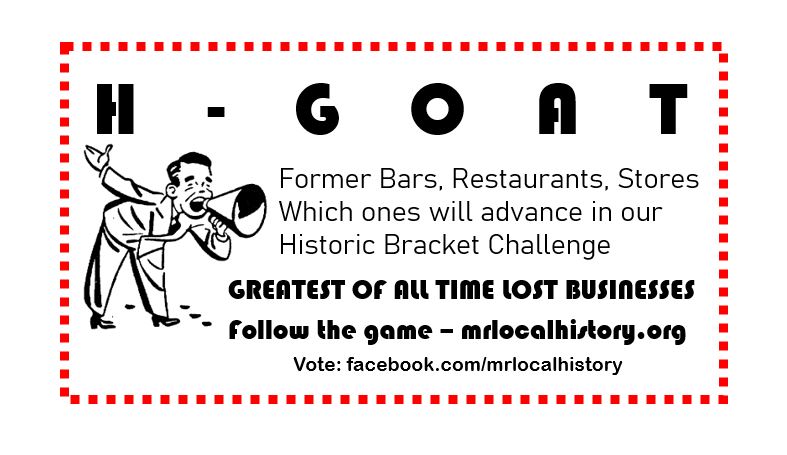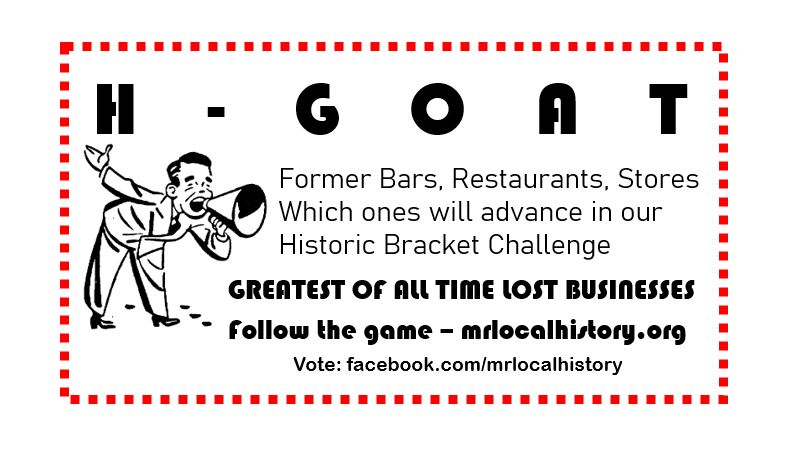 CHAMPIONSHIP – FRIDAY, MARCH 13
CONSOLATION MATCHUP – THURSDAY, MARCH 12
THE FINAL FOUR – WEDS-FRI MARCH 11-13, 2020
ELITE ROUND OF 8 STARTS MONDAY NIGHT, MARCH 9, 2020
SWEET 16 ROUND 3 STARTS SATURDAY, MARCH 7, 2020
ROUND 2 STARTS WEDNESDAY, MARCH 4, 2020.
ROUND 1 COMPLETE MARCH 3, 2020 – The field is cut in half. We are down to 32.
VOTING STARTS FEBRUARY 27,2020.
VISIT US ON OUR FB PAGE AND VOTE! – Click Here
You can always jump in and vote.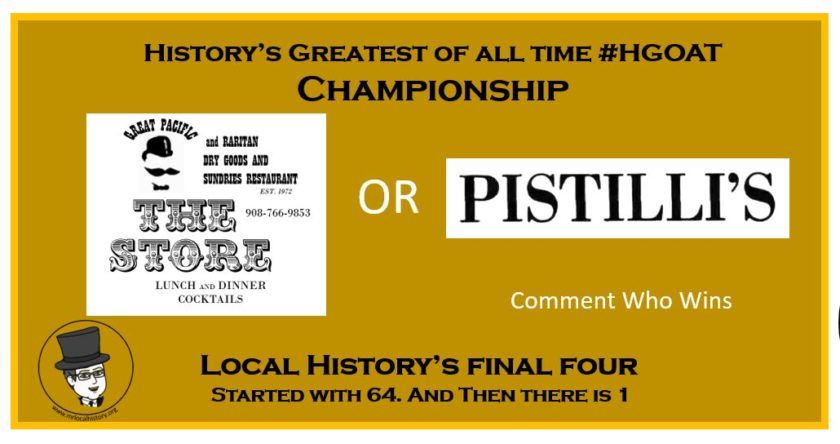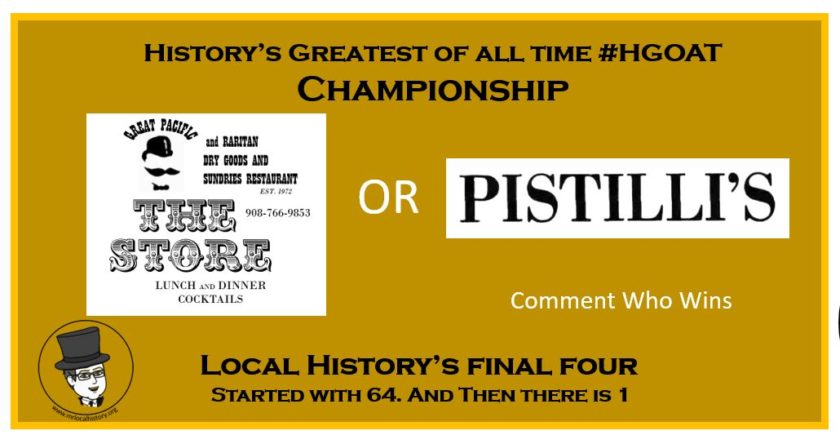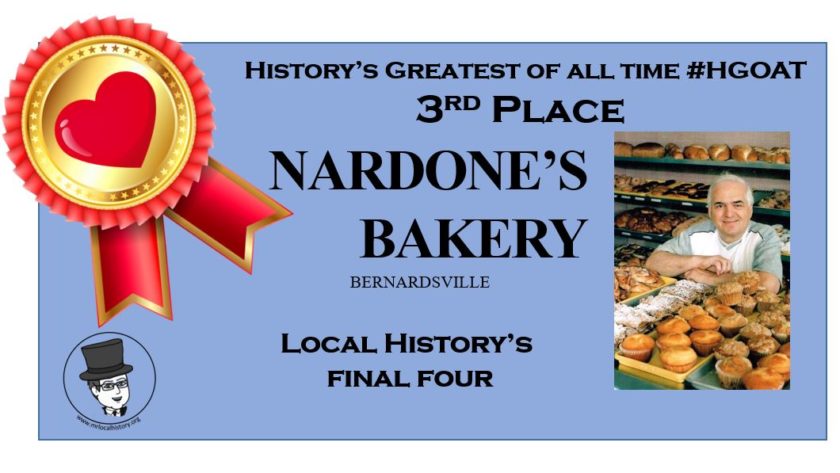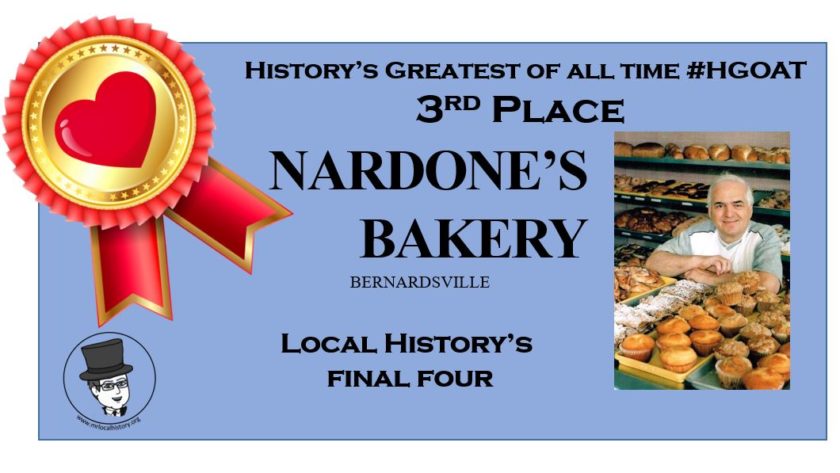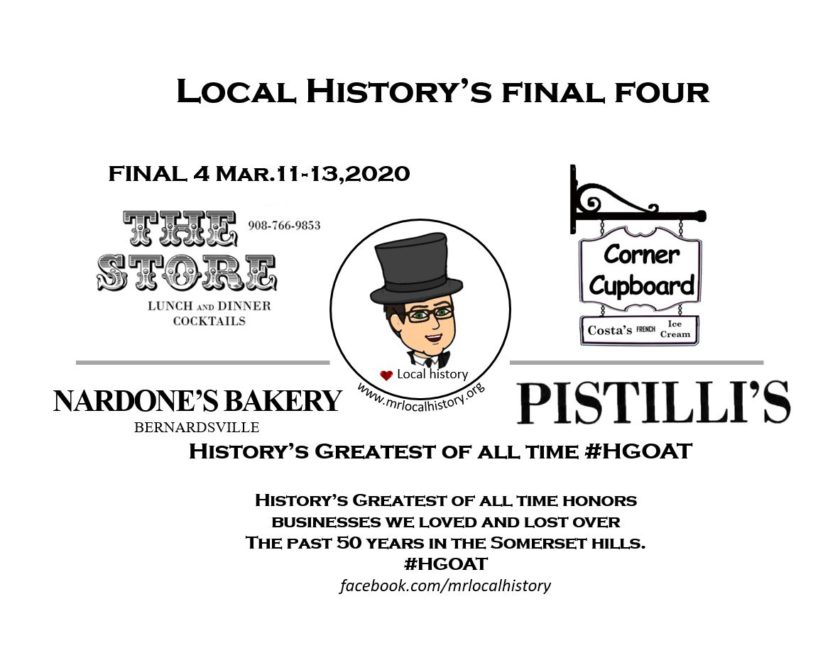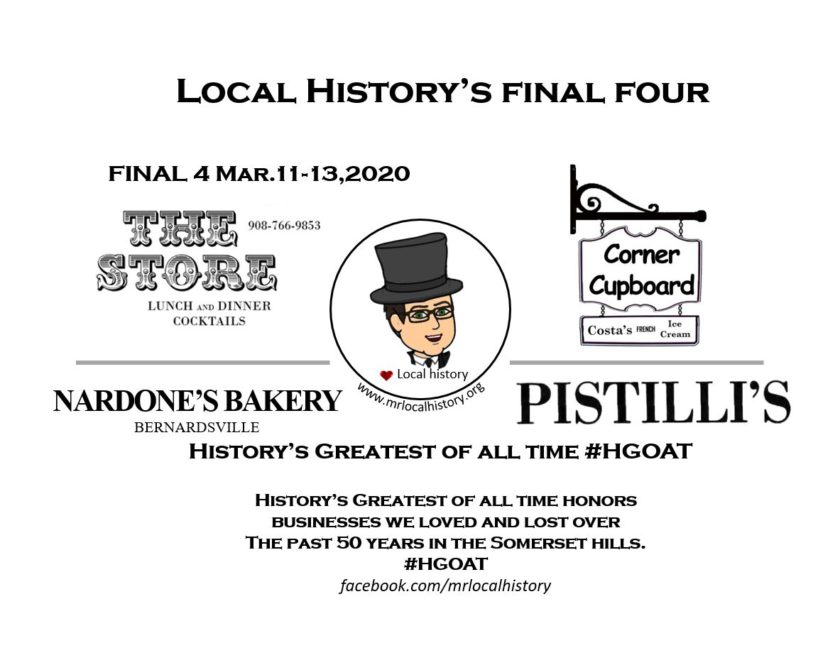 How They Got to the Final Four #HGOAT
We've reached out to the public to identify a good majority of businesses that are no longer around but all remember. The MLH Project is going to post business against business where you get to vote. The winner will move on. Some of you might have heard a similar "battle of the bands" on the radio where you vote for one of two choices. One moves on to compete in the next round against the another previous winner, as the rest fall off the list. We'll continue until the brackets are complete and we have a winner.
Voting will take place on our Facebook page. If you don't have Facebook you can follow along by clicking on our Gossip Page.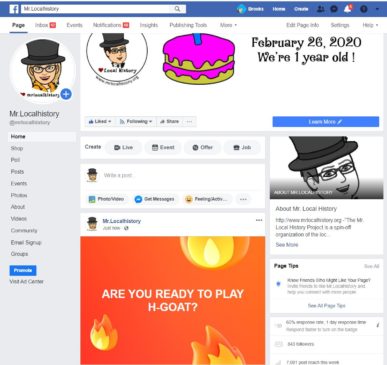 How to Play
Just follow us on our Facebook page. If you like just one bracket challenge you are in the game. Visit often and vote. Just make sure you "LIKE" our page.
List of Businesses Lost in the Somerset Hills in the last 50 years.
We hope you enjoy and post any memories you have of these great businesses that were once part of our local community.
The Businesses We've Lost in the Somerset Hills Over the Past 50 years.
If there's a blank below, post a comment if you know.
| | | | |
| --- | --- | --- | --- |
| Name | Town/Area | Type | Currently There/Comments |
| A&P | Basking Ridge | Grocery | Development |
| A&P | Bernardsville | Grocery | CVS |
| A&P | Pluckemin | Grocery | Market Fresh |
| Acme | Bernardsville Center | Grocery | Kings |
| Adrienne's Place | Bernardsville | Apparel | By VW |
| Apgar Associates | Far Hills | Services | De Munn Place, Far Hills |
| Appogee | Basking Ridge Village | Apparel | Soul Sisters |
| Atlas Market (Deli) | Bernardsville | Deli | 29 West Street |
| AT&T Headquarters | Basking Ridge | Corporate | Verizon Wireless |
| Audi Bernardsville | Bernardsville | Auto | Empty |
| Autumn House Furniture | Bernardsville | Retail | Olcott Square |
| Baker's Auto Parts | Bernardsville | Auto | Somerset Hills Handyman 18 Quimby Lane |
| Bardy Farms | Basking Ridge | Farm | The Barrons Development |
| Base Camp | Basking Ridge | Apparel | Basking Ridge Dentistry |
| Basking In Java | Basking Ridge | Services | Perrotti's |
| Bedminster Motors | Bedminster | Auto | Main Street and 27 Morristown Road Bernardsville |
| Bernards Television Company | Bernardsville | Retail | M. Cunningham 37 Olcott Square |
| Bernardsville Camera Mart | Bernardsville | Retail | Bagel Bin |
| Bevels Saddlery | Gladstone | Retail | |
| Bills Corall | Basking Ridge | Bar/Eatery | Café Rustica |
| Bistro II | Bernardsville | Restaurant | The Claremont Tavern, 121 Claremont Road |
| Bon Marche | Bernardsville Center | Retail | Bill Ramsey – 92 Morristown Road |
| Brass Penny | Gladstone | Bar/Eatery | Gladstone Tavern |
| Brookdale Deli | Olcott District | Deli | 19 Olcott Square – Carl and Ruthie Hackert. Now Buona Pizza |
| Burger King | Bernardsville Center | Restaurant | Chilpotle |
| Business | Town | Type | Current Store |
| Buxtons | Bernardsville | Restaurant | When Buxtons was Buxtons (after it was Pipers and the Shaggy Shingle |
| C&E Auto Body | Bernardsville | Auto | |
| Carmine's Beauty Salon | Bernardsville | Retail | Bernardsville Auto Repair 75 Mine Brook Road |
| Carriage Trade Gifts | Bernardsville | Retail | 75 Route 202 Bernardsville |
| Catch Penny Pub | Bernardsville | Bar/Eatery | Under Bernards Inn |
| Charlies Aunt | Bernardsville | Retail | In front of DQ |
| Charlies Spirits & Deli | Bernardsville | Deli | Bernards Café – 8 Mine Brook Road |
| Chatfields | Gladstone | Bar/Eatery | Gladstone Tavern |
| Christines | Bernardsville | Restaurant | Next to Huffman Koos |
| Cigars and Fire Trucks | Bernardsville | Retail | 165 Morristown Road |
| City Federal Savings | Pluckemin | Bank | 315 US 206 – Investors Savings Bank |
| Clara Louise | Olcott District | Apparel | Known in Westfield 5 Olcott Square |
| Classic Fashions | Basking Ridge | Apparel | Perrotti's – 75 S. Maple Avenue |
| Cobbler Shop | Bernardsville | Services | Craft Hair Studio – 13 Mine Brook Road |
| Collins Corner | Far Hills | Retail | Antiques |
| Conkling Miller | Bernardsville | Retail | 117 Morristown Road |
| Copper Kettle Deli | Gladstone | Restaurant | Moved to Basking Ridge (2000) |
| Corner Cupboard | Basking Ridge | Services | Blue Café |
| Country Casuals II | Lyons Mall | Apparel | |
| County Neighbor Liquors | Basking Ridge | Retail | Owner Bob Pretzfelder would buy us dinner (to go) from the Corner Cupboard. every night we worked |
| Crest Jewelers | Basking Ridge | Retail | Somerset Hills Florist 94 S. Finley Ave |
| Curran Pharmacy | Lyons Mall | Pharmacy | Lyons Mall |
| Debus Drugs | Gladstone | Retail | George DeSesso – Main Street |
| Dee's Deli | Bernardsville Center | Deli | 1980s |
| Delan Flowers | Bernardsville | Services | Between Bernards Café & Diamond Dream 10 Mine Brook Road |
| Dewy Meadow Farm | Basking Ridge | Farm | Future Rental Complex |
| Diamond Dream Jewelers | Bernardsville | Retail | 165 Morristown Road |
| Diehl's Jewelers | Olcott District | Apparel | Envy Lash – 24 Olcott Square |
| Door Décor | Bernardsville | Retail | across from train |
| Doug Lowrie Auto Body | Bernardsville | Auto | 57 Morristown Road |
| Duke's Cafe & Grille | Basking Ridge Village | Restaurant | 2008-2009 where Blue Café |
| Duke's Wild Goose Bakery | Basking Ridge Village | Bakery | 2009-2010 – Blue Café |
| Dunster's Propane Gas | Basking Ridge | Services | 26 W. Oak Street – opposite Brick Academy |
| Famished Frog | Bedminster | Restaurant | Delicious Heights |
| Far Hills Country Inn | Far Hills | Restaurant | Peapack Road, Heinz and Debbie Keller |
| Far Hills Hair Salon | Far Hills | Beauty | Corner of Rt. 2020 and Peapack Road |
| First National State Bank | Bernardsville | Bank | Wells Fargo |
| First National State Bank | Basking Ridge | Bank | Wells Fargo |
| Flamingo's Ice Cream | Lyons Mall | Services | |
| Florios Tavern | Bernardsville | Bar/Eatery | Across from Fire Dept |
| Freddys Tavern | Olcott District | Bar/Eatery | Rudolph's Steak House |
| Friendlys | Bernardsville | Restaurant | Dunkin Donuts |
| G.F. Hill Power Equipment | Gladstone | Retail | Lawnmowers |
| Game Stop | Bernardsville Center | Retail | Jersey Mikes |
| Gardner Motors | Bernardsville | Auto | 65 and 118 Morristown Road |
| Gourmet Touch | Liberty Corner | Bakery | |
| Giraffe | Basking Ridge | Restaurant | The Vine |
| Grand Union | Lyons Mall | Grocery | Stop N Shop |
| Henry Street Bakery | Basking Ridge Village | Bakery | Blue Café |
| Hill Chevrolet | Gladstone | Auto | |
| Hills Development Company | Pluckemin | Services | |
| Honeycomb Heath Foods | Bedminster | Grocery | |
| Huffman Koos | Bernardsville | Retail | Rite Aid – Route 202 and North Finley |
| Hurley Insurance | Far Hills | Services | |
| Jaeger Lumber | Olcott District | Retail | |
| Jerolomans | Bernardsville | Retail | Karl Jerlolman -125 Claremont Road |
| Jerry Lewis Cinema | Lyons Mall | Services | Lyons Mall – Also was Ridge Cinema |
| Joe's Taxi Service | Bernardsville | Services | |
| La Viva Coiffures | Olcott District | Beauty | 27 Olcott Square |
| Le Petite Chateau | Bernardsville | Restaurant | The Claremont Tavern – 121 Claremont Rd |
| Leitners Toy Shop | Lyons Mall | Retail | Lyons Mall |
| Lemon Lounge | Basking Ridge Village | Restaurant | Blue Café |
| Liberty Cycles | Basking Ridge | Retail | Empty |
| Limestone Café | Peapack | Restaurant | Il Monello Italian – 89 Main Street, |
| Linn Motors | Bernardsville | Auto | Packard Dealer in Bernardsville |
| Lobel's Boutique | Bernardsville | Retail | |
| Lotus Mind & Body Yoga | Bernardsville | Services | 165 Morristown Road |
| Lucent Technologies | Basking Ridge | Corporate | Daiichi Sankyo |
| Ludlow Records | Olcott District | Retail | 56 Degrees Wine 25 Claremont Road |
| Marauders Pharmacy (Mowders) | Bernardsville | Pharmacy | |
| Mardi Gras Corner Restaurant | Basking Ridge Village | Restaurant | 1996 to 1998 where Blue Café |
| Mary's Ceramic & Gift Shop | Far Hills | Retail | Route 206 |
| Mastro Shoes | Olcott District | Apparel | Empty |
| McGraths Paint and Hardware | The Hills | Retail | The Wine Rack – 572 Allen Road |
| Melon Shoes | Bernardsville | Apparel | 80 Morristown Road, Unit 3A UPS Store |
| Millington Savings | Basking Ridge | Bank | |
| Mockingbird Café | Basking Ridge Village | Restaurant | Blue Cafe |
| Mowders Pharmacy | Bernardsville Center | Pharmacy | |
| Mowders Pharmacy | Far Hills | Pharmacy | |
| Nardone's Bakery | Bernardsville Center | Bakery | 80 Morristown Road, Phillips & Fredericks Jewelers |
| National Video | Lyons Mall | Retail | Lyons Mall |
| New Jersey Savings Bank | Basking Ridge | Bank | Wells Fargo |
| Nino's Pizza | Lyons Mall | Restaurant | 22 Lyons Mall |
| O'Connors Beef 'n Ale House | Watchung | Bar/Eatery | 708 Mountain Blvd. |
| Old Stone Tavern | Bernardsville | Bar/Eatery | Rudolph's Steak House |
| OK Shoes | Basking Ridge | Apparel | Lyons Mall |
| Parks Meat Market | Basking Ridge Village | Retail | Haus Remodeling – 47 South Finley Ave – Anthony Cavaluzzo |
| Passiac Valley Dry Cleaning and Dyeing | Basking Ridge | Services | 26 W. Oak Street – opposite Brick Academy |
| Peking Royale Restaurant | Bernardsville Center | Restaurant | Li Chu Li – |
| Pepper Mill Deli | Basking Ridge | Deli | Coldwell Banker Real Estate |
| Per Forza Italian Restaurant | Basking Ridge Village | Restaurant | Blue Cafe – 1987-1996 |
| Pink Poodle | Basking Ridge | Beauty | Lyons Mall |
| Pipers Restaurant | Bernardsville | Restaurant | John and Mary Garis – 99 Morristown Road |
| Pistilli's Restaurant | Bernardsville | Restaurant | Josephine Pistilli – Applied Waste Water Pumping 0 147 Morristown Road |
| Queen City Savings | Basking Ridge Village | Bank | Where Wells Fargo is |
| Quiet Cycles | Olcott District | Retail | 15 Olcott Square |
| Ridge Beauty Salon | Basking Ridge Village | Beauty | 24 W. Oak Street Irene Wilkenson |
| Ridge Chevrolet | Basking Ridge Village | Auto | Ridge Faimly Dentistry |
| Ridge Liquors | Basking Ridge Village | Retail | Corner of Henry Street and Maple |
| Ridge Pharmacy | Basking Ridge Village | Pharmacy | Gotta Dance – Al Needleman and Charles Berman – 69 S. Maple Avenue – Corner of Finley and Henry Street |
| Shady Grove Inn | Basking Ridge | Bar/Eatery | Vine |
| Sight & Sound Camera and Audio | Bernardsville Center | Retail | |
| Simms Jewelers | Bernardsville | Retail | 17 Mine Brook Road |
| Somerset Bowling | Bernardsville | Services | Bernardsville Hardware |
| Somerset Hills Dairy Farm | Bernardsville | Farm | Dairy on 33 Mill Street |
| Somerset Hills Florist | Basking Ridge | Services | On Finley |
| Somerset Hills Pastry Shop | Bernardsville | Bakery | Formerly Nardone's Bakery |
| Somerset Recreation Bowling | Bernardsville | Services | Bernardsville Hardware |
| Somerset Travel | Olcott District | Services | Organic Nest – 17 Olcoltt Square |
| Speed Wash Launderette | Bernardsville Center | Services | |
| Sussmans | Olcott District | Apparel | Ride & Reflect Meditation 11 Olcott Square |
| Telesco's Beauty Salon | Gladstone | Beauty | |
| The Knit Shop | Far Hills | Retail | Far Hills Village |
| The Lamp Post Gift Shop | Bernardsville Center | Retail | |
| The Olympic Shop | Bernardsville | Apparel | Down from Theater |
| The Rug Beater | Bernardsville Center | Retail | Next to Lobell's |
| The Sports People | Bedminster | Retail | Steve French Betty Sackmeister |
| The Store | Basking Ridge Village | Bar/Eatery | The Washington House |
| The Works | Bernardsville | Services | |
| Three Lights Tavern | Olcott District | Bar/Eatery | Empty – 17 Olcott Square |
| Three Links Social Club | Bernardsville | Services | Lodge 263 |
| Thursty Turtle | Bernardsville | Restaurant | Shop Rite Parking Lot |
| Tony's Butcher Shop | Basking Ridge Village | Retail | Tony Cavaluzzo supplied meat to the Store aka THE Market |
| Valley Squire Clothing | Basking Ridge | Apparel | Perroitti's 75 South Maple Avenue |
| Village Fountain | Basking Ridge Village | Services | Food Services – Took over in 1955 by Dick Cleave. Barber Shop today |
| Village Hardware | Basking Ridge Village | Retail | WB Hawke – 37 South Finley Avenue |
| Village Toys | Bedminster | Retail | The Hills Village |
| Wachovia Bank | Basking Ridge Village | Bank | Current Wells Fargo |
| Wagon Wheel | Basking Ridge | Restaurant | Minuteman BBQ |
| Werring Chevy/Olds | Basking Ridge Village | Auto | Ridge Dentistry |
| West & Noble Inc | Bernardsville | Services | Advertising Agency |
| Willies Tavern | Bedminster | Bar/Eatery | Delicious Heights |
| Wilson's Taxi | Bernardsville | Services | Edwin Wilson – |
| Woolworths | Bernardsville Center | Retail | Gary's Wine and Liquors |
| Ye Old Cordiality Shoppe | Bedminster | Clothing | Corner 202 and Lamington Road |