As with all Mr. Local History retrospectives, updates are made to this post when we learn additional information. We will continue to expand this post as stories come to light.

Mr. Local History Project
Brush's deli has a long history in Basking Ridge as the longest standing deli in the community. Located at 35 S. Finley avenue in the same building, the P.C. Henry general store opened back in 1869 and remained until 1935. On the left was a milliner (hat) shop along with a hardware and furniture store upstairs, the anchor was the confectionery and general store on first level to the right. Mr. Local History rolled up their sleeves and worked with the current owners who've been running Basking Ridge's oldest deli for over 85 years.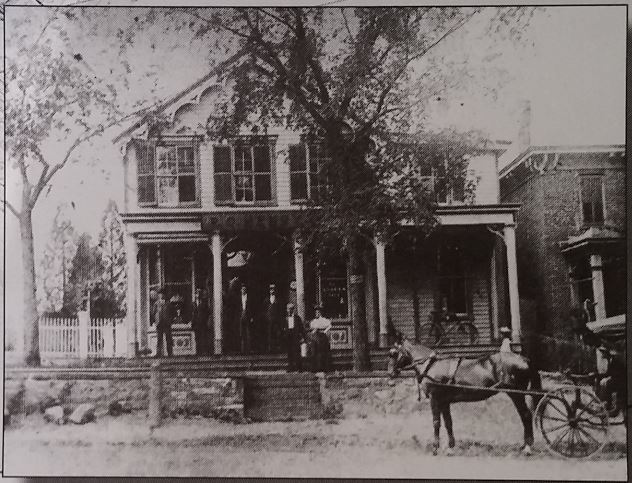 History
Robert Alward Henry was born in Basking Ridge back on November 28, 1884 the son of Parmenas C. Henry and mother Joanna Martin Henry who founded the P.C Henry general store. After taking a grocery store class at school, he joined his father in the grocery business. Henry was the treasurer at the nearby Presbyterian Church and also a director at the Bernardsville National Bank. His brother Dr. Clair Henry was the Mayor of Bernardsville. Robert was also the chief of the Basking Ridge Volunteer Fire Department.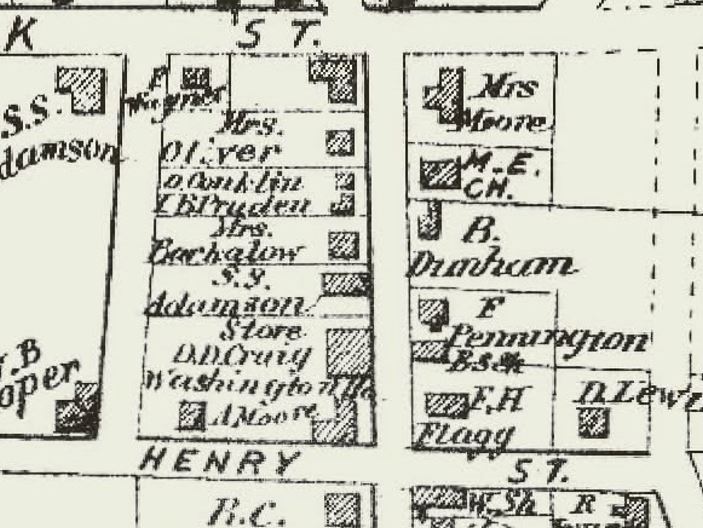 When Raymond A. Henry died apparently of suicide in 1935 at just 50 years of age, the estate including the P.C. Henry store on 35 South Finley Avenue was sold to Howard B. Brush. Howard had been running the establishment as manager for almost 10 years prior. Later that year in 1935, the store was sold to Howard.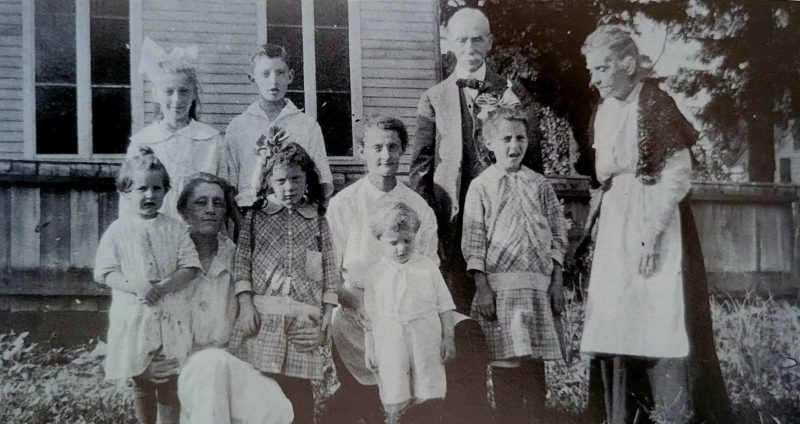 The market then had a full butcher shop, and Tim says he started out sweeping sawdust in the back of the shop when he was six years old.
Shortly after World War II Howard and Dorothy sold the business to his brother and ex-Marine James Brush and the second generation Brush member took the reigns operating both a general store and meat market. Ice cream was also sold at the counter including the new sensation Hagen Das.
The 1950's
For the next decade Howard Brush alongside his wife Dorothy ran the store. Howard changed the name from PC Henry's General Store to Brush's Market and the Brush family name was forever added to the Basking Ridge's history.
Brush's Deli certainly predates the era when Basking Ridge (Bernards Township) became a corporate center and bedroom community for affluent residents. Tim Brush said his grandfather, James Brush, and Uncle Howard Brush opened Brush's Market in the old building after World War II.
Robert Brush recalled that when he was a boy in the 1950s, the store specialized in groceries and meats and derived much of its business from delivering groceries as far away as the Bernardsville mountain. Robert Brush grew up in the township and was in the first graduating class at Ridge High School in 1962. He was an honorary lifetime member of the Basking Ridge Fire Company. Barbara Brush said that when her husband Robert wasn't working, he would spend time in northern Maine hunting, fishing and riding in his all-terrain vehicle. Robert was an avid hunter and loved being out in nature.
Many people don't know that Tim's sister Deborah and her husband Sean started the Basking Ridge Glass and Mirror Company right next door. She continued to oversee the company until her sudden death. Tim Brush also had a very successful home painting business in town called "Painting by Brush" in addition to helping out at the family business.
The 1970s/80s
Brush's Market became Brush's Deli in the 1970s, when AT&T moved in and a corporate crowd descended for lunch. "We were so busy, we had people right out the door," he recalled. His parents, Robert and Barbara Brush, ran Brush's for years until their passing when third generation Brush, Tim Brush took the reigns in 2002. Tim traded in his paint brush from his successful house painting business, cleverly called "Painting by Brush", for a slicer and a deli.
Many an after school student in the 1980's would drop in for a candy bar and a round of Ms. Pac-Man with friends on the video console inside Brush's. Ah the arcade years, many an after school hour was spent by many on the Ms. PacMan, Asteroids, Centipede and Defender gaming arcades. "I was more of a pinball guy back in the day, so I'd hop over to the pizzeria and get my fix," said Tim Brush. "But I do remember lots of kids coming into the deli with their quarters for games and candy."
I was blessed to be one of Howard & Dot's pastors across the street at Bishop Jane's United Methodist Church. One of my favorite memories: I was a seminary student while serving the church, and lived in an apartment above the church offices. I would have to often burn the candle at both ends to keep up with the school and church. Dot would always look out the window when she had to get up in the middle of the night to see if I was still working. On Sunday morning she would let me know if I had gotten enough sleep that week. I always knew it was out of love and concern for my well-being. Never will I ever have a better across the street neighbor

Pastor Robert Braudt, Savage, MN formerly from Basking Ridge
Dee's Deli, which was another deli located where the Copper Kettle resides today, was one competitor along with the Pepper Mill Deli which was down the street where the Coldwell Banker realtor sits today. But it's Brush's deli that has survived the years, hurricanes, locusts, and even two pandemics. The recent Covid-19 pandemic forced Tim to lay off his employees and shut down for 5 weeks. He reopened only with the help of his family who continue to work by his side today.
The 2000's
Sadly, in 2002, the community lost Robert James Brush, the lifelong resident who had brought Brush's into its eighth decade. Mr. Brush, 57, died on Thursday, Feb. 7, 2002, at his home with his family and his beloved springer spaniels. It was Robert that in 1981 took out the aisles and decided to add dining tables to the establishment for patrons to sit and enjoy a nice sandwich or drink. Barbara and her son Tim continued to run the store until Barbara Brush moved to Washington, N.J when Tim took the reigns along with his wife Karen.
The last 10 Years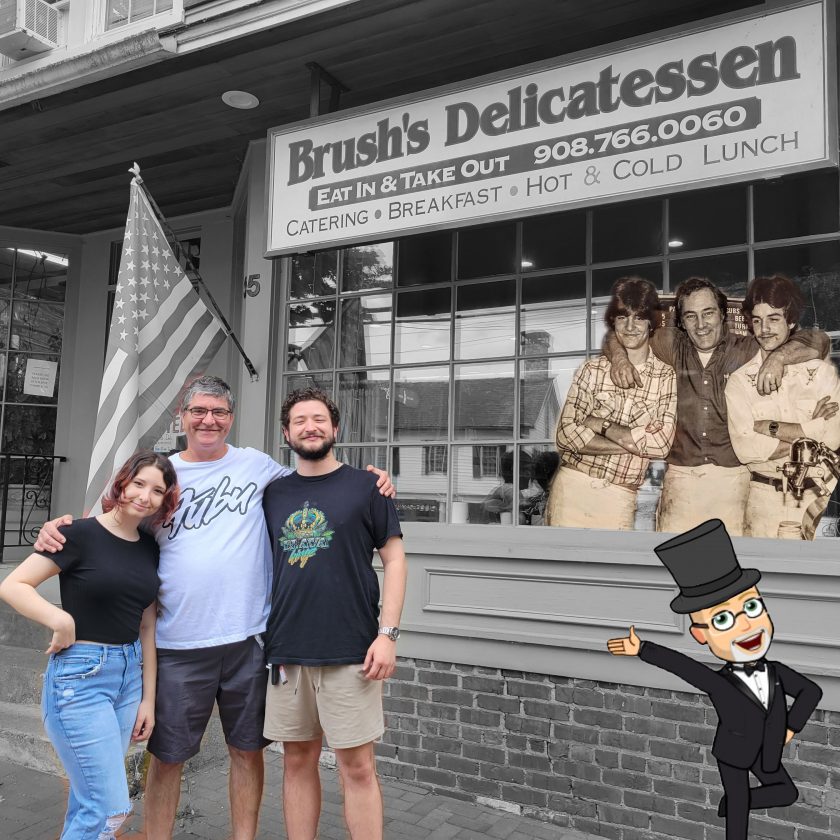 When you walk in the front door you just feel like you're at home. The updated interior has WiFi and USB charging ports, spacious table areas, and a TV at the end of the dining area. You see, Brush's is not just a deli, it's a destination. Drop by almost any weekday morning and you'll run into a bunch of the most knowledgeable longstanding residents of the area.
We often meet local residents Jimmy DeCoste, Don Doss, and Dave Gorsky. These three friends meet at Brush's deli on a daily basis to hold court for the day's discussion. And what tales they tell. "Some say I like local history, but these gentlemen are the walking encyclopedias of Basking Ridge's local history,"says Brooks Betz, the Bernards Township historian. "I love talking to these guys cause you never know what you're going to learn, and you always learn something!" Talking about commitment, Don, who actually lived in Tim Brush's current house, sold his Basking Ridge home and moved to Maplewood but still comes back to Brush's Deli every day to get a paper and enjoy the company of his local friends. Some say Don puts over 30,000 miles on his car just to travel back and forth to Brush's.
In 2016, Brush's Deli got it's second facelift along with more seating, cell phone charging ports, and free wifi. Three apartments remain upstairs and Basking Ridge Glass & Mirror is still next door. Today, Tim's mother Barbara resides in Florida and Tim still drives down for visits and also has a 2nd home north of Tampa near Crystal River. But the family still runs the show as the longest running deli in town. You'd think that a guy that owns a deli would have a favorite sandwich, but we were surprised to hear that Tim doesn't have a favorite. In fact, he likes to make up something different almost every day. "Routine isn't part of my eating habits. I like to switch it up every day and make something different. But I do have a 'go-to'? The roast beef 'House Special' is pretty darn good."
Today, Tim's mother Barbara resides in Florida and Tim still drives down for visits. The Brush's also have a 2nd home north of Tampa near Crystal River.
The Deli Ghost – Raymond Henry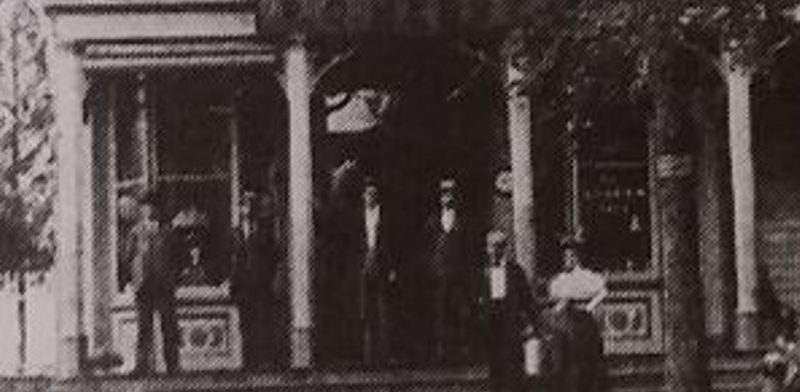 For those that hang around Brush's enough they will come to know that there is an active spirit in the house. Karen Brush and her mother have been teased and tormented by what many feel is Raymond Henry, the son of PC Henry's general store. Before Howard Brush took owner of the general store Ray had strangely died in the basement of the establishment apparently of a suicide. According to Karen Brush there have been numerous encounters with what most likely is Raymond Henry. "I often feel his presence from behind and he tickles my neck and back by tickling my skin."
Nothing harmful has happened in the deli with Raymond around, but it does go to show you that spirits do hang around.
---
Classic Sandwiches
According to Tim, the favorites on the menu have remained consistent through the years. The best seller, Brush says, is "The MONSTER," offers six slices of Taylor ham, four slices of cheese and two eggs on a toasted roll, (or six pieces of bacon, or two sausage patties in place of the ham). It's more than a meal on a roll but is a legendary eat.
Other items like the Town and House specials remain favorites along with the New Jersey classic "sloppy joe" which is not a manwich on a bun. Tim remembers that the sandwich naming game started back in the 80's by one of the employees. "Big Bruce" Smith, a local student who worked at the deli for around four years said it was time to get away from the triple decker sloppy joe and come up with their own names. Big Bruce took out the third piece of rye on the sloppy joe and invented the "Town Special." Then a roast beef concoction became known as the "House Special." And yes, Big Bruce was also remembered for creating the biggest filling breakfast sandwich, which he coined "The Monster." All three sandwiches are still big sellers today.
The sloppy joe was actually invented by the Town Hall Deli in South Orange who claims to have invented the New Jersey sloppy joe in the 1930s. It's a triple decker on rye with two meets, Swiss cheese, and coleslaw. If you can eat the whole sandwich, you will be full.
A flat top in the back also delivers hot specials from hamburgers to gyros to a really popular cheese steak sandwich. Soups and other warm specials also frequent the menu.
Brush's deli is a catering destination as well and reserve sandwich platters for larger gatherings. They also sell Boars Head cold cuts by the pound.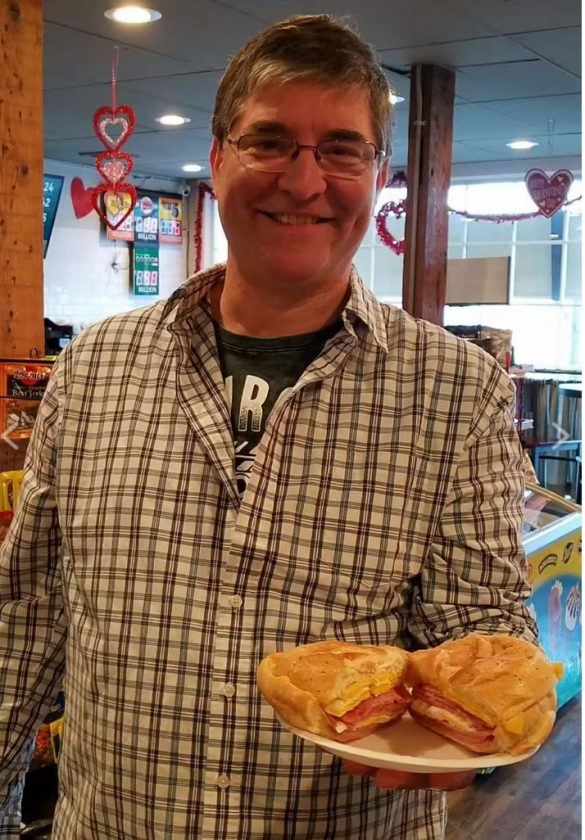 Exclusive Offer
In honor of this glorious declaration, you can now get an official Bernards Township flag just for purchasing 2 Town Specials at Brush's.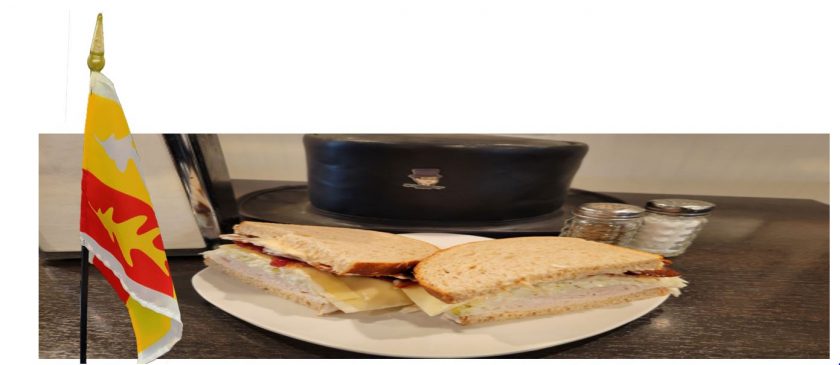 Get a Bernards Township Flag FREE when you purchase a Brush's Town Special sandwiches.
Flags available while supplies last. BUT YOU HAVE TO ASK TO GET ONE!
A $4.95 VALUE!
For a limited time, the Mr. Local History Project wants to welcome residents to Bernards Township's 'unofficial sandwich of Basking Ridge". Visit the historic Brush's and order two (doesn't have to be at the same time) Town Special sandwiches and they will give you an official mini Bernards Township Annin flag ($4.95 value) for free while supplies last. As a bonus, you can trade in your mini-flag, and Mr. Local History Project will give you $5.00 towards the purchase of a 3'x5' Bernards Township house flag, One flag per customer please.
Want to trade up your mini flag to a big 3'x5′ original Bernards Twp house flag?
Simply Click Here and drop us a note and put "Upgrade Flag" in the Subject
Brush's Virtual Historic Photo Album
Mr. Local History gathered a number of photos of the history of Brush's Deli over the decades. Simply click one photo to start the slideshow.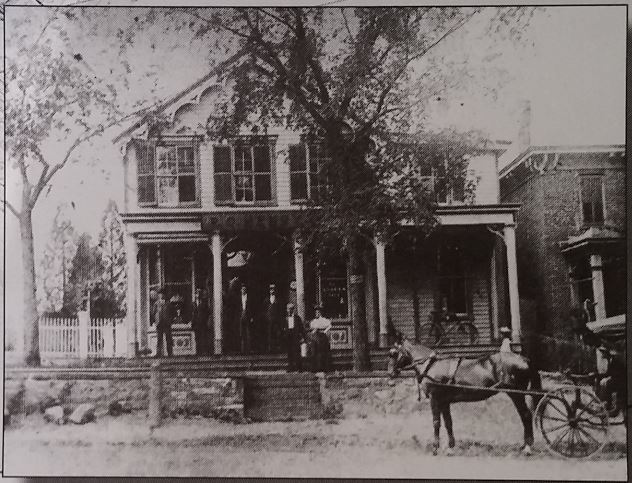 Bringing It all Home
Brush's Deli in Basking Ridge is an institution to everyone who visits the historic business serving great food at reasonable prices. But it's not just the food, as it's heartwarming to walk in and be greeted with a smile and a conversation. The connection to the town and its legacy is a testament to Tim and the entire Brush family. Brush's deli remains one of the best local stops anyone can make in town. Stop by for a coffee, a sandwich, and a welcoming historic family retail landmark.
Mr Local History loves food – Check out these links for other stories
All Food Stories Click Here
Below are a few of our favorites:
---

Like elite athletes at their peak, our history journalists are highly trained in the art of digging up history. It takes skill, endurance and and pure will typing to deliver interesting stories of the life and times of the great history in New Jersey and the areas you love.
And that all costs more than just our time and energy. So we're asking you to support us with more than your attention.
If you enjoy reading stories like these from our volunteer writers, please make a contribution today.
You'll help power the dedicated team behind this story and hundreds of others like it.
And your contribution is TAX DEDUCTIBLE as we are a IRS recognized 501C-3 non-profit education charitable organization.