You might have heard that Bernardsville, New Jersey is on the move. To promote these efforts they look to modern digital promotions including a clever podcast called the Radio Tavern. Pretty catchy as the podcast ties into a historic piece of Bernardsville and an area that was once known as the little Italy section of Bernardsville. Let's take a look back.
In a seven-house stretch on Bernards Avenue in the late 1940s, there was a grocery store, a barber shop, a television and radio store, a tavern, a butcher shop and a launderette. On 64 Bernards Avenue in Bernardsville, one half of the house sold radios and televisions, the other half opened in October 1943 as the Radio Tavern. It became a neighborhood bar where older men would have a beer, grab a sandwich, play cards or go to the backyard and play bocce. The area was coined "Little Italy" due to its residents, but there was a special place that was called the Radio Tavern. The new podcast series is named after this former Little Italy business.
Bernardsville's "Little Italy"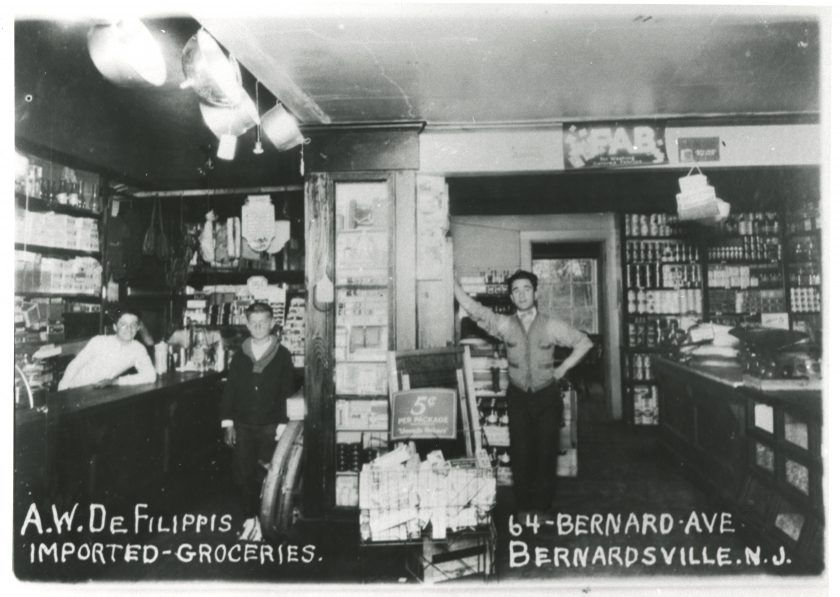 Many people have heard that the Radio Tavern was born out of the long standing history of Italian immigrants who came to Bernardsville and were all part of "Little Italy." The Italian neighborhood was developed off the south and west side off Mount Airy Road in the late 1800s. "They came to work on the estates of the Mountain Colony," says Brooks Betz, researcher and local historian. "We are a nation of immigrants that came at various times to bring their skills to the developing estates of the mountain colony during what many called the gilded age." Today the area is known as "Little Paraguay" and "Little Columbia" as the area has transformed as new immigrants come to Bernardsville to settle near town."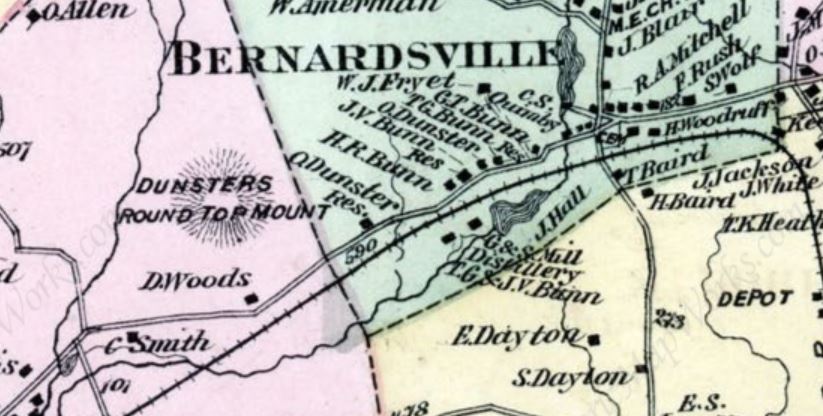 The village stores specialized in Italian goods like macaroni, olive oils and cheese, which were not available at other stores in Bernardsville. Although the borough zoned the area for residential use in 1932, the rules weren't strictly enforced.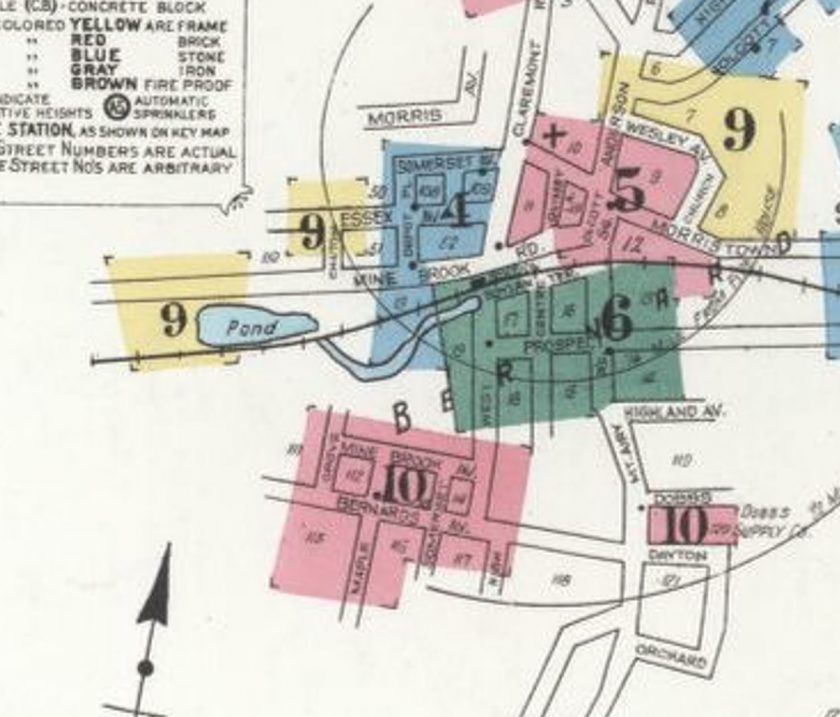 Ricciardi sold the grocery store to his nephew, Joseph Cirillo, in 1938, and it would remain in business for another 11 years before moving his grocery store to the corner store to nearby 5 Maple Avenue across from Sacred Heart Chapel known to locals as Chapel Rosie. The building at 54 Bernards Ave. housed Bill Ricciardi's barber shop. Cirillo's former space at 52 Bernards Ave. became an expanded pool hall with billiard tables in 1947. It remained that way through the 1960s.
Another early business was a candy store, started by Michael Velardi located on Bernards Avenue near Grove Street in the 1920s. The store later moved to West Street.
The Sacred Heart Chapel on Bernards Avenue
The Sacred Heart Chapel on Bernards Avenue, which was dedicated by the Right Rev. James McFaul, the bishop of Trenton, on June 9, 1912, The white stucco building bordered by rose bushes and a black wrought-iron fence is located in a section of Bernardsville that was known at the turn of the 20th century as "Little Italy" because of its immigrant population.
The chapel was built by those very residents, who served as laborers on the expansive estates of the Bernardsville Mountain colony, because they were unable to pay the pew-rental cost or to dress as well as the other parishioners attending mass at Our Lady of Perpetual Help Church on Seney Drive. In addition, they felt uncomfortable attending church there with their employers.
These historical tidbits, and more, are detailed in a 53-page book, "Recollections of Sacred Heart Chapel: 1912-2012, Celebrating 100 Years of Faith and Community," put together by anniversary committee members back in 2012.
Interactive History Map – Zoom and Click
---
In the early 1920s, Andrew DeFilippis launched a grocery store at 64 Bernards Ave. The business, which hung assorted pots and pans from the ceiling, operated for more than 20 years. The building was sold shortly after World War II and became Santini's Meat Market. John Santini was the butcher and offered "Italian hot sausage." So in a seven-house stretch on Bernards Avenue in the late 1940s, there was a grocery store, a barber shop, a television and radio store, a tavern, a butcher shop and a launderette.
Several other businesses existed in Little Italy for varying lengths of time between the 1930s and 1950s. Among them were: the Ferrante meat market at Bernards Avenue and Grove St., where Anne Ferrante raised her own livestock; the D'Amico candy store on Grove street; and a clothing store at the corner of Bernards Avenue and Garibaldi Street, where a New York merchant would display his wares.
The Radio Tavern closed in 1954 after DeFilippis sold the liquor license to Pistilli's restaurant. Ricciardi's pool hall was abandoned in the late 1960s and then filled by Yannaccone Associates, an engineering firm, in the mid-1970s. The Connoisseur followed in 1986.
Cirillo closed his grocery store on July 3, 1970, soon after the death of his sister. Atlas' Market was the last to go, selling its liquor license to Wine Cellars in July 1983 and closing soon afterward. The building was demolished to make way for a small townhouse complex.
Fast forward to today and the entire area is zoned residential and no storefronts remain. Word has it that a foot bridge from this area will cross over the railroad connecting to downtown Bernardsville. Special thanks to the Bville News for this research!!!!
Lunches, Softball and Cashing Checks
In the bustling community, the Radio Tavern became a favorite. Neighbors would visit the tavern for conversation, food, and entertainment. The Radio Tavern even sponsored a YMCA softball team. It was also noted as being a popular hang out as the owners often cashed checks on premises.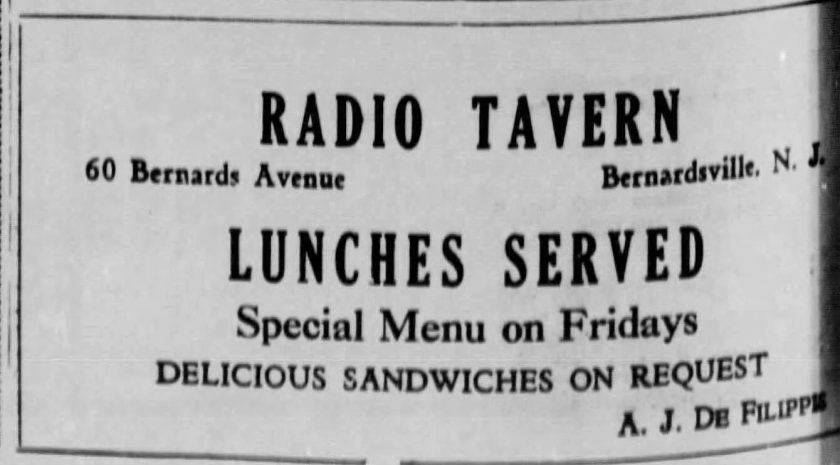 ---
Who Else Besides the Radio Tavern was Selling Liquor in Bernardsville in 1948
1943 – 7 Bars in Bernardsville had consumption licenses
Traveling back in time, residents had many choices to go out and have a few drinks. While the dates are a bit in question, we have found liquor licenses being issued to the Radio Tavern as far back as 1943 for the Radio Tavern. This story is starting to tie into our story we wrote about all the key bars in the area over time (see at end of this story).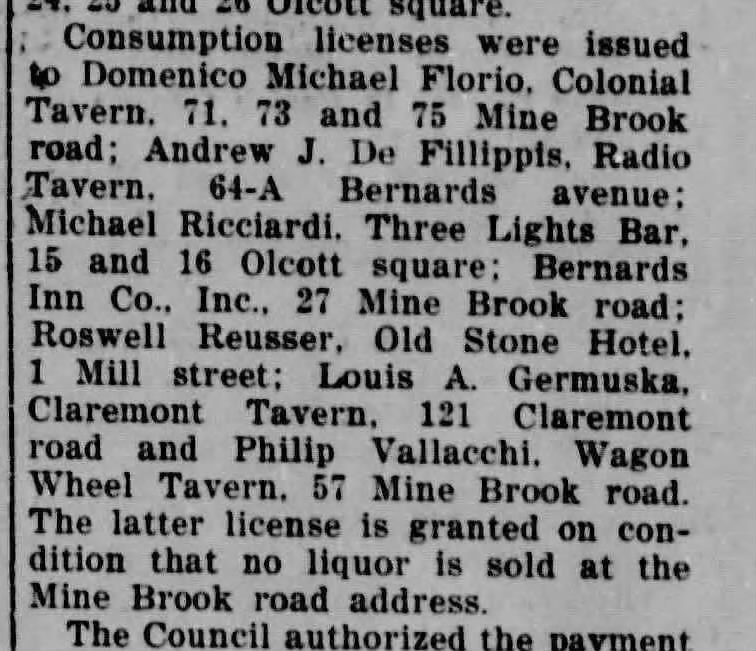 Research in Progress!!!!! The history is a bit tricky.
What Happened to All These Retail Liquor Consumption Licenses in Bernardsville
The number of plenary retail consumption licenses within the Borough now limited to five and the number of plenary retail distribution licenses within the Borough is limited to six; provided, however, that said limitations shall not prohibit the continuance of any plenary retail consumption license now in effect within the Borough or any renewals or transfers thereof in accordance with law. The number of club licenses issued is one license.The Bernardsville Town Council authorized the payment of $2500 (2006) and approved the licenses. Consumption licenses were issued to:
Domenico Michael Florio. Colonial Tavern, 71, 73 & 75 Mine Brook Road which went to Florio's. Florio sold his license to Colonial 202. Florio's Tavern was first located where Mastros shoe store was. Then to Christopher's Restaurant. That license was sold to Eccoqui and now serving as Osteria Morini. In 1933 he got the first liquor license issued in Bernardsville. It was called the Antler, or the White Antler. Years later, they bought the property at 73 mine brook road and built the building where it was, and where Bistro 73 is today (BYOB).
Andrew J. De Flllippis. Radio Tavern, 60 (64-A) Bernards Avenue went to Pistilli's Restaurant and then to? (Retail Consumption C-2) (some think it went to Somerset Hills Country Club)
Jeroloman's had a Retail Consumption license as well (Retail Consumption) Where did it go next?
Bernards Inn Co. Inc., 27 Mine Brook Road (Serving today as Bernards Inn)- Retail Consumption C-3)
Michael Ricciardi. Three Lights Tavern, 15 & 16 Olcott Square then to Charlie's Aunt (next to Shop Rite) Shaggy Shingle/Buxtons, then Thirsty Turtle. (Retail Consumption C-4)
Roswell Reusser. Old Stone Tavern/Hotel, 1 Mill Street (Serving today as Ristorante MV) Retail Consumption C-5)
Louis A. Germuska, Claremont Tavern, 121 Claremont Road sold to Le Petite Chateau then today as Claremont Tavern) (Retail Consumption C-6)
Philip Vallacchi, Wagon Wheel Tavern, 57 Mine Brook Road (to Vallacchi at the Town House now the Station) (Retail Consumption C-7)
Penn Brook turned to Shady Grove changed to The Vine (Now Closed) (Retail Consumption license) – a proposed Mexican restaurant is proposed.
What Happened to the Radio Tavern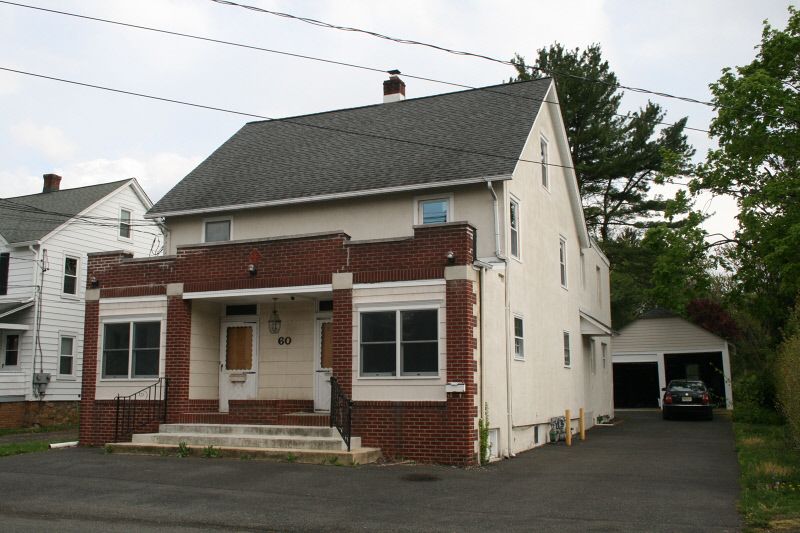 In 1954, after the Radio Tavern in Bernardsville closed, the DeFilippis later sold their liquor license to Albert and Josie Pistilli's up Route 202 which later became one of the most popular Italian restaurants in the area; Pistilli's Italian Restaurant.
Radio Tavern Podcast Honors History and Community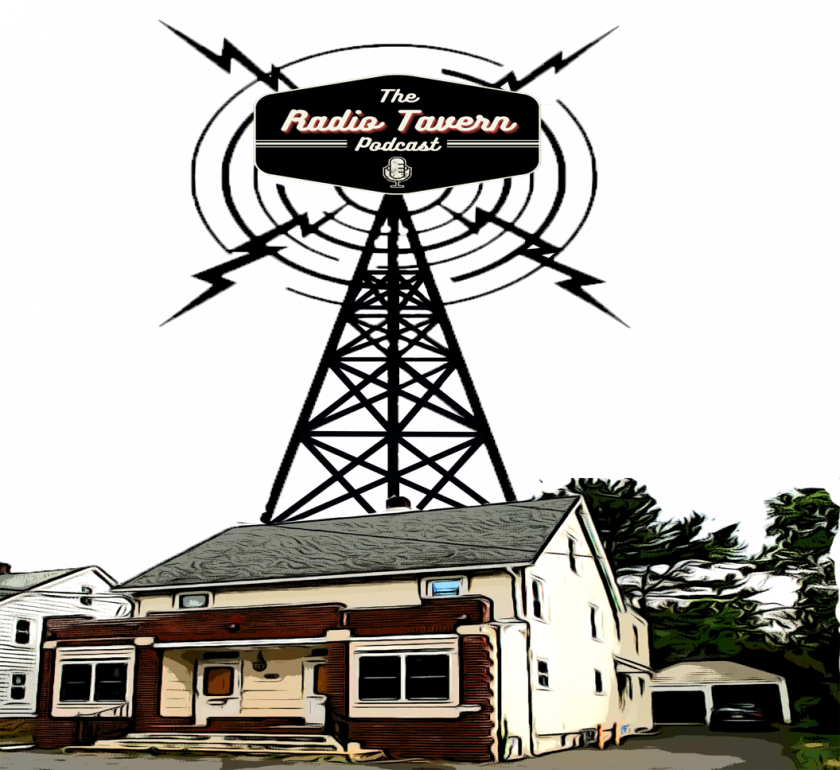 In honor of the legacy and history of Radio Tavern, a few locals have revived the name with a new podcast called 'The Radio Tavern' featuring interesting deep dive discussions with Bernardsville shakers. The podcasts are recorded in partnership with King Willy Studios in downtown Bernardsville, New Jersey. Visit their website to learn more and listen in – https://www.visitbernardsville.com/podcast. Maybe they'll read this story and post a comment as to "why the name Radio Tavern?"

Additional Mr. Local History Stories – Bernardsville
---
A Gentle Reminder of our Non-Profit Needs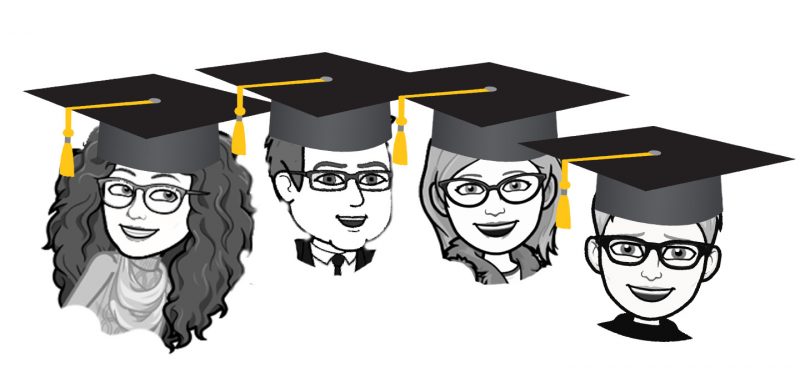 Like elite athletes at their peak, our history journalists are highly trained in the art of digging up history. It takes skill, endurance and and pure will typing to deliver interesting stories of the life and times of the great history in New Jersey and the areas you love.
And that all costs more than just our time and energy. So we're asking you to support us with more than your attention.
If you enjoy reading stories like these from our volunteer writers, please make a contribution today.
You'll help power the dedicated team behind this story and hundreds of others like it.
And your contribution is TAX DEDUCTIBLE as we are a IRS recognized 501C-3 non-profit education charitable organization.