UPDATE: June 12, 2020 – The Mr. Local History Project is SOOOO excited to introduce the expansion of our Historic Somerset Hills Cat's Meow Village, the Natirar Estate in Peapack and Far Hills, New Jersey. Only a limited number will be produced.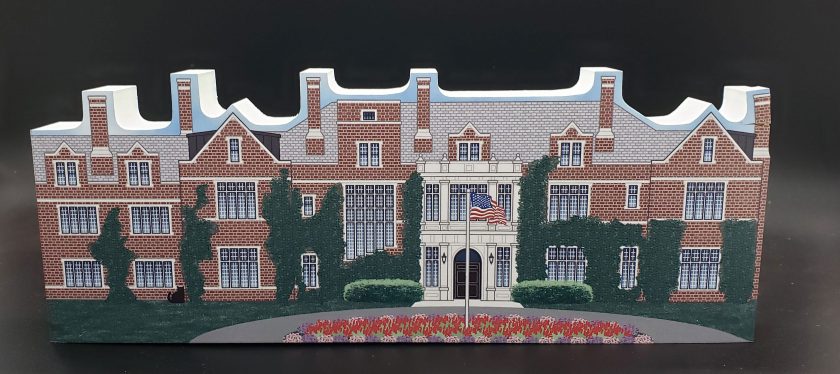 ---
Interested in participating in a MLH tour? If interested, join our email list and we'll let you know if we can get one put together.
The Gilded Age: Natirar Estate in Peapack/Far Hills, New Jersey
Catherine "Kate" Macy and Walter Graeme Ladd began acquiring property in the Somerset hills in 1905. Macy was a Quaker heiress to a whaling/oil/shipping fortune; her father's business partner was John D. Rockefeller.
Kate was born in New York City, a descendant of Thomas and Sarah Macy, Massachusetts settlers in the late 1630s. She was a granddaughter of Captain Josiah Macy, originally of Nantucket, who founded a firm that became New York's first oil refinery in the 1860s (later sold to the Standard Oil Company). In 1659, Thomas Macy and nine other men purchased Nantucket Island (then a part of New York) to seek religious freedom.
Walter Graeme Ladd was born in Throgs Neck, in the Bronx . He was a lawyer and principle of the Delaware, Lackawanna & Western Railroad and a yachtsman. He loved his 165 foot schooner E'tak which crossed the Atlantic from Germany once in 1930.
Walter Graeme and Kate Macy Ladd married in 1883 and rented property in Bernardsville on Mine Mount Road from Heley Fiske (1903) as they acquired small local farmsteads until their estate spread over 1,000 acres throughout Peapack/Gladstone, Far Hills and Bedminster. The Ladd's hired Boston architect Guy Lowell to design the Tudor-style mansion, which was completed in 1912 with a sprawling 40 room, 33,000 square-foot footprint. Situated alongside the Raritan River atop a 200 foot high mountain, they named it Natirar, an anagram for Raritan spelled backwards. It was said over 300 men under the direction of Shanley & Co. of Newark.
Early Years
Suttons, Tigers, Hortons, Belchers & Ladds
Over the past two centuries the land has changed hands before the Ladd's aquired over 1,000 acres.
In 1837, Christopher Tiger purchased a 120-acre farm along the east side of the Peapack-Far Hills Road from the estate of Levi Sutton. At some point he built his homestead on or near the site of what is now 44 Main Street.
In 1887, after Christopher Tiger's death, the farm was purchased by Barabas Horton's son William Halloway Horton. Christopher Tiger's third wife was Catherine Lane, a descendant of the Nevius / Lane families who owned the adjacent farm. The Nevius/Lane farm that became a main part of the Natirar consortium. The Nevius/Lane homestead was on the site of the present parking lot to the southwest of the Natirar barns. Christopher Tiger was the great uncle of Ellis Tiger, who in 1921 founded the Peapack-Gladstone Bank.
The Maple Cottage
In 1901 William Horton sold his farm to Chandler White Riker, a Newark lawyer from Riker. Riker and his wife Mallie sold a 120-acre tract to the Ladds. By 1907 they had converted the farmhouse into Maple Cottage. There was also a separate cottage for the superintendent. And finally, in 1908 Kate initiated her first convalescent home for women.
The home operated from 1908 to her death in 1947 when the convalescent home then relocated to the main Natirar mansion. The main home operated from 1948 until 1983. The Maple Cottage was demolished in the 1980s.
Sidebar: The Sheptocks
In August 1975 we moved from Chester, NJ to Peapack, NJ – The mansion we moved into was over 100 years old at the time and had been the library of the Kate Macy Ladd Convalescent Hospital. It had three above-ground floors and a basement and sat on five acres with a barn and a corral. It had a large foyer, two fireplaces, a grand staircase overlooked by a chandelier, 13 bedrooms, seven bathrooms, a library, a parlor, two dining rooms and a three-car garage. over the years we had ponies, goats, sheep, dogs, hamsters and gerbils. My parents had as many as 28 kids with them at one time, due to the age range. As many as 13 were teenagers at once.

Joanne Elizabeth (Tedesco) Sheptock and Rudolph Peter Sheptock, Sr raised 37 children at Maple Cottage.
The Natirar Mansion
What many people don't know is that 40-room Natirar was modeled after Wroxton Abbey in Warwickshire, England. And what a coincidence that the Wroxton Abbey is now owed by New Jersey's own Fairleigh Dickinson University.
The Ladds selected Boston-based architect and landscape architect Guy Lowell (1870-1927) to design their new residence, principal outbuildings, and the lay out the estate's English park-like landscape. A few years before, Lowell had designed the Ladds' other residence"Eegonos" (now called "East of Eden") located on Frenchmans Bay at Bar Harbor, Maine. Lowell was associated in the design of "Natirar" by New York architect and nearby Bernardsville, New Jersey resident, Henry Janeway Hardenbergh (1847-1918).
Philanthropy
The Ladd's philanthropic life was focused on helping people. They had no children. Mrs. Ladd spent most of her adult years in a wheelchair with severe arthritis and her work evolved to helping women in distress. In 1908, she turned their nearby Maple Cottage into a convalescent home for "deserving gentlewomen who are compelled to depend upon their own exertions for support shall be entertained without charge." The home opened on May 1, 1909 with what was referred to as "21 inmates" in the Bernardsville News. The previous year there were almost 70 patients. Mrs. H.E. Dudley served as the superintendent who stated "this is christianity in action."
She's remembered also as an American philanthropist who founded and endowed an additional foundation called the Josiah Macy, Jr. Foundation in 1930 in honor of her father. That foundation is playing a critical role in a Covid-19 world as the foundation works to "Improving health by advancing the education and training of health professionals."
Walter established a fund to ensure the convalescence continuation after his death in 1933 with an endowment of over $13 million. The foundation would move the convalescent home from Maple Cottage to Natirar after Kate's death in 1945. The foundation provided women from Newark and NYC an all expense paid two weeks to help recover from an illness, medical treatment, or recuperation. Fifty years after Walter's death his will stated Natirar to close. In 1983 the convalescent home completed the Ladd mission and Natirar was put up for sale. King Hassan II of Morocco bought the estate for $7.5 million.
The ladies were expected to come down to breakfast in their robes but wear nice outfits for lunch and dinner. They were assigned to tables in groups of 4 to 8 and were offered several delicious meal choices depending on their dietary needs. The tables were always set with fresh pastel table clothes for breakfast and lunch and white clothes for dinner. Mealtime was relaxed and leisurely. New guests, especially ones who might still be in pain from an operation, would arrive in the dining room anxious or stressed at first, but as time passed, you could see the change in them as they recuperated and made friends.

The ladies would spend their time sitting on the patio in the sun, or under the shade of a tree. They could use the vast library or get a treat at the little soda shop counter. They were encouraged to get their hair done once a week at the on-site beauty shop and could participate in occupational therapy (crafts) or physical therapy if needed. Visitors were only allowed on Sunday afternoons because they wanted the ladies to convalesce undisturbed.

Diane Hilmer Ludlow – Worked at Kate Macy Ladd 1974-1975
Meryl Carmel from nearby Chester spent 10 years researching the philanthropist for her book, Finding Kate:.Carmel said more than 20,000 women were served by Ladd's efforts at Natirar. "She wanted to have others' lives to be happy and fulfilled," Carmel said. She said about 50 convalesced at the estate at one time in 21 bedrooms of various sizes that could accommodate two to four women.
Convalescent Home Closes and Estate is Sold to a King


While according to Walter Ladd's will the property would be sold 50 years to the day of his death, a number of suitors were pursued. The boro negotiated with the nearby United States Golf Association to purchase the property as they were searching for a new national headquarters. The USGA ended up at the former Frothingham House just down the road. A park or condos were also considered.
Malcolm Forbes, a nearby Bedminster resident and friend of King Hassan II introduced His Majesty to the property, which was close to Princeton University where his sons attended college. King Hassan II bought the estate from the Ladd's estate and the proceeds went to five medical schools; Johns Hopkins, NYU, Hampton Institute in Virginia, Tuskegee College, and Berry School in Rome, GA. The asking price was $8.5million. The property and estate was sold in 1983 for $7.5 million and the closing date set at May 21, 1983.
For the next 20 years was owned by the King who never spent a night there. Following King Hassan II's death in 1999, the King's son Mohammed VI sold the Jersey estate for $22 million to Somerset County.
The Somerset County Parks Commission bought the 491-acre estate in 2003 for $22 million with the intent to preserve this crown jewel as open space where it now serves as a public park including businesses in the preserved estate.
The Blairsden Association, although not successful in its efforts to acquire "Blairsden," had nevertheless developed what was considered by many to be an effective model for a public-private partnership for such a project. As a result, the Association — which was renamed the Natirar Association — was asked by the Somerset County Park Commission to assist in the county government's ultimately successful efforts to acquire "Blairsden's" neighboring estate, "Natirar." The Association was later dissolved.

W. Barry Thomson, Local Historian and writer
Natirar Estate Development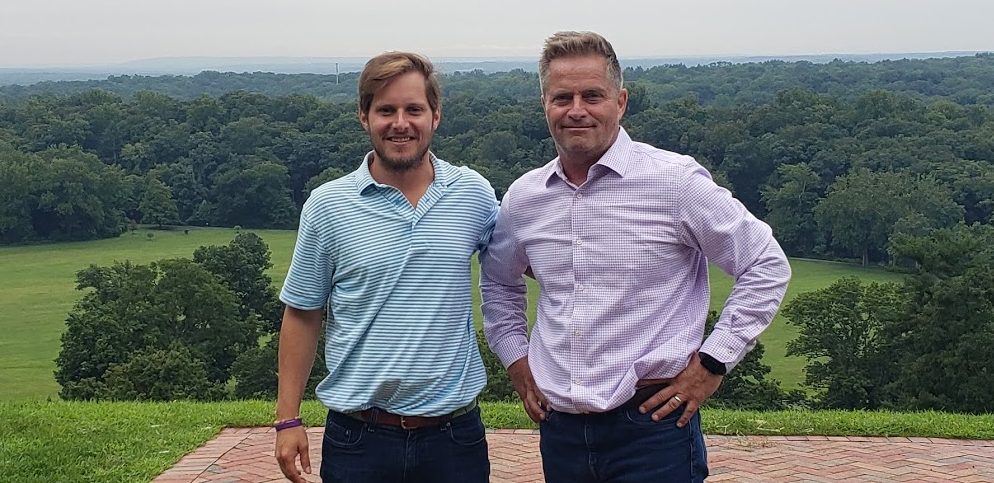 Natirar is really two separate entities owned by Somerset County. The first is the park system managed by the Somerset County Parks Commission. The other is a 90 acre section that's not under the green acres funding is a leased partnership with Pendry Hotels. Pendry is of the most bespoke hotel management companies in the country. Pendry Hotels is a division of Montage International, the luxury hotel management company. In addition to adding the Pendry Natirar hotel, the property will include a luxury residential development located on a new private street within Natirar named Abby Road, after Bob Wojtowicz's first grand daughter.
The restored mansion and new ballroom serves as the centerpiece of a singular new resort and private club complex. Designed to become one of the nation's finest resorts, the reimagined property will ultimately include private residential villas, a boutique hotel and spa in conjunction with the existing pool, tennis courts and fitness and wellness center, surrounded by 400 acres of riding, walking and biking trails.
Additional Information
The Natirar property boasts one of New Jersey's most acclaimed restaurants, Ninety Acres. Built in the estate's restored carriage house, this exceptional facility includes a cooking school, a private club and a 12-acre farm that supplies fresh organically produced vegetables, herbs, berries as well as lamb, pork and egg-laying chickens for the restaurant. The stylish and striking interiors were designed by the Rockwell Group, the acclaimed architecture and design firm, headed by the award-winning architect, David Rockwell. Rich woods, brick walls, high ceilings, Palladian windows, wrought iron accents and original wood sculptures and art works, made from trees on the property, provide both drama and warmth, in keeping with the building's history, bucolic setting and commitment to sustainability.
Construction began in the Spring of 2020 on 24 homes next to the Ninety Acres restaurant on the historic Natirar estate.
Prices begin at $2 million each and the 24 residences range in size from 2,400-square-foot Farm Villas to the larger Estate Villas at more than 3,600 square feet. Besides the homes, the development will include a hotel adjoining the mansion and the Spa Pendry with a fitness center, swimming pool, tennis courts and outdoor activities. The hotel will feature 68 guestrooms and suites. Something we learned; There is also a "Club" at Natirar.
While National Register listing may present certain constraints, it also represents opportunities, particularly with regard to funding for preservation projects. For example, in order for a project to be eligible to apply for a grant through the New Jersey Historic Trust, the property in question must be listed on the New Jersey Register of Historic Places. National Register listing also provides a baseline level of recognition of historic significance for other preservation funding opportunities. National Register listing would also enhance the prestige of the site in the public's perception and can thus enhances outreach and marketing options in heritage tourism.

Somerset County Parks Commission – 2005 Master Plan
In addition to the materials mentioned in the article :

1989 Somerset County Cultural Research Survey: Phase II. On file at the New Jersey State Historic Preservation Office, Trenton
Taylor, Gordon H. – 1905 Walter G. Ladd Estate, Somerset County, N. J. On deposit, Natirar Estate.
1905 Survey of the property?
Otley, J. W. and J. Keily – 1850 Map of Somerset County. Lloyd Van Derveer, Camden.
Beers, F. W. 1873 Atlas of Somerset County. Beers, Comstock & Cline, New York
Turpin, John K. and W. Barry Thomson. New Jersey Country Houses: The Somerset Hills. Volume 1. Mount Colony Press, Far Hills
The Story of an Old Farm: Or, Life in New Jersey in the Eighteenth Century
Other Interesting MLH Project Posts
Have a Story to Share?
Feel free to share a story below or feel free to drop us an email.