Or maybe we need to say:
Give everyone the Disneyland Paris Café des Cascadeurs (Stuntman's) diner update? #disneylandparisdiner
As with all Mr. Local History retrospectives, we often update the post when we learn stories and are sent photos from our internet community. We will continue to grow this piece as information becomes available. If you have a comment or photo, feel free to post at the bottom of this page or drop us a note.

Mr. Local History Project
Here's a story about the birth, death, and resurrections of something that is near and dear to Jersians, a diner. Not just any diner, but the EXCELLENT DINER, a Westfield, New Jersey institution that opened in July 1935 and closed in July 1995. almost 60 years to the day. What is now the Café des Cascadeurs opened a few months after Walt Disney Studios Park had opened on March 16, 2002 where the former Excellent Diner sits today giving customers a treat that Westfielders knew for 44 years. The Mr. Local History project takes a look back at an iconic Westfield institution.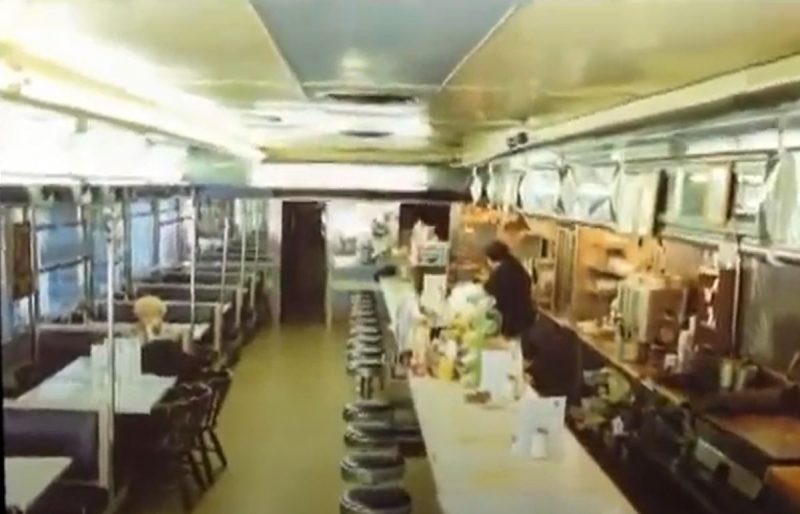 The
Excellent

Diner

The Excellent Diner, the dining car eatery on North Avenue across from the train station, was a Westfield tradition that had its roots starting back in 1935.

Mrs. Stella Lukas and her husband Louis moved to Westfield in 1935 sold the diner to Steve and Harriet Frasiolas in 1975 after owning the diner for 40 years.

Mr. and Mrs. Louis Lukas had owned the original mahogany and marble diner since its inception and contracted with Jerry O'Mahony, Inc. from Elizabeth and a new shiny diner was plopped on the site in 1951. For 44 years, the iconic stainless structure served Westfield residents high quality diner fare.
Jerry O'Mahony, Inc., for decades a leading manufacturer of dining cars, built the Excellent Diner in Elizabeth, New Jersey in 1951 and delivered it to its location where it stood for 44 years. This style of diner can be recognized by its "streamlined beauty," rounded corners and stainless steel trim and classis "rail-car" design. The diner was 23 feet wide by 100 feet long and their first phone number was Westfield 2 – 1582.
The Frasiola Era
Steve and Harriet Frasiola's purchased the diner (not the property) from the Lukas' of Westfield in 1975. For 20 years, the Frasiola family became the local place across from the train station that provided comfort food to commuters and locals seven days a week.
Many stories mentioned the favorites as well as the daily specials. Pancakes, hamburgers, wet omelets, hash browns were all favorites served seven days a week.
"I hate getting up at 4am but once I get there I love it."

Harriet Frasiola
---
Collectible
Get the Keepsake that say's Jersey – The Jersey Diner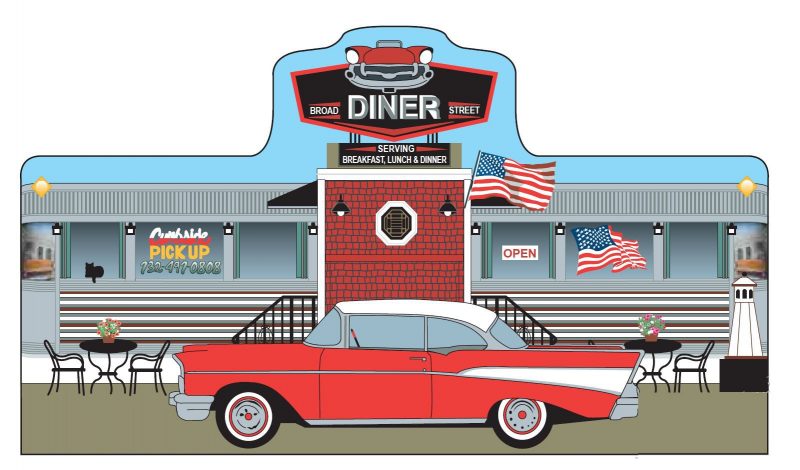 ---
The diner was moved on August 25, 1995 and the foundation was demolished soon thereafter. It was sated that Mrs. Lukas and the Frasiolas could not come to terms on the sale of the property where the diner sat.
Loved going there after a Holy Trinity High School basketball game. Finally got permission from parents that I could go (always wanted to go)I remember ordering French fries.

Linda Macaluso Pellet, Westfield resident
I used to get a milkshake there every weekend if I behaved in church!!

Gwendolyn Walsh
The Mr. Local History Project is still looking for photos or menu images from the Excellent Diner.
Excellent Diner Clippings – Send Us Yours!
Click image to watch……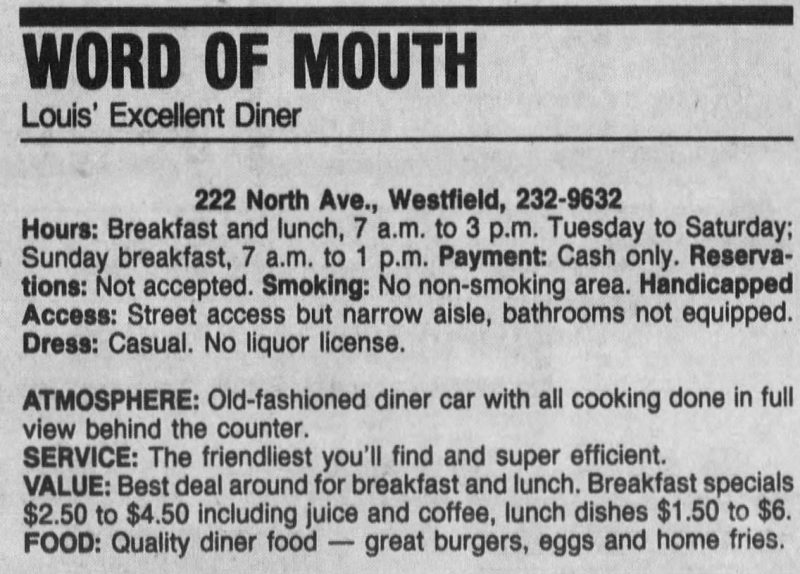 Selling the Diner
The Frasiolas closed the Excellent Diner on Sunday, July 30, 1995 because their 20-year lease on the property beneath the diner has expired. "This is something that's been forced on us," Steve Frasiolas said. "It is not by choice." While the Excellent Diner is closing and is scheduled to be gone by the end of next month, it is not vanishing from the face of the Earth. The diner will reopen for business sometime before year's end in Germany.
Ralph Palumbo III of Milburn and Bernd Richter of Heubauch, Germany, are partners in "Oldies But Goodies," a firm that specializes in exporting American nostalgia to Europe. As far as Palumbo and Richter know, the Excellent Diner will be the first authentic U.S. diner that has ever been brought to Germany. "There are some copies of American diners there," Richter said. "But none that are real."
"Everybody's going to come to the funeral," Steve Frasiolas said. On Sunday afternoon, the Frasiolas will close their diner after 20 years. By this time next month, an ugly, empty space will have replaced the Excellent Diner.
German Export
At the end of their 20-year lease in 1995, the Frasiolas sold the diner for $60,000 to Bernd Richter, who had the building transported to Wasserlassen, Germany where it was delivered in one piece to Aalen, Germany, a city of 70,000 or so about 200 miles north of Munich. Ralph Palumbo III of Milburn and Bernd Richter of Heubauch, Germany, are partners in "Oldies But Goodies," a firm that specializes in exporting American nostalgia to Europe.
Palumbo and Richter said that American nostalgia from the 1940s and '50s is all the rage in Germany. Television crews and reporters from some of Germany's largest media outlets have expressed interest in covering the moving of the diner, Richter said. "In Germany," Richter said, "many people are excited about this."
In 1999, a German company in Stuttgart has ordered 30 diners from the nation's largest diner manufacturer, which just happens to be Kullman Industries Inc., in the borough of Lebanon in Hunterdon County. If diners turns out to be successful imports, the Germans plan to expand elsewhere in Europe.
Kullman Industries, whose diner construction office complex off Route 78 in Clinton, NJ has a strategically located diner where employees can meet to chow down or hold business meetings, sent their first diner in January 1995 for placement at Linthe, near Berlin, said Robert Kullman, the third-generation president and chief executive of the company. Kullman built the Tic Toc diner but filed for bankruptcy back in 2011. Kullman Corp. traces its roots to 1927, when Sam Kullman started building prefabricated diners in Newark.
Where's the Excellent Diner Today?
The diner became very popular in Germany, but eventually the cost to maintain became too high. To make it even worse, a new highway was built leading traffic away from the diner. So time to sell.
Eventually, the diner was sold to Walt Disney Studios and put on the grounds of Euro Disneyland, revealed Robert Wendel, vice president of community relations for the Westfield Historical Society. Wendel mentioned that after mad cow disease in the region caused businesses to slump Germany, the diner was was ready for a move.
On March 16, 2002, the diner opened once again its doors, but this time in Walt Disney's Studio's and with a brand new name, a refurbished exterior and brand new interior. Even though the inside got a make-over it is still completely 50's style.
Another former resident of Westfield noticed a diner looked just like one she knew from Westfield.
While living in Paris, my mother-in-law told us that local news tabloids recorded the Excellent's next move sometime in 2000. After presumably doing a mediocre business in Aalen, the Diner found a more fabulous home in Marne-la-Vallée, a 15 minute drive outside of Paris, and best known for being home to Euro Disney's theme parks. The worldly Excellent had taken up residence in the studio theme park, and rejected its American roots, changing it's name to the more fabulous "Café de Cascadeurs" (translation: Stuntman's Café).

Christine Adams Beckett – a former Westfield resident living in Paris.
Online French reviews of the Cascadeurs are almost universally positive, but not one mentions the authenticity of the design of this American classic, a true antique and relic to the past. There was one that raved about the jukebox though.
July 2021 Update
On February 27, 2018 Disney announced a €2 billion investment in the Paris resort, which includes refurbishing the existing Backlot resort and expanding Walt Disney Studios Park with a new central lake, and three new areas themed to Marvel.
When Disneyland Paris' Backlot attraction makeover began to add the Avengers new attraction, the backlot attraction called Moteurs Action backlot is just across from the Cafe des Cascadeurs! It's just off the Piazza Sergio Leone. See Google Maps and Disney images below:
The diner is still there. It is currently wrapped up and being preserved. It might be re-themed but it is being saved. It is the only piece of the Backlot still around apart from the old Moteurs stadium which is sitting around with nothing to do.
The story continues…….
Additional Information
Have a story to share? Post a comment below.