Being a Jersey guy who can't forget the classic New Jersey diner. I'm not talking IHOP or Denny's, but a REAL New Jersey diner. This story is a calling to our internet friends to identify the ultimate New Jersey's Classic Diner for an upcoming New Jersey Historic Village wooden keepsake. After all, we are the Diner Capital of the United States so a lot of bragging rights are at stake.
After two months and 600 votes, we have our keepsake nomination. Congratulations to the Broad Street Diner in Keyport, New Jersey for representing the village with the first Jersey Diner wooden keepsake collectible.
Get yours today. ORDERS are being taken now for this VERY LIMITED collectible available online now.
---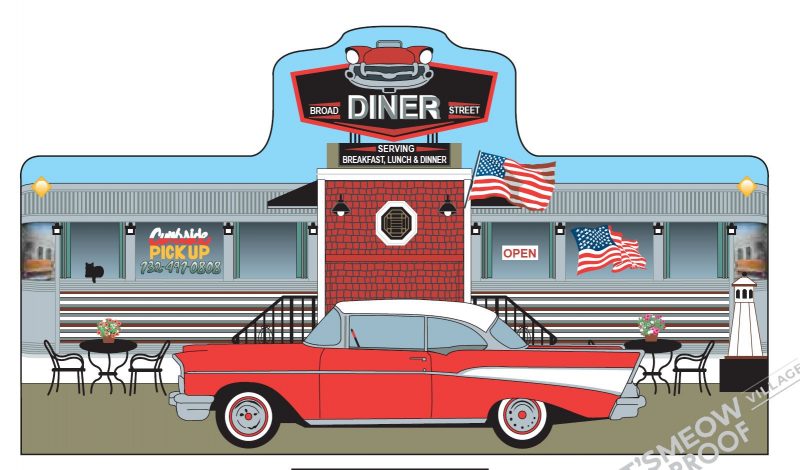 Broad Street Diner History
This authentic circa 1953 O'Mahony diner is located just a few blocks from Raritan Bay. Known previously as Stanley's Seaport Diner you won't have to wonder much about its 1950s origins as you will be reminded at every turn that this place has been around since the days of Elvis and Marilyn. The O'Mahony stainless steel tag is attached to the inside of the vestibule door. Broad Street is one of a handful of classic O'Mahony diners still operating in the Garden State.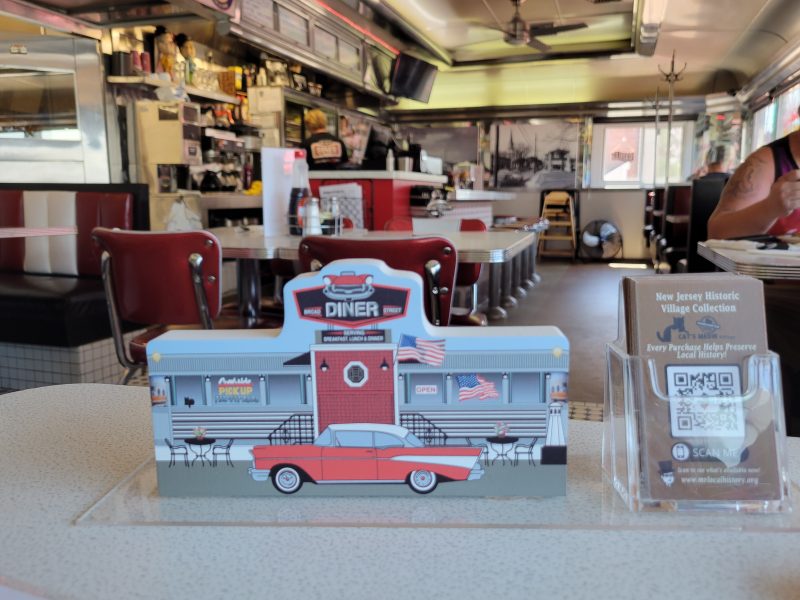 Owned by Nick and Maria Kallas since 2015, the two grew up alongside Greek diner families, as you'll see their experience reflected in the daily specials and hearty portions. As they say in the diner biz, "Food is only half the meal." The savory atmosphere is the other half—and equally important. If possible, when visiting a Jersey diner, sit at the counter. That's where you'll meet, greet, and mingle with the staff and customers.
Funny how you walk in thinking you know what you want and then you get that six page menu. Then it becomes a battle of the mind saying "breakfast or something else scenario," you know exactly what I mean.
Then it starts, coffee with anything, water, and a usual default to the cheeseburger deluxe platter. I just figure that I'm a burger guy and always love when that stuffed oval plate shows up in less than 5 minutes. I never can explain the sheer speed of it all. It's just one more reason I'm fascinated by the Jersey Diner.
And who can't help being foodie. They have this weird twitch where they always want to take a picture of what they're eating. Honestly, it always looks like a piece of art.
Road Trip to New Jersey's Most Iconic Diners
It's the New Jersey Iconic Diner Map. If you're on a mission, why not go check out New Jersey's most iconic diners. Totally worth it!
The map below is interactive. Bookmark it and put it on your phone. We're updating it all the time when we get a good tip.
---
And We Leave you with Rosie. A Jersey Legend!
The Mr. Local History Project, a Jersey Based non-profit is going to work with a number of Facebook Groups to capture Jersey Diner names and locations. You can also nominate in the comments section below. From over 100 entries, we picked the Top 12. The winner will then be recommended to the New Jersey Historic Village Collection to be made into a keepsake. YOU CAN VOTE FOR UP TO THREE (3).
Additional Info: