Noted High Society Playboy and Titanic Survivor Brings Notoriety to Bernards Township.
It's a fun story, but you've gotta hang in there. First we need a little background about John's father, the one who didn't survive the Titanic disaster.
In 1909 John Jacob Astor IV divorced his wife Ava and, two years later, married his eighteen-year-old mistress Madeleine Talmadge Force, which scandalized New York society . Mr and Mrs Astor travelled to Egypt and Paris and, in the spring of 1912, decided to return to America as First Class passengers on board the brand new Titanic, probably because, given that Madeleine was 5 months pregnant, they wanted the baby to be born in America. They boarded the Titanic at Cherbourg.
After the accident Astor left his suite to investigate, he quickly returned and reported to his wife that the ship had struck ice. He reassured her that the damage did not appear serious. As his wife boarded a lifeboat, Astor asked if he could accompany her, due to her "delicate condition", but an Second Officer Lightoller refused, reminding Astor of the "women and children only" rule. Taking the refusal like a gentleman, Astor then threw his gloves to his wife, and lit a cigarette. He and his dog were last seen on deck.
Astor died when the iconic ship went down on April 15, 1912. His body was recovered during the retrieval process by the crew of the Mackay-Bennett, on April 22, covered in soot, and partially crushed, leading experts to believe he had been smashed by a falling smokestack. He had $2,500 cash in his pocket. In perspective, that would be like someone walking around today with $65,000 in his pocket!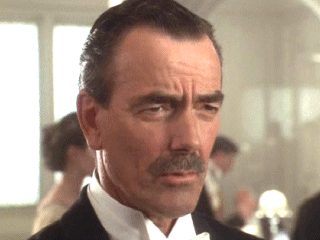 The body was delivered to Mr N. Biddle and forwarded to New York City on May 1, 1912. He was buried at the Trinity Cemetery (155th Street & Riverside Drive) New York (still the only remaining active cemetery in Manhattan). Madeleine survived to inherit $1.7 million from John, and on August 14th that same year gave birth to John Jacob Astor VI, who would grow up to become a millionaire playboy much like his father.
(Left – Eric Braeden, actor who played Johh Jacob Astor IV in the 1999 film Titanic)
So why do you need to know about John Jacob Astor IV?
The Astors were some pretty prominent people. John Jacob Astor I was the founder of the trust. Yes the trust. He was the first multi-millionaire in the country who built a huge fur trading business after the revolutionary war. Astor later became a NYC real estate baron. (Astoria, Queens ring a bell?) He died in 1848 as the richest man in America with an estimated net worth of over $20 million (est. $110 billion in 2006 dollars).
But it was his great grandson John Jacob Astor IV, also known as Colonel Astor who led this story to Basking Ridge. Astor IV was also a big real estate developer. He built what was known as the greatest hotel in the world, The Astoria, next to his cousin William Waldorf Astoria's The Waldorf. Ironically, the Waldorf Astoria hotel was the hotel used as the emergency information center after the sinking of the RMS Titatic. Keeping the Astors in the news today, it was John's estate on the Hudson , Astor Court (Rhinebeck,NY) that was recently used by the Clinton's for Chelsea Clinton's wedding in 2010.
Also, you maybe have heard of Brooke Astor, the philanthropist and socialite who died at the age of 105 in 2007 and left a huge amount of money a number of social causes. Her second mariage was to John Jacob Astor IV's first son Vincent Astor (John Jacob Astor VI's brother). She had been previously married to John Dryden Kuser at the age of 16 (1919). John Dryden Kuser was a wealthy prominent resident of Bernardsville, New Jersey. John Kuser's grandfather, John Dryden was founder of Prudential Insurance who also lived in Bernardsville.
His other grandfather Anthony Kuser was President of South Jersey Gas and Electric. Brooke filed for divorce from Anthony in 1930. Kuser's top accomplishment as a New Jersey Senator was legislation naming the eastern goldfinch as NJ's state bird.
Now Bernards Township has a bit of history to share. Known as the town hall today, there is a twenty room English Tudor structure that was built in 1912 and was the home of four wealthy families – Owen, Lee, Bissell and Astor, before it was purchased by Bernards Township in 1968.
John Jacob Astor VI was Astor IV's second son. John Jacob Astor VI's, sometimes referred to as "Jakey'" estate was originally built by Samuel Owen (1912) of Newark, a pharmaceutical manufacturer engineer who worked with Sir James Horlick, inventor of malted milk. The entire area was once an apple and peach fruit orchard farm named "Cedar Hill". The Owen family crest still adorns the fireplace wall in the crystal chandelier-ed dining room off to the left of the main entrance. Townspeople were invited to picnic in Owen's woods; 35 acres were planted with 5,000 peach and 1,500 apple trees. For those who live in the area, you now know how the nearby elementary school Cedar Hill got its name.
Trustees of the Owen estate then sold the property to Mr. and Mrs. George Ludlow Lee Sr. in 1940. Mr. Lee was owner/treasurer of the Red Devil Tool Company of Irvington, 1937-1950; he later became chairman of the board, renamed Red Devil, Inc., now located in Union, N.J. Mr. Lee served on the Bernards Township Planning Board and was its vice-chairman in 1944. He and his wife, Dulcinea Harrison Smith Lee, continued operation of the flourishing fruit farm, where local markets and roadside stands were supplied with the produce. Now you should know how the Ridge "Red Devils" got their name. George Ludlow Lee Sr. later lived on Chapin Road in Bernardsville before before his death on August 9, 1966 while on vacation in Portland, Maine. He died at the age of 65.
After the Lee's, Mr. and Mrs. Bissell then owned the estate. They renamed the estate "Maple Way" and lived there from 1946-1950. Mr. Bissell was executive vice-president of the Continental Grain Company in New York City.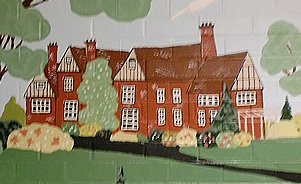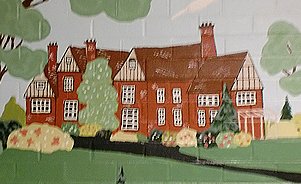 The Bissell's sold the property to John Jacob Astor VI in 1950. You remember, John VI was still in utero in his 18 year old mother Madeleine's womb narrowly escaping death on the Titanic thanks to the "Women and children first" rule. Why a New York Playboy, at the age of 38 wanted the home back in the family is a guess. He got divorced for the 4th time in 1954, just four years after buying the property and it was noted that the property lay unoccupied for almost 8 years. Maybe a reason he repurchased the family home in the country is because he was ousted from many of the social registers (noted in NY Times in 1954) and needed a quiet place to hide out. Might have also had something to do with Brooke Astor, since she certainly was familiar with the area.
Ah, but years earlier, back in the early 1940, Astor had a huge tract of land where the present Lord Stirling stables reside. The Astor's built a barn and raised dairy cattle until the 429-acre Astor property was purchased by the Somerset County Park Commission on December 21, 1967. The county purchase was to fulfill the Park Commission Master Plan designating that a riding stable be built in the northern part of Somerset County. Lord Stirling Stable opened on the site in the spring of 1969 with 30 horses.
The hilltop home and 28 acres were purchased from John Jacob Astor 6th by Bernards Township in 1968 for $140,000. That was the last of the Astor's holdings in the area.
It was probably soon after that the beautiful antenna was added.
The historic estate was part of the 2010 Historical Society of the Somerset Hills Holiday House Tour.