Ridge High School senior Pari Mandalapu is the recipient of the 2021 Mr. Local History Project Scholarship for Community Service in local history.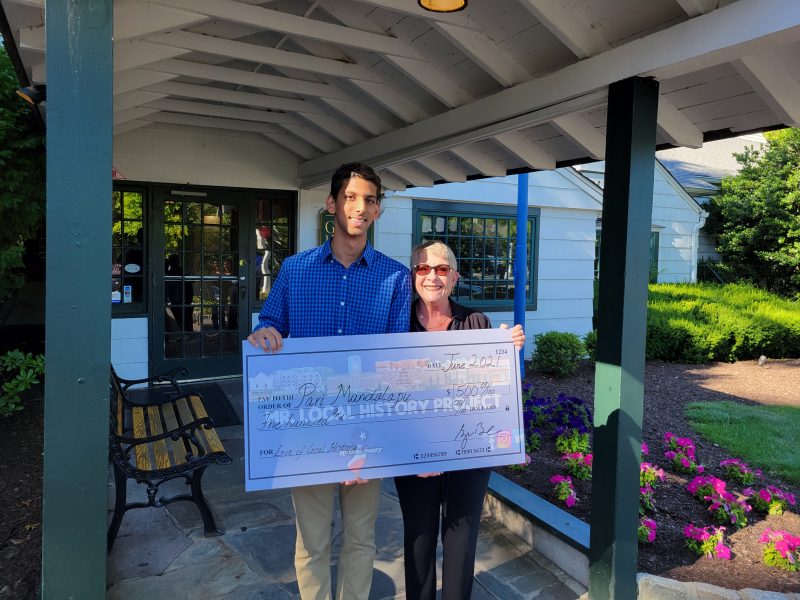 Pari has lived in Basking Ridge most of his life, and has been involved in local history projects for all 4 of his high school years. In addition to being a club swimmer—and member of the Ridge High School varsity swim team—for many years, he also describes himself as an "avid fanatic" of "anything history." During his time volunteering—he has amassed over 250 hours of volunteer time—Pari has worn many hats while helping to provide local history to the town of Basking Ridge. He has researched people and places that have had an impact on the town; he has helped to archive information relevant to local history; he has worked with children on historic craft projects; he has helped usher participants taking part in Mr. Local History annual walking tours; he has helped decorate holiday trees honoring local history and businesses; and he has been an all-around bright spot among the teen volunteers who work with the Mr. Local History Project.
Pari has found joy in the hours he has spent volunteering. "From digging through old documents to archiving information, there's always history to be found in you look hard enough," says Pari of his contributions.
Pari will continue his education at Worcester Polytechnic Institute, Worcester, Massachusetts. He'll don the "crimson and gray" and become one of WPI's star engineering students!
The Mr. Local History Project is proud to honor all of Pari's accomplishments, and is pleased to award Pari Mandalapu with this year's Local History Scholarship.
About the MLHP History Makers
Today is tomorrow's history, so make it a good one!" is the motto readers will always find on the Mr. Local History website. The motto is a reminder that each and every day, all of us "make history" through the actions we take or the decisions we make.
To that end, the Mr. Local History Project encourages teenagers to join our organization and think about how they can make history themselves. Local high school and college students are invited to become "History Makers" within our organization.
Jack Brown (2019) along with the Historical Society of the Somerset Hills
Somerset Hills area students in grades 7-12 who are interested in volunteering for Community Service hours and the possibility of an MLH Scholarship in the future are encouraged to contact MLH Trustee Meg Wastie at [email protected].
Want a Chance at a Scholarship?
Join the History Makers
Teens interested in joining Mr. Local History as History Makers are encouraged contact MLH History Maker Meg Wastie at 201-572-5390 or through the MLH website.
Doesn't Work without Your Financial Support
Make a Difference and Donate to this worthwhile cause and get a free gift!