As with all Mr. Local History retrospectives, we often update the post when we learn stories and are sent photos from our internet community. We will continue to grow this piece as information becomes available. If you have a comment or photo, feel free to post at the bottom of this page or drop us a note.

Mr. Local History Project
UPDATE:
2022 High Bridge Soap Box Derby Photos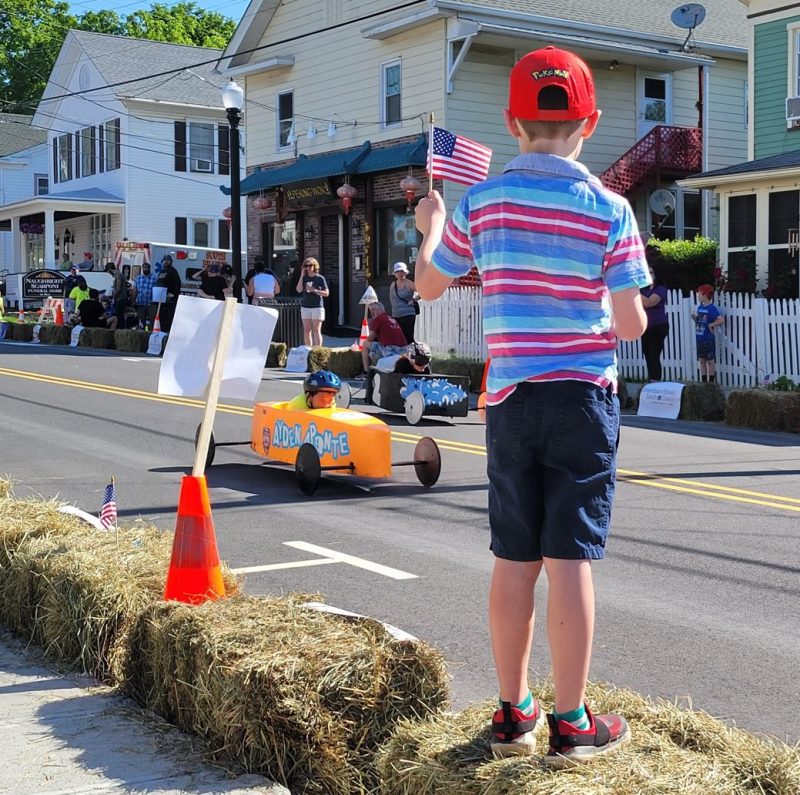 Visions of custom made and painted cars with young kids bearing a helmet and a chance at fame leveraging gravity in a non-motorized home made vehicle. It's as American as can be and it's called the soap box derby. The Mr. Local History Project takes a look back at this iconic hobby and classic American event.
Today, the All-American Soap Box Derby is a youth gravity racing program which has run nationally since 1934. The program is administered by the International Soap Box Derby, Inc., an Akron, Ohio-based nonprofit organization. Children between the ages of 7-20 are eligible to race in the program. Kids, along with a parent, mentor, etc. build a car using a specially designed kit purchased from the ISBD.
Races are held each year in officially sanctioned Soap Box Derby race locations throughout the United States and a few foreign countries. The racing season culminates at the First Energy All-American Soap Box Derby World Championship Race, held each July at the world famous Derby Downs Track in Akron, Ohio.
Brief History
Since the Soap Box Derby got its start in the depths of the Great Depression, the story of Robert's racer, and its disappointing round trip to Ohio, has been repeated thousands of times. In 1933 a photographer named Myron Scott was photographing three boys, each sitting in a cratelike frame fixed to baby-buggy wheels, rolling down a bumpy hill in Dayton. The name "Soapbox" originated from the fact that these little human-powered machines were also made from wooden soap crates and roller-skate wheels.
The same photographer invited the boys to come back a week later and bring their friends-for a bigger race. Nineteen racers came. A considerable crowd gathered. One of the contestants was a local 12-year-old named Bob Gravett, who had painted the number 7 on his car-it was the easiest number to draw, he explained. An image of Old No. 7 has been used ever since on the official Soap Box Derby logo. As they say, the rest is history.
Early Racing in New Jersey's Somerset Hills
The Soap Box derby was popular back as far as 1942 as we learned of the annual June Fair at St. Bernards that held a race early in June at the Bernardsville, New Jersey fairgrounds at S. Bernards Church on Claremont Road. The entry list for 1942 for the Soap Box Derby included: Blair Jerolaman, Freddy Anderson. Lester Chan, Eddie and Tommy Heehan, Laura Mae Compton. Emil Menies and Dick Liddy with the top three willing $5.00, $3.00 and $1.50 in defense, stamps respectively.
The Inaugural Somerset Hills Derby – 1959
The Bernardsville Jaycees
From 1959 through the early 1960's the Somerset Hills Jaycees were the main sponsor, along with Chevrolet Dealers and the Bernardsville News, of the biggest soap box event in New Jersey. The winner of Somerset Hills soap box derby on June 14,1959 was Bryan Arndt of Bernardsville, New Jersey who then represented New Jersey at the National All American Soap Box Derby race in Akron, Ohio in August. A group of forty parents and boys participated at the inaugural event. The race would run from the old flag pole circle by Bill's TV down Mine Brook Road (Route 202) to the Bernards Inn.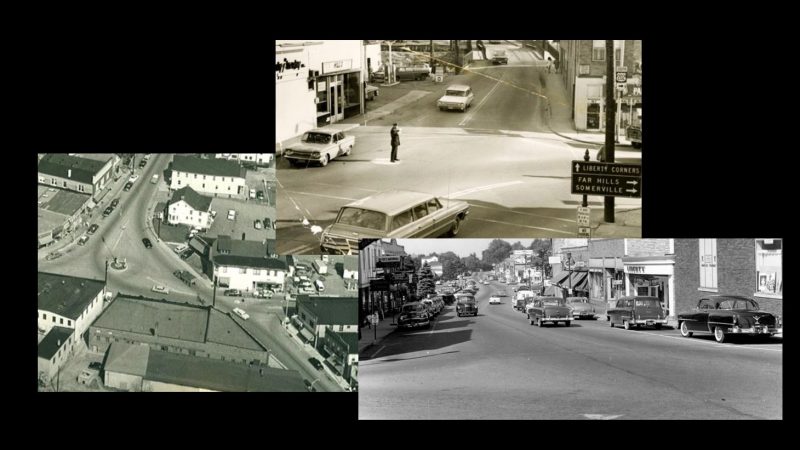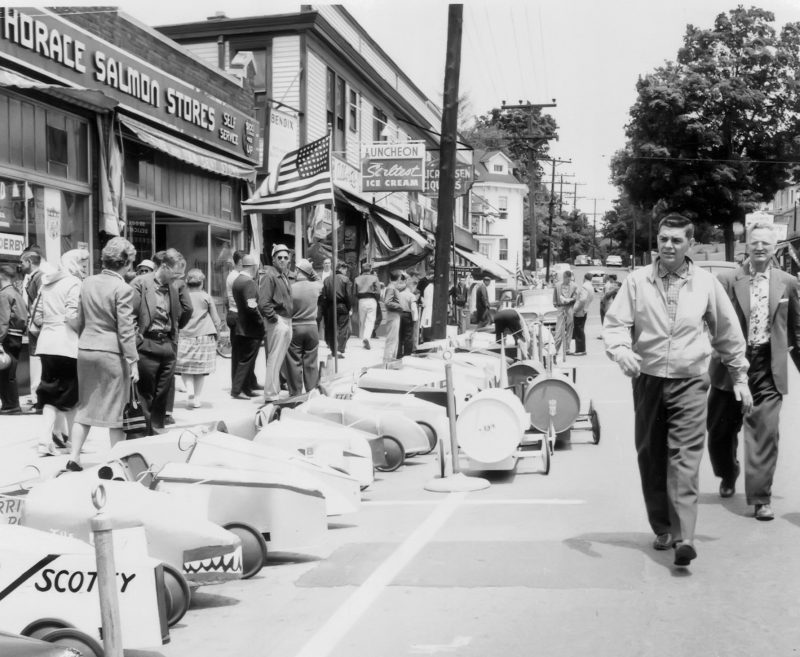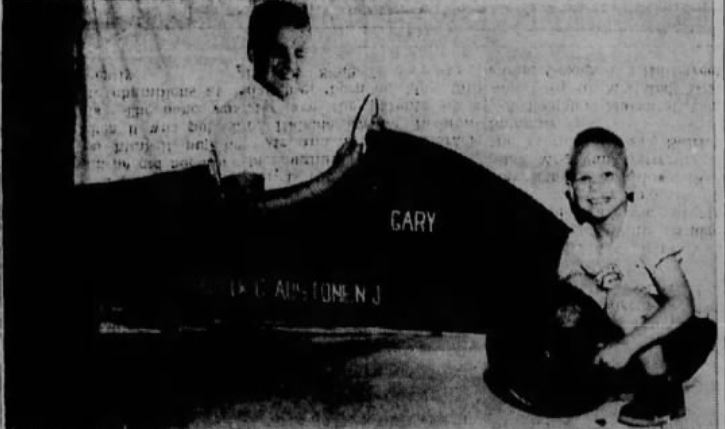 Sponsored by the Somerset Hills Jaycees with supporting sponsorships from the Bernardsville News, the Bernardsville Recreation Department, Chevy dealers were the only national sponsor supported by local dealers. In this case it was Werring Chevrolet of Basking Ridge.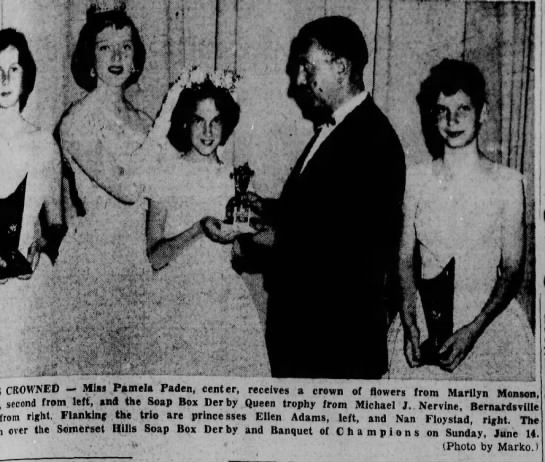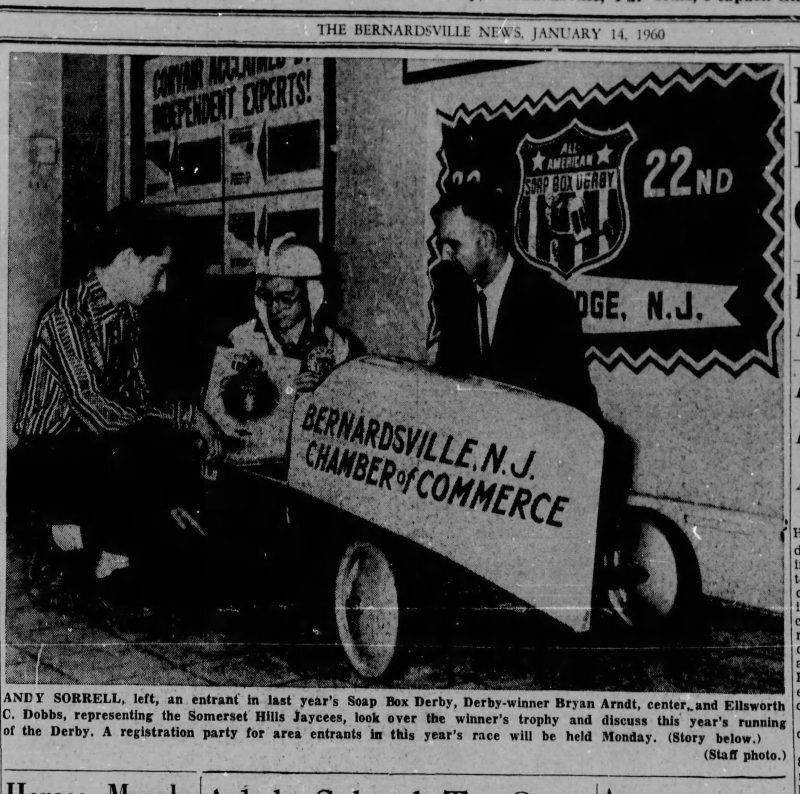 1960 Somerset Hills Jaycee-Chevrolet Soap Box Derby
There were two champions Sunday, June 19, 1960 at the Somerset Hills Jaycee-Chevrolet Soap Box Derby. Johnny Powell, 13, son of Dr. and Mrs. Matthew Powell of Liberty Corner Road, Far Hills won the Class B Championship saying immediately after the race, "this is the biggest moment of my life! " His car was sponsored by J. Mastro Shoes of Bernardsville who watched the proceedings from the Bernards Inn porch. Mrs. Millicent Fenwick of the Bernardsville Reaeration Advisory Board Chairman oversaw the event.

Johnny Powell said he had worked steadily on the car for two months. It was made of hard wood, with a natural finish. Johnny's parents have been excited as the young man and many a patient had joined Dr. Powell in the basement to see the young man's handwork. With the win, Johnny earned a spot at the Soap Box Derby National Championship in Akron, Ohio. The Class A Champion was Andy Sorrell, who scored his win with the fastest course run at 23 seconds in an earlier heat. Johnny Powell won the final head to head race of the day at 23.2 seconds.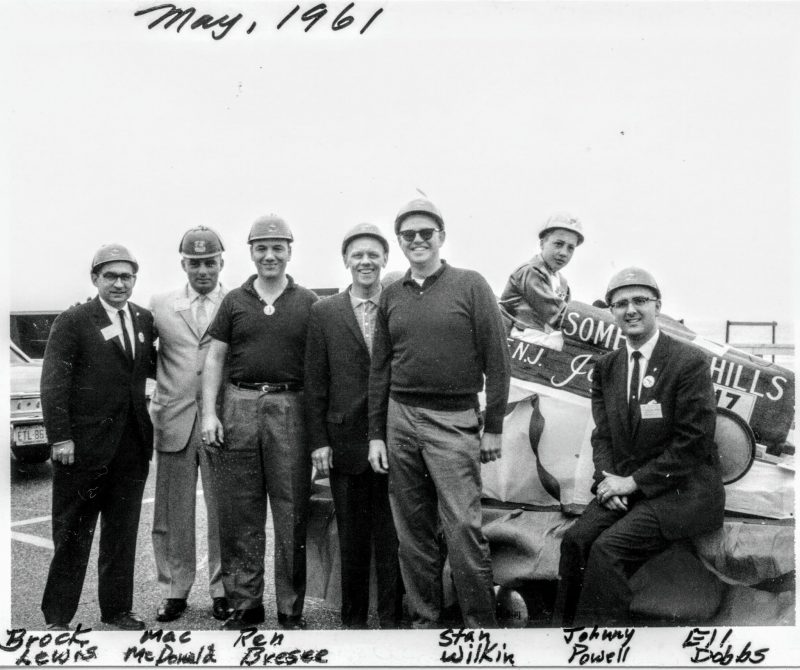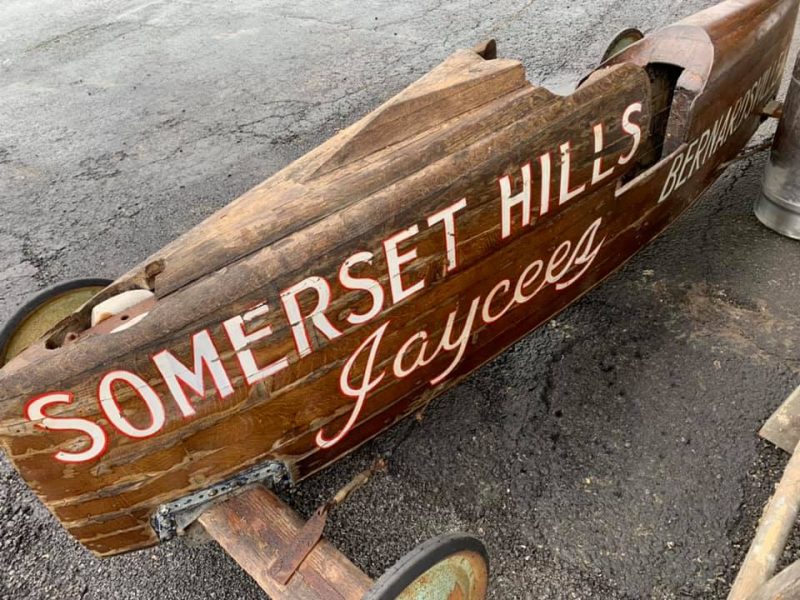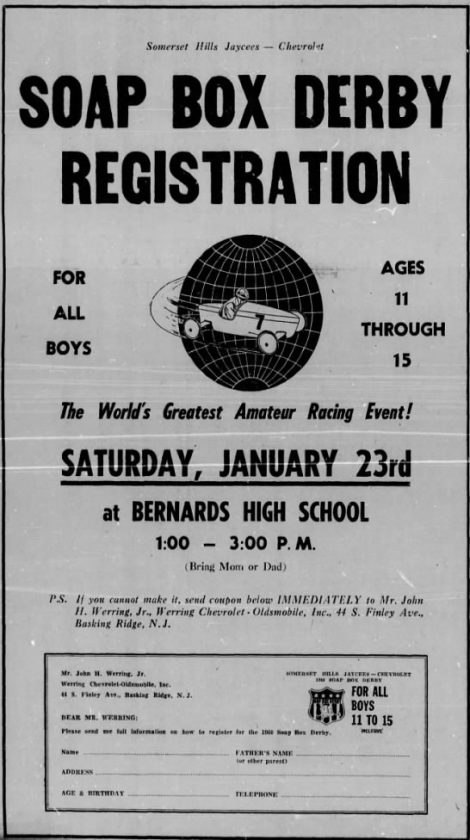 The 1960 local derby was organized by Thomas Waldron of Bernardsville, NJ and sponsored by Bernardsville's Somerset Hills Jaycees. Boys would have their parents take them to construction clinics through out the year Bernards High School and the Liberty Theater for instructions on how to build and operate a soap box car. Rules were covered and if you were lucky enough to win, you would qualify for the national championships held every year in Akron, Ohio.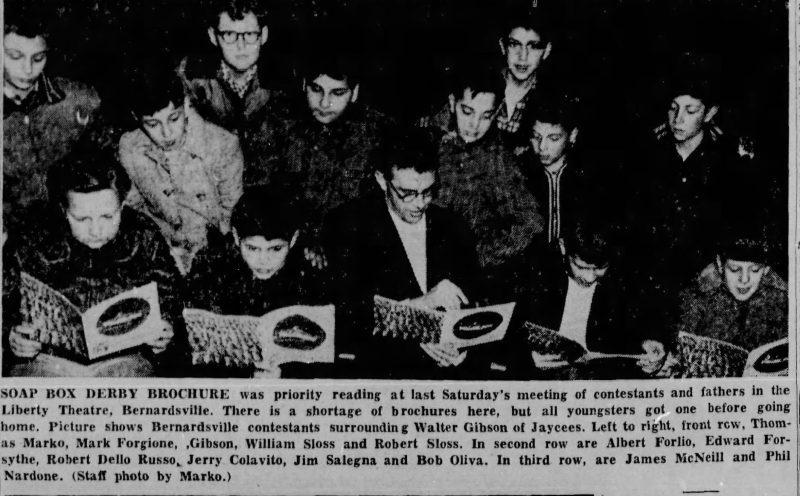 The 1960 Somerset Hills Jaycee-Chevrolet Soap Box Derby began at 1pm with a parade up Route 202 followed by an "oil can racer" match race including Bernardsville's Police Chief Tom Kenney, Bernards Township's Chief Harry Allen, and Bedminster's Chief Vincent Kavanaugh. The first heat started at 2pm. At the end of the day, a Banquet of Champions was held at the Old Mill Inn. Approximately 3,000 spectators attended the 1960 event.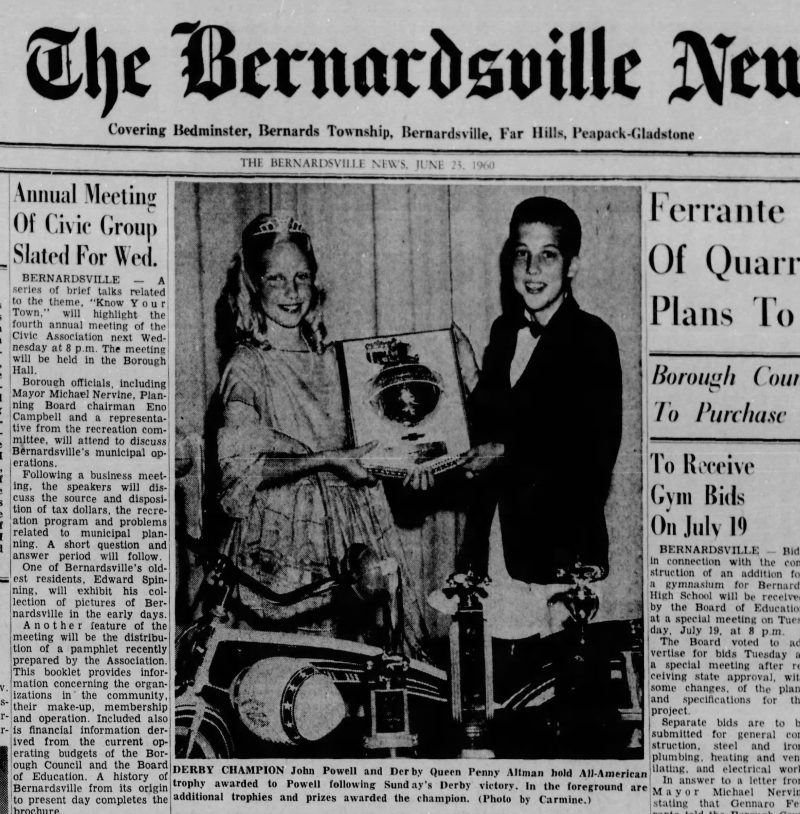 Colonial Derby on Mills Street Soap Box Derby
Morristown, New Jersey – 1962-1963
A partnership between the Bernardsville Jaycees and the Exchange Club of Morristown sponsored the Coaster Derby. The derby moved to Morristown as the Bernardsville event didn't meet the required 50 registrants.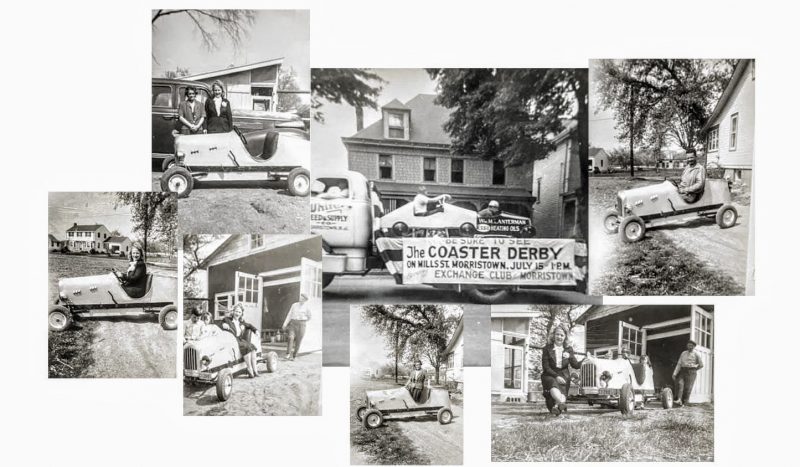 The 1962 Morristown-Somerset Hills derby winner was Thomas Stoneman from the Lyons section of Bernards Township who won the 1962 event on the inaugural track on Mills Street in Morristown. Stoneman went on to win his first heat at the Nationals in Akron, Ohio. Stoneman was the youngest participant at only 11 years old. His older brother Jack Stoneman was runner up at the 1959 derby held in Bernardsville, New Jersey. This was a very important year as the All American Derby Race was celebrating its 25th anniversary.
The 5th year of the area event on June 22, 1963, the Morristown- Somerset Hills Jaycee-Chevrolet Soap Box Derby (Coaster Derby) winner was Robin Armstrong of Bedminster, New Jersey. 24 racers participated. Robins brother Patrick Armstrong had won the 1961 derby held in Bernardsville. Both went on to race at the national championship in Akron, Oho.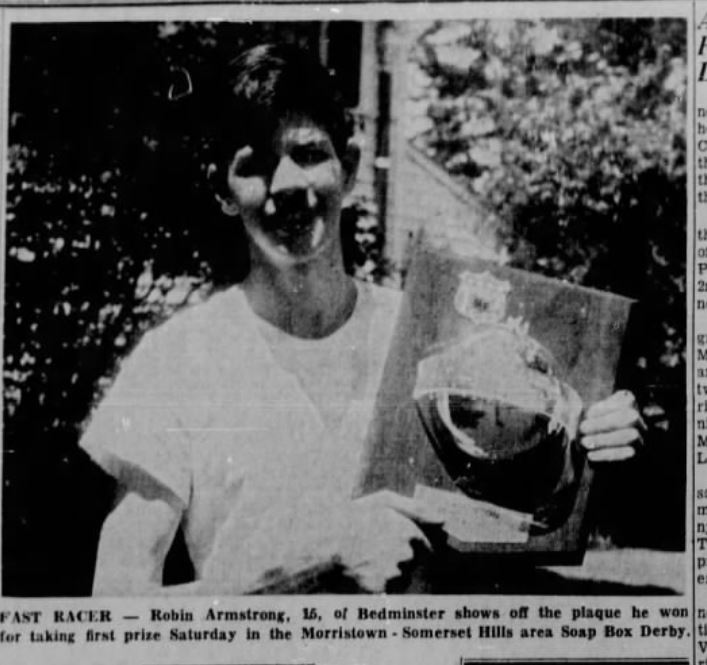 I lived on Mills St. and during the late 1950's -1960's where they ran the derby. The start would be a few houses down the street from me about in front of 57-59 Mills Street and it ran down the hill toward Alexander Hamilton elementary school. I only remember it running for a few years.
Rumor had it that there was a crash one year and someone was hurt and that was that.

Robert (Bob) Guinter – Mills Street, Morristown, New Jersey
Inaugural Somerset Valley Derby
Somerville, New Jersey 1983
In 1983, the first Somerset Valley YMCA soap box derby was held on North Bridge Street in Somerville, New Jersey. Jill Bowman of Basking Ridge (via California) captured 4th place and Frank Yurasko of Bernardsville placed 5th out of 14 entrants. The 600 foot course on North Bridge Street, was known as a "drivers hill".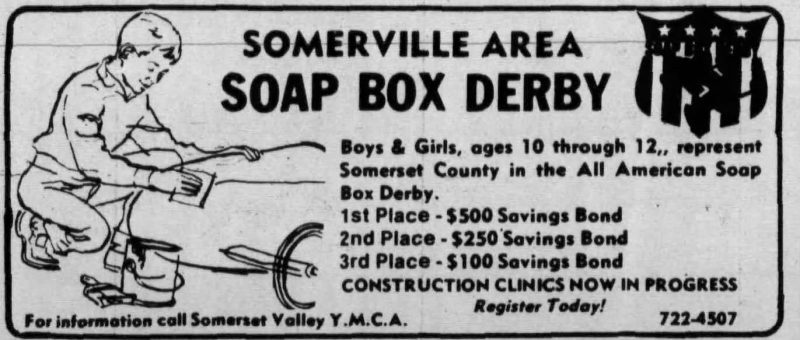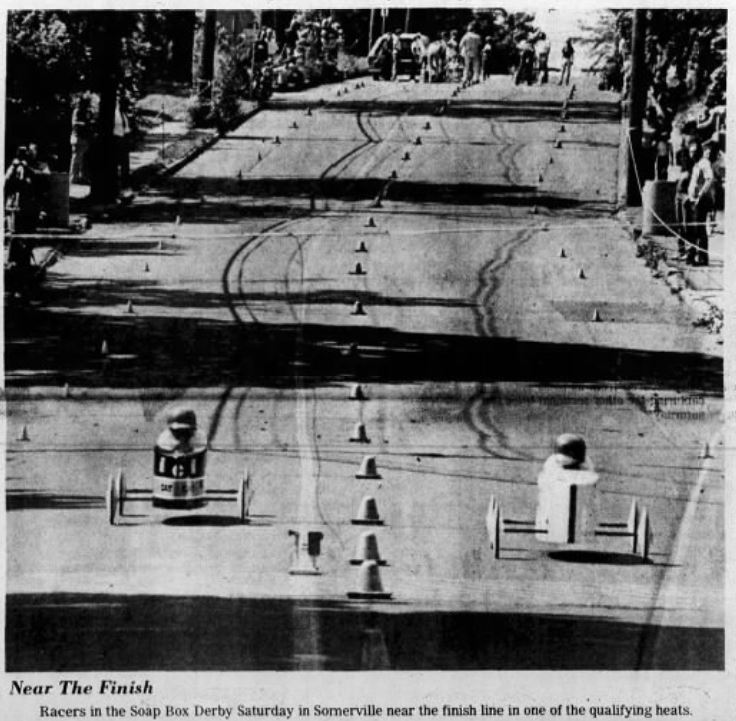 The Ultimate Derby:
Akron Ohio's Derby Downs
Additional Information
New Jersey features many races throughout the state. The mission of the New Jersey Soap Box Derby Racing Association is to help promote and publicize all forms of Soap Box racing throughout the state of New Jersey. The International Soap Box Derby championship is held annually in Akron, Ohio in mid July. To order your car kit or for more info about the World Championship race please go to www.soapboxderby.org
Every July, about 500 champions and their families from the United States, and countries including Canada, Germany, Japan and New Zealand, arrive in Akron in for a week of race-related activities. The week begins with technical inspections, weigh-ins and trial runs on the famous 989-foot-long track at Derby Downs.
Racers compete in separate divisions based on their age and construction skills. Boys and girls ages 7 to 13 compete in the Stock Car division, which features the simplest ready-to-assemble kits purchased from All-American Derby headquarters. Youngsters 10 through 17 can compete in the Super Stock division, with cars that accommodate larger youngsters, or the Masters division, featuring traditional, more sophisticated cars.
The Ultimate Speed division is open to drivers between 16 and 24 who pilot innovative race cars at speeds not attainable with the traditionally designed cars. Division champions compete in Akron for college scholarships.
The National Super Kids Classic, a race in which special needs children compete in two-person cars driven by veteran Soap Box Derby racers, is also part of the festivities. Additional information can be found at www.soapboxderby.org*. Also, follow the Derby on Facebook and Twitter for updates, photos and more.
New Jersey Soap Box Derby Events
2022 – June 4 – High Bridge Soap Box Derby – High Bridge, New Jersey
2021 – Sept. – High Bridge Soap Box Derby – High Bridge, New Jersey
2019 – Brick City derby – University Heights, Newark, New Jersey
2019 – Graphics Drive, Ewing, New Jersey
2007- Present – High Bridge, New Jersey
2001- Present- New Brunswick Soap Box Local Derby (Largest in New Jersey- State Championships)
1995 – Hillsborough, New Jersey Derby
1983 – North Bridge Street, Somerville, New Jersey
1983 – Lebanon, New Jersey
1972 – Newark, New Jersey – 15,000 people watched 55 cars run a Central Avenue incline.
1965 – Montrose Avenue, S. Plainfield, New Jersey – Wildcat Soap Box Derby
1963 – Gallows Hill Road, Westfield, New Jersey
Greater Somerset Hills – Morristown Derby

1963 was the 14th annual event in the area.
1962 – 1963 Mill Street, Morristown, New Jersey. The Coaster Derby on Mill Street
1959 – 1961 Mine Mount Road, Bernardsville, New Jersey Somerset Hills Jaycee-Chevrolet Soap Box Derby
1946 – 1950 Mine Mount Road to Claremont Road, Bernardsville, NJ – St. Bernards Fair Soap Box Derby @Claremenot Road Parish House
1947 -1948 North Jersey Championships & Twin Boro Derby – Oct 3, 1948 Peapack Gladstone on Mendham Road. (Soap Box wagon racing)

1933 – Main Street, Califon, New Jersey between 513 and School Street, Califon Soap Box Derby (50th running in 1983)