Starting at 8:46am on September 11, 2001, when the first plane hit the north tower, our community was changed forever. Please take a moment to remember those 21 residents from Basking Ridge, Bernardsville and Peapack that never came home that day. This is our tribute to the families. #wewillneverforget.
2022 September 11 Remembrance Ceremonies
Somerset County Courthouse Green – 9/11/2022 8:45 AM – 9:30 AM  
Honor the memory of the 39 county residents who died in the attacks on Sept. 11, 2001. The in-person ceremony will start at 8:46 a.m. in front of the Historic Courthouse in Somerville.
Bernards Township – The township will be conducting a ceremony to commemorate the 21st anniversary of the Sept. 11, 2001, terrorist attacks on America at 1:30 p.m. on Sunday, Sept. 11. The event will be held at the Harry Dunham Park 9/11 Memorial, just off the Liberty Corner Road parking lot.
Bernardsville – Community members are invited to attend a brief ceremony of remembrance at 12:30 p.m. on Sunday, Sept. 11, at the 9-11 memorial flagpole outside of Bernardsville Public Library at 1 Anderson Hill Road.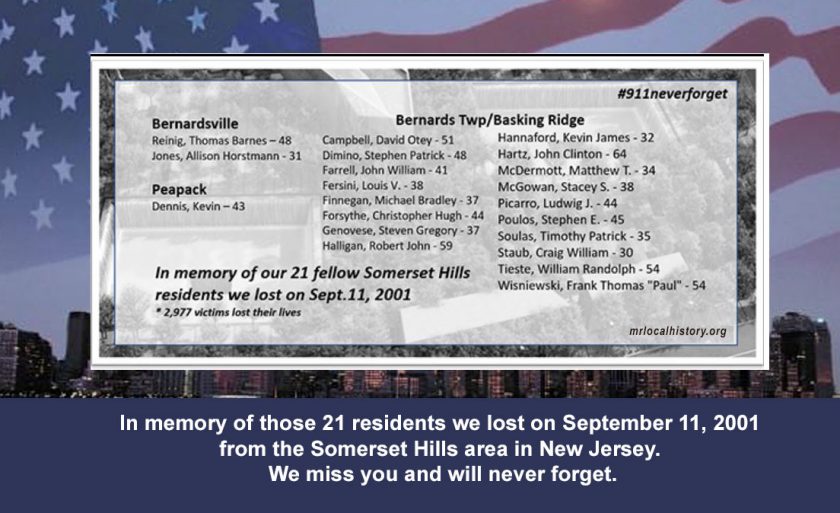 Bernards Township was one of the hardest hit communities in the state on 9/11. The 18 township residents lost that day was the fourth highest total of any town in New Jersey, after Jersey City, Hoboken and Middletown Township.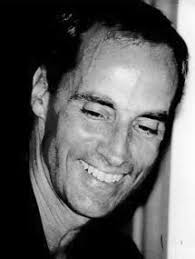 There were seven others who perished in the attacks who had connections to the Somerset Hills area including:
Debbie Fischer Gibbon of Long Valley, a 1975 Ridge High School graduate
Barbara G. Edwards of Las Vegas, Nev., who had lived in the township in the 1980s.
All of whom had relatives in the Somerset Hills

James Berger
Thomas E. Gorman
Anthony Infante Jr.
Thomas P. Knox
Joseph Mascali
The nearby Liberty Corner firehouse on Church Street in Liberty Corner also has a 9/11 memorial that honors the firefighters who died saving others that day. To help fund the memorial, the volunteer fire company made available for purchase 343 memorial bricks, representing the 343 Fire Department of New York firefighters who gave their lives in the terrorist attack.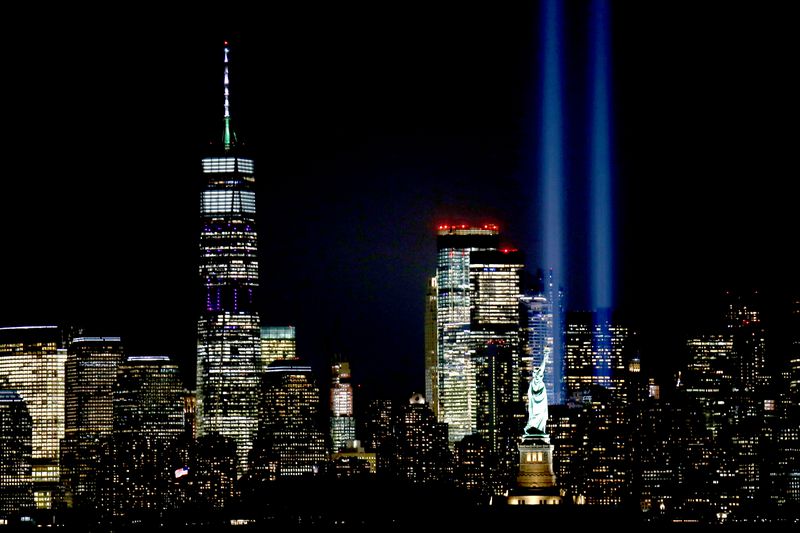 UPDATE: Looking for the Light:
The MLH Project just released a new piece on the community members we lost. For the first time in one place, earn about the people and their families.
UPDATE: If there is a foundation or supporting organization honoring those lost, please let us know and we will update their legacy here with the good work being done in their honor. Submit Here.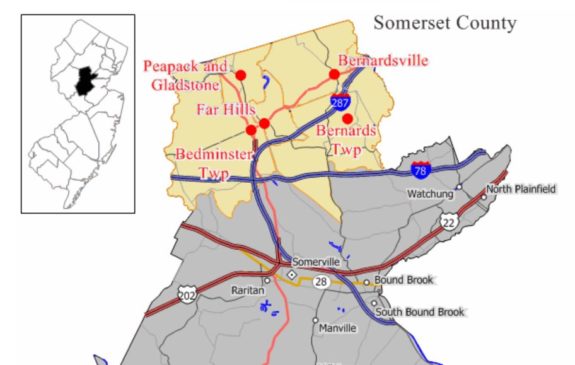 David O. Campbell, Basking Ridge, New Jersey
Kevin Dennis, Peapack, New Jersey
Stephen Dimino, Basking Ridge, New Jersey
John W. Farrell, Basking Ridge, New Jersey
Louis Fersini, Jr., Basking Ridge, New Jersey
Michael Finnegan, Basking Ridge, New Jersey
Christopher Forsythe, Basking Ridge, New Jersey
Steven Genovese, Basking Ridge, New Jersey
Robert John Halligan, Basking Ridge, New Jersey
Kevin James Hannaford, Basking Ridge, New Jersey – Kevin Hannaford Foundation
John Clinton Hartz, Basking Ridge, New Jersey
Allison Horstmann Jones, Bernardsville, New Jersey
Matthew McDermott, Basking Ridge, New Jersey
Stacey Sennas McGowan, Basking Ridge, New Jersey
Ludwig Picarro, Basking Ridge, New Jersey
Stephen E. Poulos, Basking Ridge, New Jersey
Thomas B. Reinig, Bernardsville, New Jersey
Craig W. Staub, Basking Ridge, New Jersey
William Randolph Tieste, Basking Ridge, New Jersey
Timothy P. Soulas, 35, Basking Ridge, New Jersey
Frank Thomas Wisniewski, Basking Ridge, New Jersey