As we've been focusing on preserving and promoting local history, out of left field comes one of my most humbling honors when the Bernards Township Committee on October 29, 2019 passed a resolution appointing him as the official historian for Bernards Township. The Bernards Township Committee has subsequently appointed Brooks Betz (aka Mr. Local History) to the position in 2020, 2021, and again in 2022.
The official historian position has had only one other person, June Kennedy, as the previous appointee. June had worked tirelessly in that capacity and I got to be very good friends with her over the years. We partnered on a number of stories. She would drive for the facts and I'd use the internet. As we did our research, June was always a fixture on her IBM Selectric typewriter while I had my laptop. She'd be at the library and Brooks would be combing the Bernardsville News. They made a great pair.
Take a look as the Mr. Local History Project created a special section on our website dedicated specially for Brooks and Bernards Township local history – Click Here
Origins of Mr. Local History
The term Mr. Local History happened by accident but it stuck. A high school friends partner who moved to town a few years ago would always ask questions about local history. I would always try to answer and she said "Boy you're like Mr. Local History".

But it was the second occurrence that sealed the deal. A few friends gathered at June Kennedy's to celebrate her 90th birthday. It's was a really fun afternoon. June asked me to put on one of her hats. When I did, she said, "See, now you can be Mr. Local History" to which I replied "You will ALWAYS be Mrs. Local History." Sadly that was the last time I saw June alive.
Township Resolution and the Future
For the 4th year in a row, congratulations to Brooks Betz, MLH founder and Trustee for his appointment as the official historian of Bernards Township, New Jersey.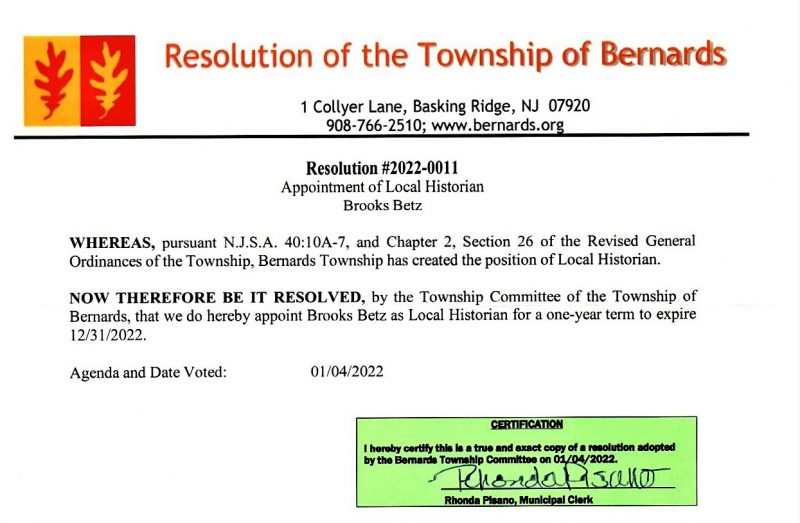 Then on October 29, 2019 it happened. Unbeknownst to me, a few friend of mine reached out to the Township Committee and as they say, the rest is history. The reason I write this is to let you know that I don't take the appointment lightly. It's a great honor to follow in June's footsteps as the 2nd official historian in town. I'll never live up to the expectations she set, but I'll have the same tenacity that she always exhibited. I plan to leverage the Mr. Local History Project to continue in June's footsteps. Hope I live up to the expectations.
Thanks all for listening. See you around town (or online for sure!)
If you'd like to join the cause, please drop us a note! Click Here
Mr. Local History aka Brooks Betz