It reads more like a missing children's report:

MISSING – Golden Boy – Last seen in Bedminster, but previously had spent time in Basking Ridge and New York City. Rumor has it that he's in the Dallas metro area but his head and arms have been severed. If seen, please notify his parents. But do you know the history of one of the most iconic statues in the world? Let us introduce you to the Spirit of Communications, also known as Golden Boy.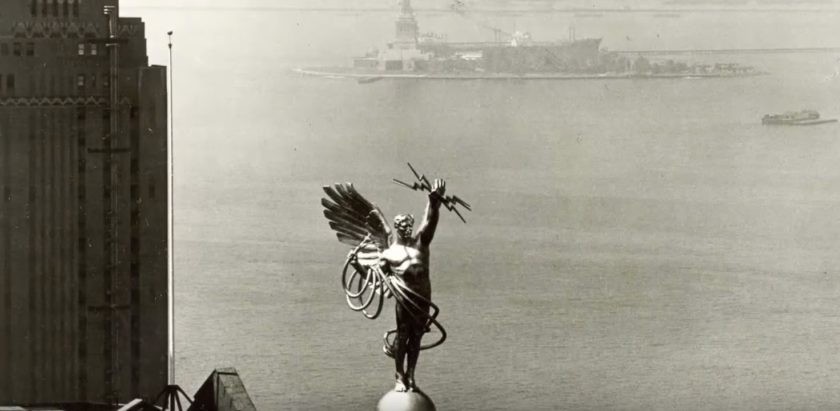 Golden Boy is Born
Mother Evelyn Beatrice Longman is doing fine.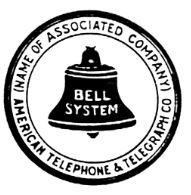 Golden Boy was born in 1916 in the Greenpoint section of Brooklyn, New York. Commissioned in 1914 by American Telephone and Telegraph's president Theodore Vail, the welcoming corporate parents were from AT&Ts Western Electric (now Lucent) division. His 24 foot winged body was forged weighing a whopping 16 tons. He was birthed grabbing two thunderbolts in his left hand and electrical cables in in his right. Born out of forged bronze and covered with over 40,000 pieces of 14 karat gold leaf he was quite large for a newborn. His first home was to sit atop the Western Electric headquarters building in New York City. Golden Boy's original name was the "Genius of Telegraphy".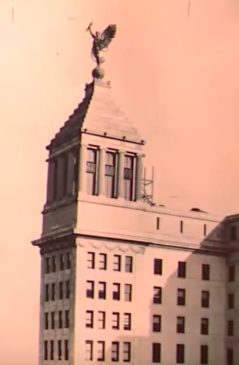 Stable Life for First 60 years
His mother, Evelyn Beatrice Longman who sculpted him in 1916, brought him to his first home where AT&T hoisted him 465 feet to the top of 29 story Western Electric headquarters on 195 Broadway, near Fulton Street, in New York City. Golden Boy lived quietly observing the New York skyline for over 65 years. Just like any divorce and custody battle, the corporate world started to change and Golden Boy was caught in the middle.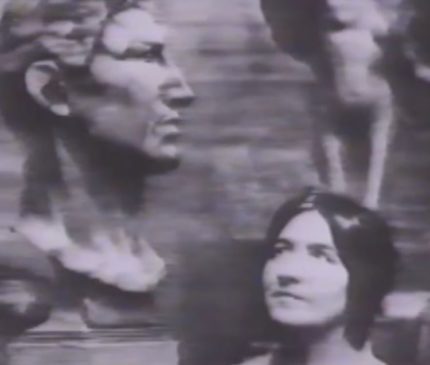 What people didn't know is that in addition to his watchful duties over the financial district, he also served as the official lightening rod for the building! It was also noted, during the 1930's and '40s Golden Boy appeared on every telephone directory sent to homes across the country.
1983 – The Year Golden Boy Stopped Watching over Manhattan
Although "Golden Boy" had become a lower Manhattan landmark for the past 64 years, he was removed in 1980, restored and installed in 1983 in the lobby of AT&T's next headquarters uptown on Madison Avenue and 55th Street. Charles l. Brown, AT&T Chairman stated simply as a proud parent, "He goes where we go".
Golden Boy's Mid Life Crisis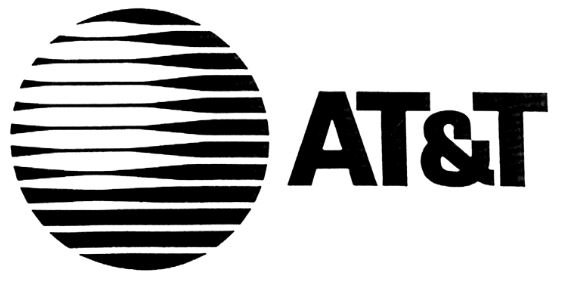 Golden Boy's official name has changed over the years, reflecting the evolution of AT&T. Originally named "Genius of Telegraphy," his name was changed to "Genius of Electricity" after AT&T was after was indited because of the Sherman Act, sold its shares in Western Union due to the threat of antitrust action. In the 1930's, Golden Boy became the "Spirit of Communication."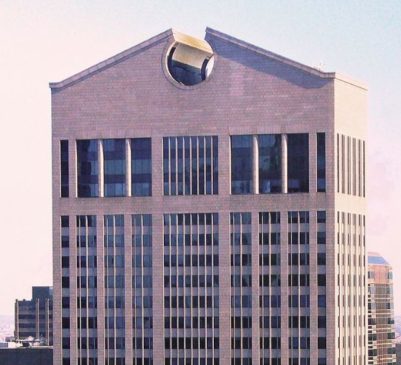 Then came the famed monopoly breakup (a whole other story). After the AT&T breakup, he Golden Boy moved in 1983 to a new home at 555 Madison Avenue, New York where he lived until 1992.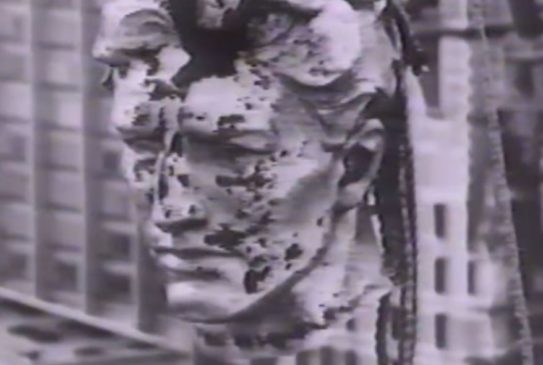 Pulling down the lower Manhattan landmark, he was removed in 1980, restored and installed in 1983 in the lobby of AT&T's new headquarters. The new headquarters, sometimes called the Chippendale Building was located at 550 Madison Avenue and 55th Street. "He goes where we go," said AT&T chairman, Charles L. Brown.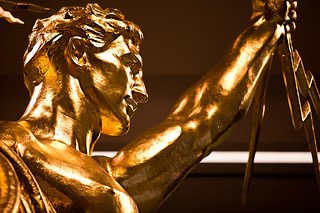 In the 2-year, $500,000 refurbishing, the surface of Golden Boy's bronze surface was smoothed by glass peening, a process similar to sandblasting. A fine glass bead is used instead of sand. It took five men four days to peen the sculpture. More than 12,500 pieces of 23-carat gold leaf were applied to protect the bronze.
Anatomy Lore
AT&T feared offending mid-town shoppers and due to the company's new building, whose postmodern-notched roof, it was nicknamed the Chippendale Building, meant Golden Boy had to be moved to the lobby. A persistent Internet rumor says that officials, concerned that the male nude could now be viewed up close and eye level, ordered Golden Boy un-gendered.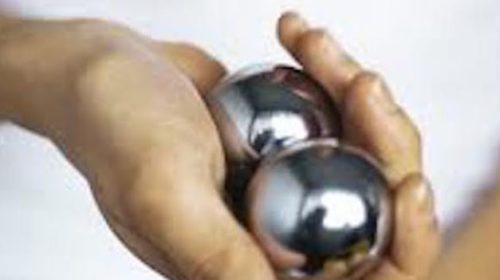 Before Golden Boy was moved to a new indoor lobby, a persistent rumor stated that officials, concerned that the male nude could now be viewed up close and eye level, and ordered Golden Boy neutered. It was noted that Chairman and Chief Executive Officer of AT&T from 1972 to 1979,
John de Butts made the executive decision.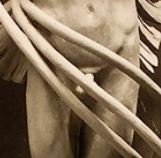 Scaffolding was put up around Golden Boy for a almost a year. When Golden Boy was unveiled, he was much more modest in his proportions (or so they say). Without its cajones, AT&T's fate was sealed. In 1984 the castrated corporate monopoly was also broken up and its offspring regional Bells were set free.
Move to the Suburbs
Basking Ridge, New Jersey: 1992-2002
When AT&T was involved in a move to 32 Avenue of the Americas off Walker Street, there was no room for Golden Boy. The 27-story landmarked Art Deco skyscraper located in the Tribeca neighborhood of New York City just wasn't suitable. As the Bell System continued to restructure due to the breakup, Golden Boy was shipped off to the surburban AT&T Operations Center in Basking Ridge, New Jersey in 1992.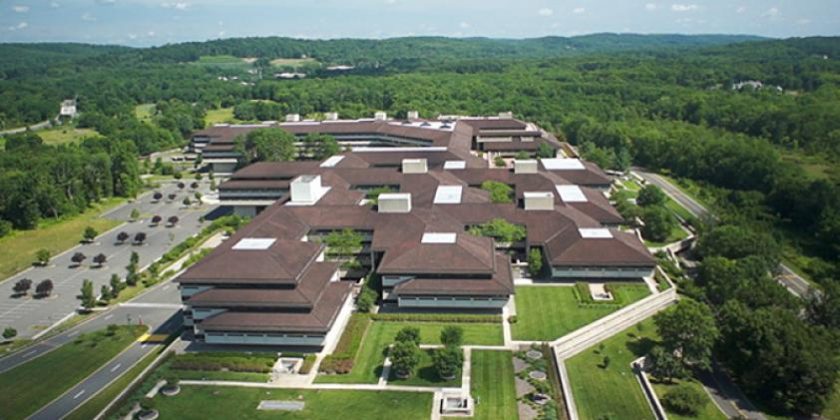 A ceremony was held when the statue crossed state lines to come to the company's operational headquarters in Basking Ridge, where it stood until 2002. Golden Boy was back outside.
The showcase headquarters campus was the envy of the corporate world from the day it opened in November 1975. Its seven low-slung buildings, attached by tunnels and walkways, hugged the hills and blended in with the countryside.
The showy headquarters even featured a two-story corporate cafeteria with wood-burning fireplaces, a heliport and an indoor waterfall that cascades a ton of water a minute. Cars weren't visible on the campus, and were kept out of sight in a 3,900 space underground parking garage covering 15 acres.
Take a look back at how technology was changing. Instant messaging, cell phones and other technologies were taking hold. But the cable acquisition was more than AT&T could take.
AT&T sadly had to unload its bucolic corporate fortress in what analysts call the beginning of the end for the once mighty giant. The AT&T campus, sprawled over 200 acres of rolling hills in horse country of northern New Jersey, is on the block for more than $300 million. Ironically, after sitting vacant for years the headquarters was scoffed up by Verizon Wireless as their corporate headquarters.
An interesting look at the Basking Ridge Fire Company's training video taken at AT&T headquarters (VIDEO)
Could Golden Boy be Up for Sale?
Strangely, in January 2000, AT&T started looking for a better home for its child and went back to New York City to look for suitable homes. NYC Parks Commissioner Henry J. Stern, who had eagerly welcomed the offer to bring Golden Boy back, said he had been working to find a site that met AT&T's approval when word came that the company had changed its mind. "New York welcomes Golden Boy," Mr. Stern said. "We would put him on a pedestal with the Statue of Liberty." Rumors abound in 2004 that Golden Boy was up for sale. But that never happened.
The city offered AT&T two other sites, Mr. Stern said. One was the statue's original home atop 195 Broadway near Fulton Street, now owned by Peter S. Kalikow, a developer. The second was 346 Broadway near Worth Street, a city-owned office tower that was formerly the home of the New York Life Insurance Company and once had a bronze eagle on its roof. But Mr. Stern said he would prefer for the statue to be on the ground, where people could enjoy it "up close and personal."
Bedminster, New Jersey: 2002-2009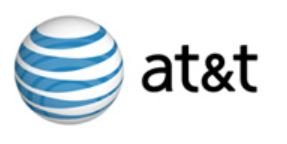 In 2002, CEO Michael Armstrong and his leadership relocated several miles away to a more modest and rudimentary building in Bedminster. Armstrong said he had pull down and take with him the towering 16-ton gilt statue. The move was just one more painful step in AT&T's winding down from a colossus into a struggling company selling assets to stay alive.
AT&T restored and re-gilded Golden Boy once more before transporting the him via truck from Basking Ridge 5 miles down the road to the Land Lines headquarters in nearby Bedminster after selling off Golden Boy's Basking Ridge home.
Golden Boy was strapped to a flatbed and sent down US Route 287 to the AT&T GNOC Center in Bedminster, New Jersey after the Basking Ridge property was sold off. As Golden Boy might have said, "we deployed a risky strategy to spend $110 billion on cable companies. It drove us into the ground. We dumped everything but long distance, and then watched brutal price wars destroy the business and that's why I'm here in Bedminster."
Take a tour of one of the most advanced digital network operations center in the world. (Video)
Elder Years – Moving to Warmer Climates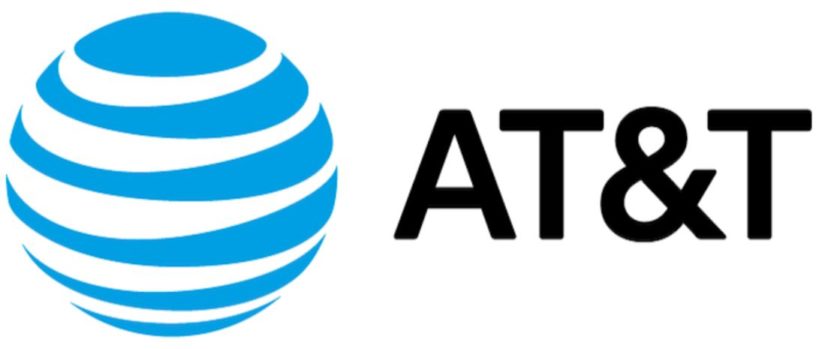 In 2009, still standing 24-foot high, the gilded bronze statue now resides in the lobby of AT&T's headquarters on Akard Street in Dallas, as a symbol of one of the nation's most famous corporate names. Sadly, they severed off his head and his thunderbolt holding arm during the journey only to have a series of operations to restore him to his glory days (see video below).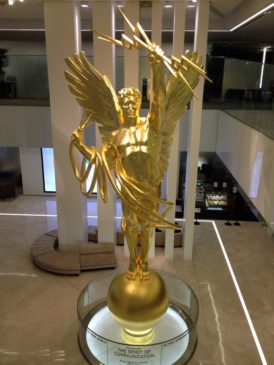 Golden Boy came apart into six sections – the body, the two wings, the head, neck and the left arm, which holds the lightning bolts. The statue was dismantled, shipped to Dallas and carefully reconstructed over a two-day period.
I gilded the sculpture when I was working for C. Roussel Inc. when Golden Boy went from NYC to Basking ridge NJ. I did not gild it when it went to Bedminster NJ or when it moved to Dallas. However I did help with the re-gilding of the sphere that it was moved outdoor in Dallas, which was also coordinated by C. Roussel inc. I also know as a fact that the anatomy was not altered in any way.

Bill Gauthier – Gilded the Golden Boy
Game of Thrones Dethrones Golden Boy
In early 2019, the seat of 1,000 swords has replaced a glimmering Golden Boy that has stood in the lobby since 2009. It was noted by an AT&T spokesperson, "As part of the ongoing process to bring the AT&T Discovery District to life, Golden Boy is stepping off his platform for a few months while we remodel the lobby of Whitacre Tower," "He'll return to our campus in the second half of 2019." It is said that he was taken out to make room for the Game of Thrones "Iron Throne" – go figure!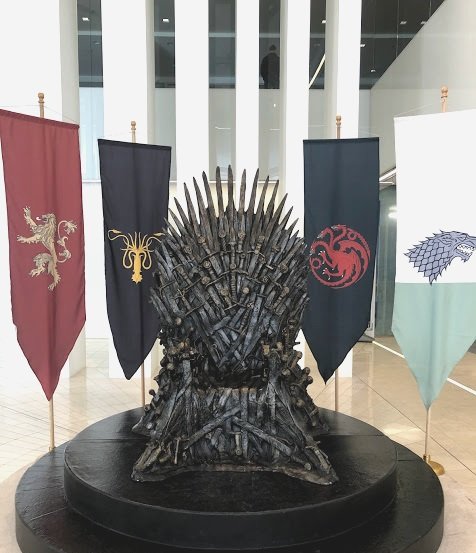 What's Next?
Over 100 years later Golden Boy has changed only slightly. The gold-leafed bronze figure is still 24 feet tall, weighs 16 tons (less the castrated part if you believe it), can be broken down into six parts for easy transportation, and still has a 12 foot wing span. Oh, and he's covered in 23 carat gold vs. the original 14 carat gold leaf.
"There's plenty of green space for you to enjoy here. Feel free to work in the shade of The Grove (a treelined outdoor seating area), post a selfie with Golden Boy (our iconic, century-old statue).

AT&T spokesman referencing the Golden Boy Move to the new AT&T Plaza Project in downtown Dallas.
"Due to COVID-19, the opening of the AT&T Discovery District will be delayed," AT&T's Charles Bassett said in an emailed statement. "We are continuing to closely monitor the situation and will determine an appropriate time to reschedule in the near future."
AT&T has been working on the redevelopment for more than three years.
Lee Sandstead, who hosts the Travel Channel's Art Attack, is enthusiastic, almost effusive. "This is absolutely a serious work of art, and it's absolutely a masterpiece," said Sandstead, an art historian. "It's perhaps the most beautiful depiction of the male figure in American art."
Golden Boy is over a century old, and certainly a lot wiser. Watching him grow from boy to man, we love and miss our dear Golden Boy.

Brooks Betz – aka "Mr Local History
Additional Information
The Spirit of Communications is currently out of view in the Whitacre Tower lobby of AT&T Headquarters. Whitacre Tower, also known as One AT&T Plaza, and formerly known as One Bell Plaza, is a 37-story high-rise in Downtown Dallas, located adjacent to the Akard Street Mall. See video below.
If you liked this story, you can still even get yourself an official Golden Boy t shirt, while supplies last!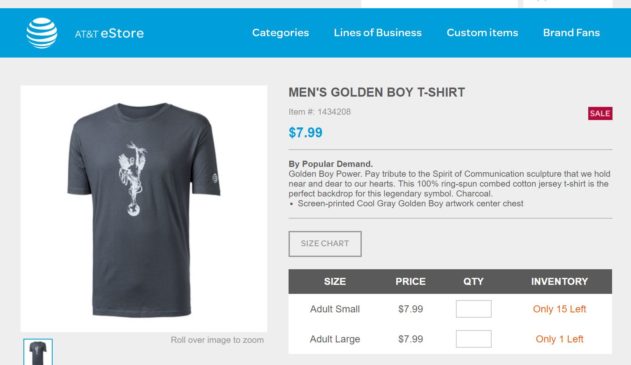 Video
Take a look at Golden Boy's home at the new Dallas attraction called "Discovery District – Click Here