Every month is our Scholarship Community Fundraising Giving Month and we need your help!
HELP MAKE OUR $1200 GOAL
Mr. Local History, a local non-profit organization which celebrates the history of the Somerset Hills, encourages everyone who supports our mission to take part in our scholarship program that is given annually to a worthy Somerset Hills student that's passionate about preserving and promoting OUR local history. This year has been a particularly tough year with the Covid-19 virus and our non-profit has not had the chance to hold fundraising events.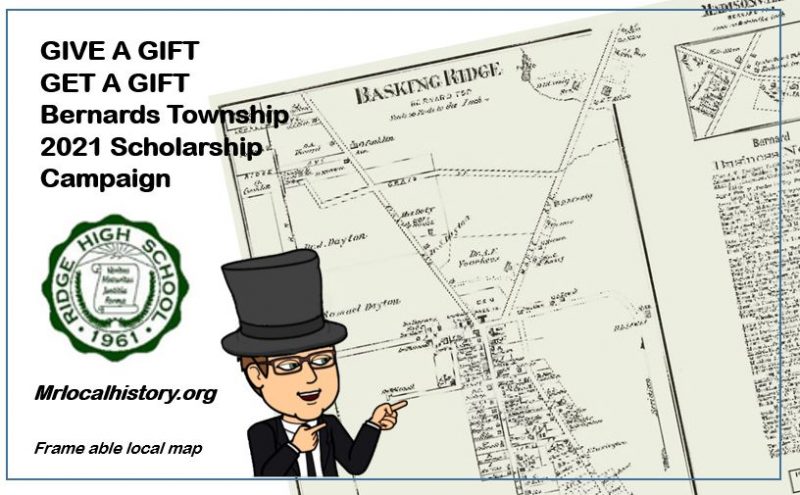 We need your tax deductible donation more than ever!
Regular Mail
For those who prefer traditional mail to make donations, mail to:
Mr. Local History Project
184 W. Oak Street, Suite 101
Basking Ridge, NJ 07920
Scholarship Fund
Tax Deductible Donation
Each year the Mr. Local History Project works with the Ridge High School to make a unrestricted scholarship to a worthy senior. Please help us continue this annual program. We hope to expand as well to Bernards High School if the public supports with their generosity.

An important part of our mission is to involve the youth in local history. High school and college students join our "History Makers" program, which provides opportunities for community service and college credits.
History Makers assist MLH trustees with research projects such as the on-going research on Bernards Township's Indian American & Chinese American heritage and community programs and activities such as Charter Day, Lord Stirling Day, Basking Ridge tree-lighting, and the Environmental Center's Festival of Trees.
Alumni Support
Each year, a deserving senior will be awarded a scholarship by MLH. Local students are encouraged to contact Mr. Local History to become a History Maker. Maybe you're a Ridge or Bernards High Alumni? Our alumni are big donors to the fund. If you're a graduate of RHS or BHS, we welcome your support.