We call this the "2020 Welcome to the New Decade" Winter Edition
It may be winter and for some strange reason it's almost 70 degrees outside today. So after a nice long walk we came back in and designed our first edition of the new decade. It's been a busy few months as we got through the holidays, yet had time to dig into the life of Bishop Janes, a Bernardsville and Basking Ridge resident that could be named "the father of the Bville Mountain. Learn why the Watchung Mountains might have been the greatest defense mechanism of the Revolutionary War. Then we look at some of the most historic fires across the Somerset Hills area. Did you know that baseball in Basking Ridge was big just after being organized in Hoboken in 1846 ? Well, we have a book that says so. And lastly, take a look back as we honor the history of Howard Johnson's. We promise not to disappoint.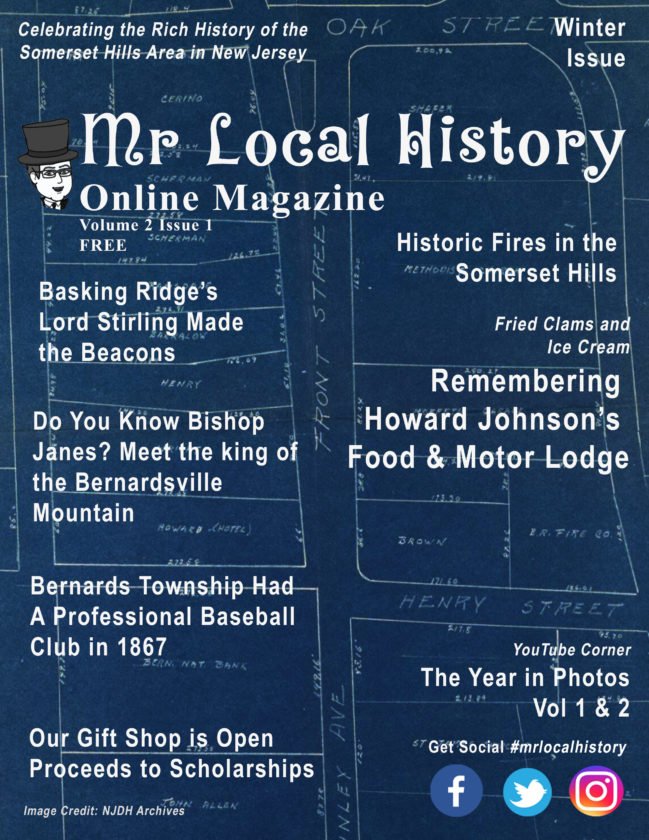 A special bonus for this issue is the story about the lore of the mysterious Liberty Corner Devil Tree.
Just click the magazine cover to read this issue.
Enjoy.
COVER: The cover is a historic rendering of an architectural drawing of the downtown Basking Ridge Village area that we found in a state repository of images and documents. It had to be prior to 1912 since that's when we expected to see Front Street change to South Finley Avenue.