As with all Mr. Local History retrospectives, we often update the post when we learn stories and are sent photos from our community. We will continue to grow this piece as information becomes available. If you have a comment or photo, feel free to post at the bottom of this page or drop us a note.

Mr. Local History Project
Yes, a billionaire Basking Ridge high school dropout went to outer space!!!!! Do we have your attention yet? The history of Jared Isaacman dropping out of Ridge High School more than 20 years ago to pursue a successful career in business, this is not your typical dropout story.
Inspiration 4 launched on Wednesday, September 15, 2021 at 8:02pm EDT and splashed down in the Atlantic ocean Saturday evening, September 18, 2021 off the coast of Florida, at 7:06 p.m. EDT .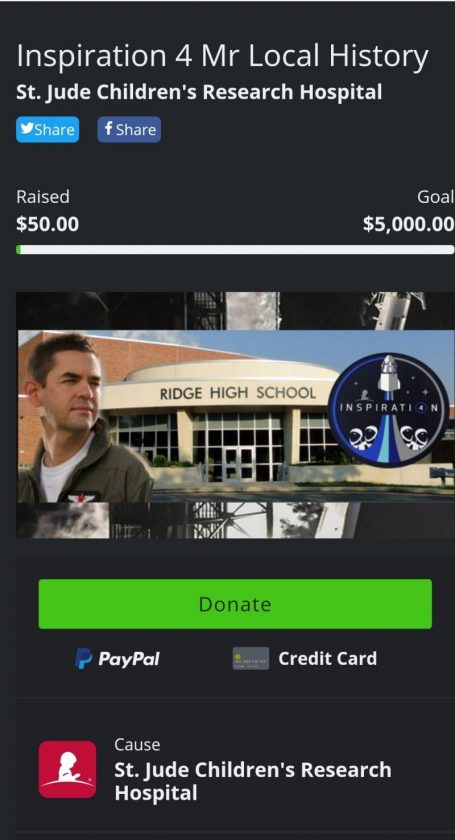 SPLASHDOWN WATCH PARTY – 6pm EDT Saturday.
Actual Splashdown: 7:06pm EDT
SpaceX's webcast for return of Dragon and the Inspiration4 crew will go live about 1 hour before splashdown. We'll have it right here starting at 6pm EDT. See live feed below – but we ask you to Donate first!!!!!!
The crew is spending three days and will view 15 sunrises/sunsets in orbit and return to Earth Saturday evening, September 18,2021. Jared is joined by Haley Arceneaux, Sian Proctor and Chris Sembroski. Netflix also hosted a special "Countdown to Launch" event hosted by astronauts and celebrities. You can see a replay of that webcast on Netflix's YouTube page.
Jared Isaacman from Bernards Township, NJ (now living in Allentown) announced on Monday, Feb. 1, 2021 that he had bought an entire Space X commercial flight called Inspiration 4 in which he and three other specially selected civilians will orbit the earth and raise money for the St. Jude Children's Research Hospital. The launch is set for September 15, 2021 from NASA's Cape Canaveral in Florida.
The Theme – Inspire!

The St. Jude's Hospital will be the primary benefactor for Jared Isaacman's civilian space flight. In fact, he noted that the connection to St. Jude will be a defining theme of his flight. "I've been very lucky in life; you really don't get to a position that I'm fortunate enough to be in without the ball bouncing your way a couple times," he said. "These families [at St. Jude] were dealt horrible hands. They're going through what no one should ever have to go through. It's immense heartache, and the sad part is many of those kids will not grow up to any of the experiences that I've been lucky enough to have in life. We've just got to do something about that."
The Dream
Jared wasn't what you call a "traditional high school dropout." Jared chose to leave school. Jared says he always dreamed about going to space, and he feels fortunate to be at the helm of the Inspiration4 private mission to Earth orbit that SpaceX will launch late this year. Isaacman caught the space bug as a kid in Westfield, New Jersey, a state home to astronauts ranging from moonwalker Buzz Aldrin to the twin space station astronauts Mark and Scott Kelly. He recalls being in kindergarten at Wilson Elementary School looking at high-resolution picture books of the space shuttle.
Isaacman caught the space bug as a kid in Westfield, New Jersey, a state home to astronauts ranging from moon walker Buzz Aldrin to the twin space station astronauts Mark and Scott Kelly. He recalls being in kindergarten at Wilson Elementary School looking at high-resolution picture books of the space shuttle.
"I remember being in the school library at Wilson Elementary School in Westfield, New Jersey, looking at books of the space shuttle. I remember telling my kindergarten teacher that someday I'm going to space and she told me she'd be watching from her rocking chair."

Jared Isaacman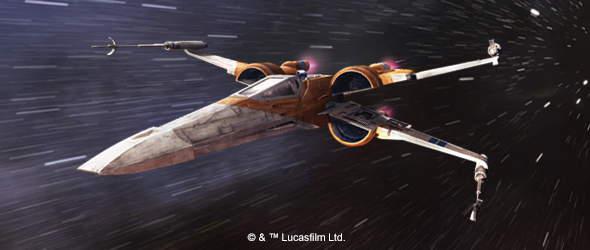 "Who hasn't imagined themselves cruising around in Star Wars X-wing?" Isaacman said, referring to a famous "Star Wars" ship piloted by hero Luke Skywalker, among others. "I do believe that that's a world that we're all going to live in at some point, but it might be a little bit down the road."
A Special Video Collection
Just click PLAY to watch in sequence or select a video from the Playlist button on the top right of the video window.
Netflix will air the final of the three part series on September 30, 2021. "The final episode, which premieres just days after the mission is completed, will feature unprecedented access inside the spacecraft, capturing the launch and the crew," according to Netflix.
The Team
When Isaacman got the chance to buy four seats aboard a SpaceX Crew Dragon capsule for the Inspiration4 mission, he decided to be "really thoughtful" about picking the three people who would go with him. Recently, it was announced that Hayley Arceneaux, a physician assistant at St. Jude Children's Research Hospital in Memphis, would join him. Arceneaux is a childhood survivor of bone cancer and was treated at St. Jude when she was 10 years old.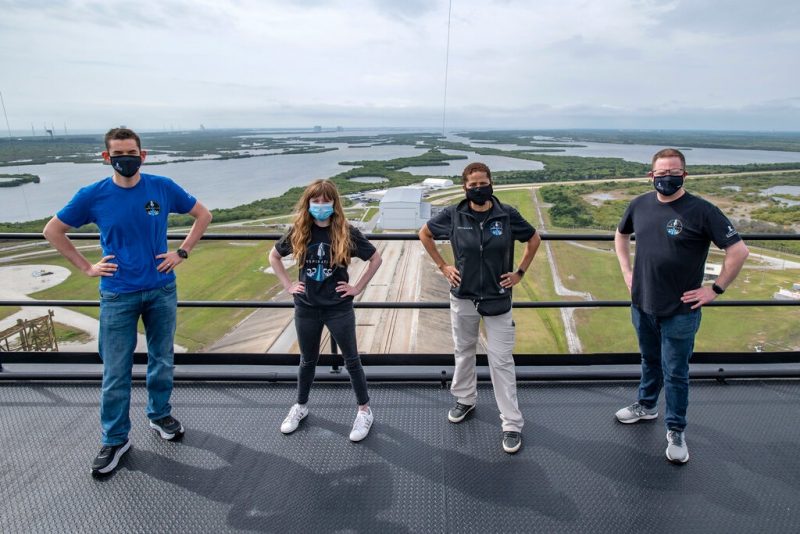 Mr. Isaacman and his passengers will be the first to orbit the planet without the presence of a professional astronaut from NASA or other space agency. There are no more empty seats on Inspiration4, but there are still plenty of ways to get involved. As they count down to this historic mission, be part of the excitement, and help us meet our fundraising goal.
Two seats were made available through separate contests on the Inspiration4 website. One seat, named for "Generosity," was awarded from a draw from people who donated to St. Jude. The second seat, "Prosperity," was awarded from a set of entrepreneurs showcasing their business ideas on the Shift4Shop ecommerce platform; Isaacman is CEO of Shift4Shop. Dr. Sian Proctor, who is African-American and holds a doctorate in science education, got on board by winning that contest.
Christopher Sembroski said he thought he donated $50, but he did not win the sweepstakes, which helped raise $13 million for St. Jude. A friend, though, ending up winning — an old college buddy from Embry Riddle Aeronautical University in Florida. The friend, who remains anonymous, decided not to go to space but, knowing about Mr. Sembroski's enthusiasm, transferred the prize to him.
Isaacman will bring his own crew into the mountains. "It will get us all super uncomfortable and [in] close quarters and hopefully in snowy conditions, because I definitely want to make sure we all get along really well under those circumstances here on Earth before we go off in space together," he said.
The Flight
Isaacman said he's proud to fly on a SpaceX Crew Dragon for this mission, because he believes Elon Musk's company "reinvigorated the world's interest in space" following the end of the space shuttle program in 2011. The shuttle ferried hundreds of astronauts to space between 1981 and its 2011 retirement. After that, the next crewed mission to Earth orbit that launched from the United States was SpaceX's Demo-2 mission in May 2020.
The capsule and its occupants will circle Earth at an altitude of 335 miles, about 80 miles higher than the orbit of the International Space Station. The launch date, originally planned for October, was launched September 15, 2021.
Jared Isaacman Tidbits: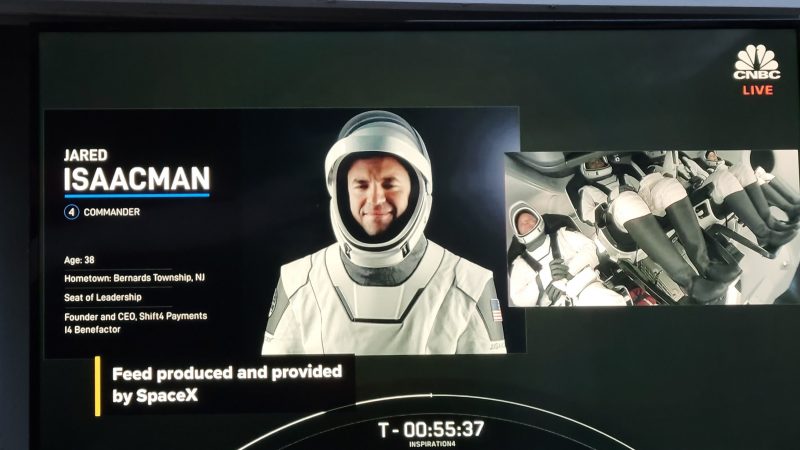 Jared Isaacman was born on born February 11, 1983 to Douglas and Sandra Marie Isaacman.
Attended Wilson School in Westfield, New Jersey.
Family moved from Westfield to the Liberty Corner section of Bernards Township.
Jared attended William Annin Middle School (6-8th grade). ( 11-13)
As a ninth grader and a freshman at Ridge High School (14), Isaacman discovered that he and his best friend, Brendan Lauber, had a knack for fixing computers and started a computer repair business in his parents basement called Deco Systems, offering services to hapless computer users. He also worked at CompUSA off the Somerville circle.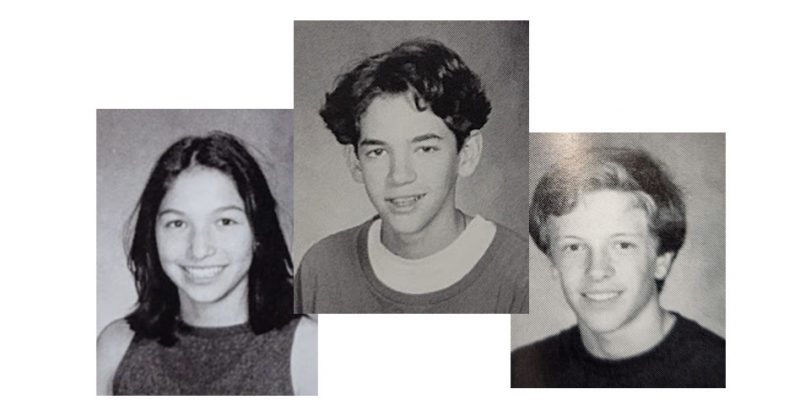 Jared did graduate high school after leaving Ridge High School. He took and passed the GED.
Jared left school and went to work as Merchant Services International (MSI), for CEO, Mario Parisi, as MSI's in-house IT expert.
Jared got his precious bank identification number. Everything was in place to blaze a trail in the payments industry as he created United Bank Card, Inc., which eventually was renamed Harbortouch.
Attended Embry Riddle Aeronautical University in Daytona Beach, Florida.
Jared founded a retail payment processing company, Shift4 Payments, in 1999 from his parents' basement. Shfit4 Payments is like PayPal, in that it provides a secure payment processing portal. That company handles more than $200 billion in payments every year for a third of the country's restaurants and hotels, including the Hilton, Four Seasons, as well fast-food chains like KFC and Arby's, according to Forbes.
2004, Jared began taking flying lessons
In 2005, founded a retail payment processing company named United Bank Card, which was later renamed Harbortouch, a point-of-sale payment company based in Pennsylvania.
In 2008, he tried to set the world record for circumnavigating the globe in a light jet, falling just short, by travelling around the world in 83 hours, just beyond the existing record of 82 hours.
April 2009, he got his world record for circumnavigating the globe in a light jet, making the flight in 61:51:15, about 20 hours faster than the previous record of 82 hours.
2012 – Monica Chacana Isaacman – Met at William Annin Middle school – Married in 2012 at the age of 29.
2012 – Co-founded Draken International, a Florida-based company that trains pilots for the United States Armed Forces. The company owns around 70 fighter jets, which is considered the largest private air force.
February 2021, Jared announced that he would serve as commander of Inspiration4, the first private human spaceflight.
FEWER THAN 600 PEOPLE HAVE EVER BEEN TO SPACE.
It will be the first trip by any private citizen to outer space.
The spacecraft will orbit the Earth, a journey which should take between two and four days before the civilian crew makes it back to solid ground. In that time, the crew onboard will get to enjoy the view of the Earth from a few hundred miles above the surface, and hopefully, enjoy more scintillating conversation than you might be stuck with on a typical long-haul flight.
Isaacman will use the flight to space to raise $200 million for St. Jude Children's Research Hospital.
Half of that amount will be donated by Isaacman himself!
Lastly, did we mention, Jared is worth an estimated $2 billion.
Historic Images