Bernards Township has had a long history of being a sleepy rural town. Then AT&T came to town in the 70's and everything started to change. Demand for housing increased as people from around the world started to choose Bernards Township as a place to raise their children.
Starting in the 50's the concept of cluster housing neighborhoods started in the famed Levittown, NY development which later led to our area's infamous "The Hills" development complex. Let's take a look back at the growth of housing complexes in Bernards Township and how they've changed the landscape of the town.
While most of the homes in the complexes are reasonably affordable, they typically do not meet the state standards of what they refer to as "affordable housing." Under the guidelines of the Coalition on Affordable Housing (COAH), The Bernards Township Affordable Housing program is administered through the Central Jersey Housing Resource Center (CJHRC). The Affordable Housing program consists of 224 units in Bernards Township. There are 19 Rentals; 9 low income and 10 moderate income, available in one and two bedrooms. For purchase there are a total of 205 units; 45 low and 160 moderate income, they are available in studio, one, two and three bedrooms.
The income levels listed are the maximum income levels allowed by COAH. If your household income is higher than the amount listed, you do not qualify for Affordable Housing. These numbers do change each year.
One Person – $60,424
Two Person – $69,056
Three Person – $77,688
Four Person – $86,320
Five Person – $93,226
Of constant concern to township officials is meeting the state mandate on affordable housing quantities in the township. Over the past three decades the township has been involved in a number of lawsuits challenging the legality of COAH but has also compiled to just about every mandate when calculated.
Spencer Road Paves the Way (1950s)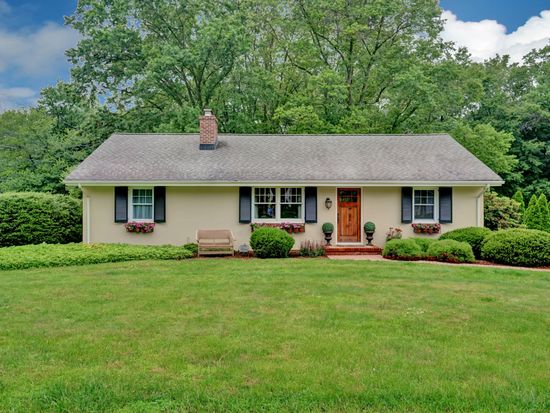 On September 20, 1949 the township committee passed a resolution to approve developer Stewart K. Sutton to build a new 3,200 foot road in the township connecting Oak Street to Lake Road and eliminated two dead end roads.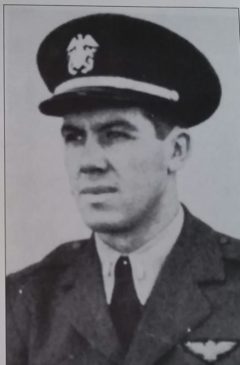 At the conclusion of WWII there were many veterans that wanted to take advantage of the GI bill and get a piece of the American dream. In Bernards Township that area became Spencer Road. While not a "typical complex development" it became known as one of the first neighborhoods built at rapid scale.
The Hills (1969)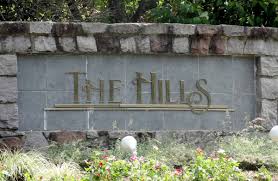 The origins of this community, which is one of the largest planned developments in New Jersey, dates back to 1969 when the descendents of Grant Schley sold Schley Mountain for $2.2 million for development of what is now known as The Hills Development of Bedminster and Bernards Township (Basking Ridge). Situated on 1,800 acres atop Schley Mountain in the bucolic Watchung Hills this development encompasses the two townships of Bernards (Basking Ridge) and Bedminster in Somerset County, where Interstates 287 and 78 cross.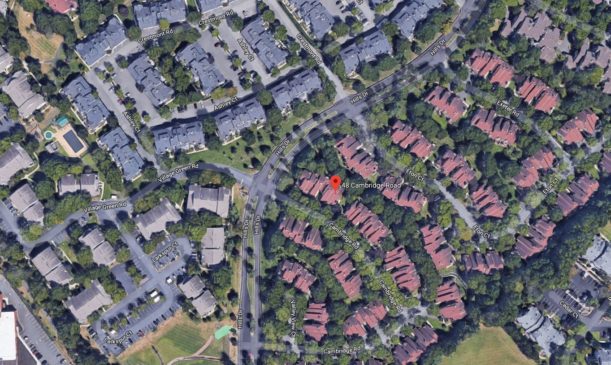 In total, The Hills has a total of 4,728 single family homes spread out over 38 different neighborhoods varying in style and size from 1 bedroom / 1 bathroom condominiums for just under $200k, all of the way up to 6 bedroom estate style homes which have sold for well over $2M.
The Basking Ridge portion of the community has 16 different neighborhoods with 1,893 homes situated on 1,280 acres of land. Included within this space is an elementary school (Mount Prospect School), a 260 acre championship golf course, a restaurant, and a day care center, some of which are part of a 50,000 square feet.
Ridge Oak (1977)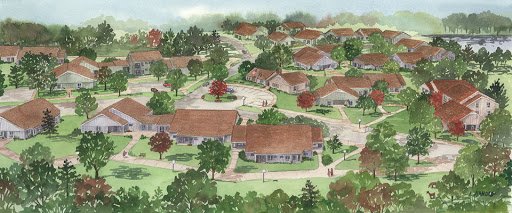 Ridge oak senior citizens is a senior low income housing apartment subsidized by the federal governments HUD (housing and urban development division). In 1971, six community churches united to form Ridge Oak Senior Housing. Through a Board of Trustees the township churches now own and operate Ridge Oak Senior Housing community.
In late 1977 the first Ridge Oak Senior Housing tenants moved in to their new homes. Ridge Oak Senior Housing was born out of a community's concern for its senior citizens. The vision of those first church members is still alive at Ridge Oak Senior Housing. Today, Ridge Oak Senior Housing provides federally subsidized housing and support services to approximately 310 income eligible people that are the "Ridge Oak Family."
Society Hill (1984)

The 830 unit development that was approved by Bernards Township Planning Board on August 14, 1984 was the first development to comply with the Mount Laurel affordable housing law. The Hovnanian Enterprise development called it Society Hill offering one floor and two story units, in five models across the 265 acre tract next to the Bonnie Brae school. Many have fireplace, vaulted ceiling, and sunroom. There are no garages, nor basements. Amenities include pool, tennis court, jungle gym, and easy access to Pleasant Valley Park just across the road. The township approved 100 units during the initial phase known to cover the 12% requirement. It was noted that 5 residents showed up for the township vote with no objections.
Spring Ridge Housing Complex (1984)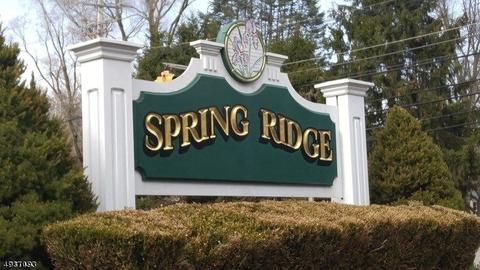 In early 1984, the Spring Ridge complex was the townships largest complex who's 1,220 units created by developer Lawrence Zirinsky of New York City. The first phase was 284 units. None of the first phase homes supported the Mount Laurel COAH requirements for affordable housing. That would come later.
The 326-acre complex is bordered by over 100 acres of undisturbed open space. Spring Ridge is a community is comprised mostly of two and three bedroom condos, but there are a handful of duplexes as well as single family homes. The condo buildings are typically three stories – ground, first and second floor units. The ground floor units are the one bedroom models and don't typically feature basement storage. The second floor units often feature cathedral ceilings and sometimes have sky lights. There are at least nine different models:
The Ardsley (one bedroom, one bath)
The Baxter (one large bedroom, one bath)
The Chesterfield (one bedroom, a den and one bath, some have garage and/or basement)
The Drexel I and the Drexel II (two floor plans, both featuring two bedrooms and one bath)
The Essex I and the Essex II (two floor plans, both featuring two bedrooms and two baths)
The Fairfax (two bedrooms, a den and two baths)
The Greenbriar (1/2 duplex with three bedrooms including a first floor master, attached garage and a basement)
The Hamilton (1/2 duplex with three bedrooms including a first floor master, attached garage and a basement)
Single family homes (Three bedrooms, two and a half baths, one car garage and basements – very similar to the 1/2 duplexes, but are detached, fee simple homes).
The Cedars Complex (1983)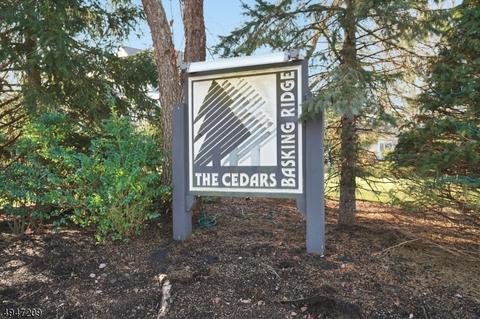 The Cedars began as a 100 unit complex to bring Bernards Township in compliance with the state's Mount Laurel affordable housing obligations (COAH). The Cedars in Basking Ridge is a community of around 500 units, in the form of duplexes, townhomes, condominiums, and low to moderate income housing. The Cedars are one of the only developments in Basking Ridge where the units offer a garage and a basement (many are finished). The community features a pool, tennis courts, playgrounds, clubhouse and jogging paths. Students attend the Liberty Corner elementary school and are eligible for courtesy busing. Affordable housing units – Studio apartments, 1 BR, 2 BR, 3 BR.
The Barons (1983)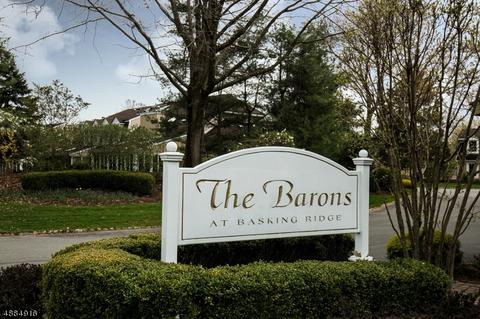 The Barons is a multi-phase development that first opened with four model homes in 1983. The Barons is a sought-after community in Basking Ridge. There are two story homes as well as ranch style units, all with basements, some walkout. All units have a spacious and private home feel.
The end unit ranches have two-car garages. Some units have closed in their porches. Residents enjoy pool, walking and jogging. paths, clubhouse, and tennis courts. The Barons is accessed via South Maple Avenue, and is near the Lyons Mall, bus and train service, and both highways 287 and 78. There are currently 132 townhome style units in the complex.
Valley Brook Village – VA Hospital Grounds (2013)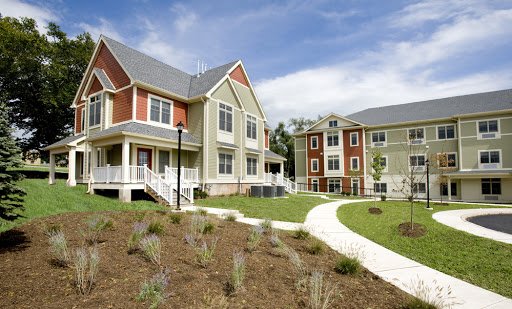 Valley Brook Village is a first of its kind VASH (Veterans Affairs Supportive Housing) community for homeless veterans, situated on the Lyons Campus of the Department of Veterans Affairs New Jersey Health Care System in Lyons, New Jersey. Residential common spaces form a village-style community on 16+ acres and feature sixty-two furnished, one and two bedroom apartment homes with shared community space, ample program space, landscaped walkways and shared outdoor spaces. Highlights include access to a state-of-the art learning center on-site and a vocational training space under the programming of the Employment Training Specialist.
Phase II of Valley Brook Village includes the development of a new three-story building consisting of 50 one-bedroom apartments, which will be situated around a common green to complement the existing village-style community. The development which is being built by development partner, Windover Construction Inc., will provide permanent housing for homeless and at-risk Veterans of all ages and branches of the military. In addition, an array of supportive services and amenities designed to assist veterans in meeting their personal and career goals will be provided by Community Hope under the coordination of Peabody Resident Services, Inc.
The Enclave at Dewy Meadows (2019)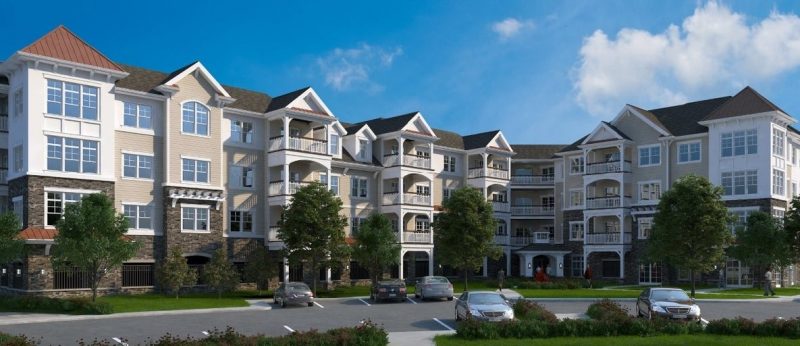 For those who remember the Dewy Meadows Farm chicken pot pie and the A&P, they will soon have a new housing development as the property's next historic chapter. The proposed Dewy Meadow project entails building 198 units in two buildings at 403 King George Road in the township. There will be one-, two- and three-bedroom units. The proposal, which grew out of an affordable housing settlement between the township and the developer last March, would include 30 income-restricted housing units. All 198 units would be rentals. Rents have not been established. Building "A" to the north would have 108 apartments, including 12 that would be income-restricted. It would also have a clubhouse, community and leasing center, plus an outdoor pool to the rear. Building "B" to the south would have 90 apartments, of which 18 would be income restricted.
The applicant, Bernards Plaza Associates, LLC, which is owned by the Wilf brothers of Short Hills, received final site plan approval for the project. Township Attorney John Belardo said the township will receive credit for 106 affordable housing units when the complex is complete. The hearing on the project did not generate any opposition. It drew only one member of the public who did not pose any questions.
Mountainview (Proposed 2020)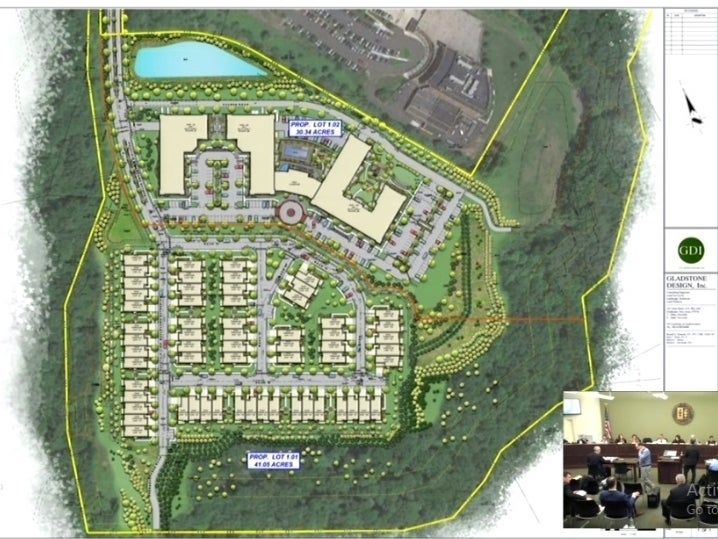 The Bernards Planning Board on Tuesday, January 21, 2020 unanimously approved SJP Property's application to build two adjoining housing developments at the far end of Mountainview Boulevard in the southern part of the township. One section on about 30 acres will feature three residential buildings with 220 units, to include 62 units set aside for very low, low, and moderate-income residents. SJP Properties planning to construct 77 studio and one-bedroom units, 130 two-bedroom units, and 13 three-bedroom units within the three buildings, which would also share a common amenity space with a pool, play areas, and other shared facilities, according to the application.
Millington Quarry (Recently Proposed)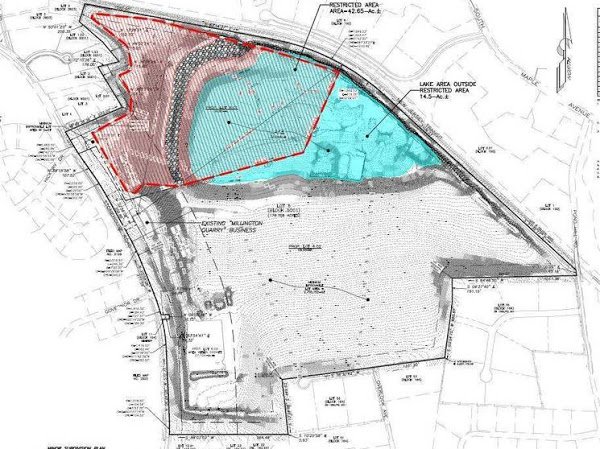 The 180 acre Millington Quarry off Stonehouse Road is a targeted mixed community with affordable housing to be built on what is now a former active quarry. It has been engaged in controversy for years since contaminants were found in the soil that was put there as fill over the last decade. The proposed development launched the "Stop the Quarry Plan" where township residents voiced their opposition to the effort.
Following the March 2019 meeting , Michael Lavigne, an attorney representing Millington Quarry, said there would would be "no furtherance of a development plan" by the subdivision of the quarry property. He added the quarry had a potential buyer for the entire property at that time.
Do you Remember?
Remember growing up and seeing these developments launch? Tell your tale….