There is nothing more inspiring then those who support our cause and efforts with a donation. We know there are so many great places to put your dollars, so we make it our #1 priority to make sure that we do the most with your donations.
100% Goes to the Community
100% of your donation goes towards preserving & promoting local history in the Somerset Hills. Our second mission is to offer a scholarship to a recognized high school senior who promotes history in our community. So 100% of your contribution goes back to the community. And your donation is 100% tax deductible since the Mr. Local History Project is a recognized 501c3 non-profit organization.
There is still time to make your 2019 Tax Deductible donation
[wpcdt-countdown id="10552″]
2020 Supporting Members
We'd like to appreciate those who have chosen to support our efforts. They are part of our extended family and we can't show our appreciation enough. While our list is small, it's the biggest list in our hearts.
George Bedrosian – Bernards Township
Jackie Crowley, Liberty Corner
Robin Marion, Basking Ridge
Lisa Renaud, Bedminster
Larry Terricone, Basking Ridge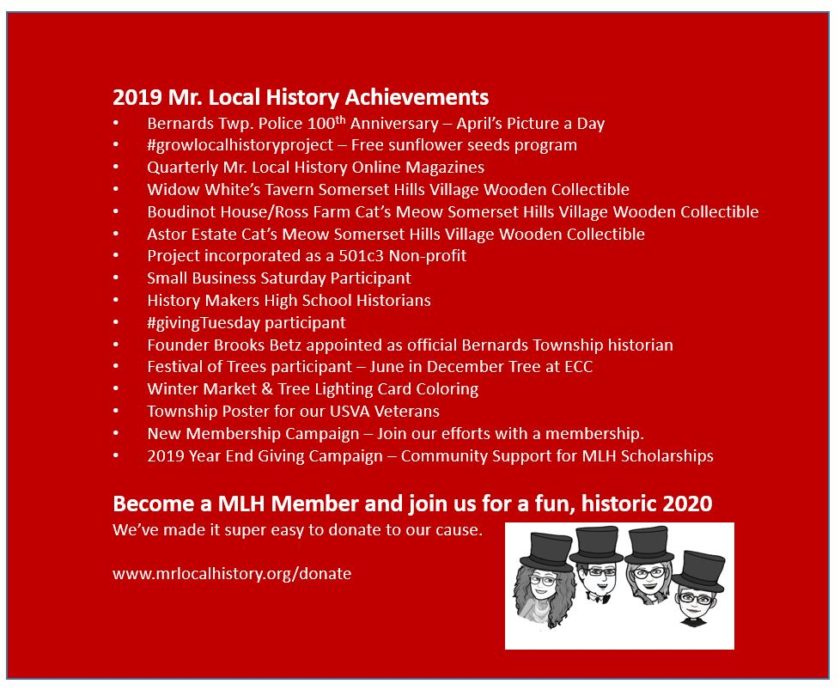 Join Our Family
Your support matters. We hope you'll consider joining our efforts with either a membership or a donation. Simply Click Here for an online donation or:
Mail your tax deductible donation to:
The Mr. Local History Project
184 W. Oak Street, Suite 101
Basking Ridge, New Jersey 07920
We will send a tax deductible receipt (confirmation)