The Peapack Ski Tow was One of the First Ski Businesses in New Jersey
At one time, New Jerseyans had their pick of a dozen or so smaller hills where beginners could get a feel for the sport and more experience skiers could sneak away for a few quick runs and still be home for dinner. Lift? who needs a lift when you have a ski tow. You know, the rope tied to a motor with a wooden dish to put between your legs to pull you up the hill with great simplicity and efficiency. The Mr. Local History Project takes a look back at a few of those fun little bunny type hills that were perfect for the hour or two getaway right in our own backyard.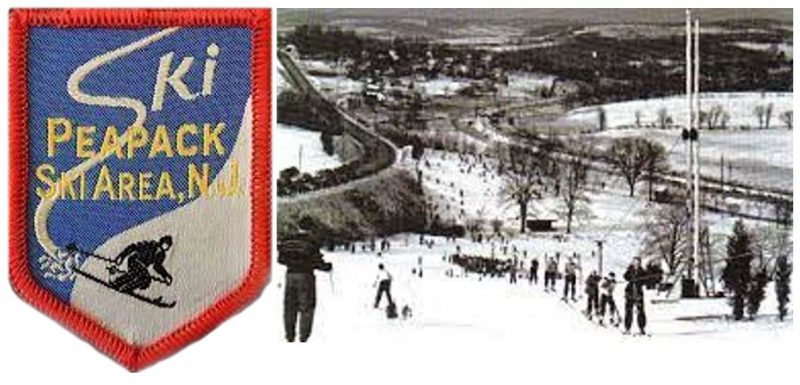 The Peapack Ski Tow
Near and deer to my heart are two ski areas that were iconic at the time and a fun part of my childhood. Not to be outdone, if you wanted to head out to the country, just hop on route 22 and 30 minutes later you're facing a steeper slope with the famed Peapack Ski Tow.
The Peapack Ski Area opened around 1939 and closed in February 1986.. But for what seemed such a brief 50 years, there are so many great memories for those who lived in the what was know as the Somerset Hills area of northern Somerset County, New Jersey. What lives there today is just a road named Ski Hill Road, we couldn't help but to dig in and see what photos or stories we could find. Many have said that the Peapack Ski Tow was the oldest skiing establishment in New Jersey at the time. Others state that Craigmeure in Newfoundland started in 1936/1937.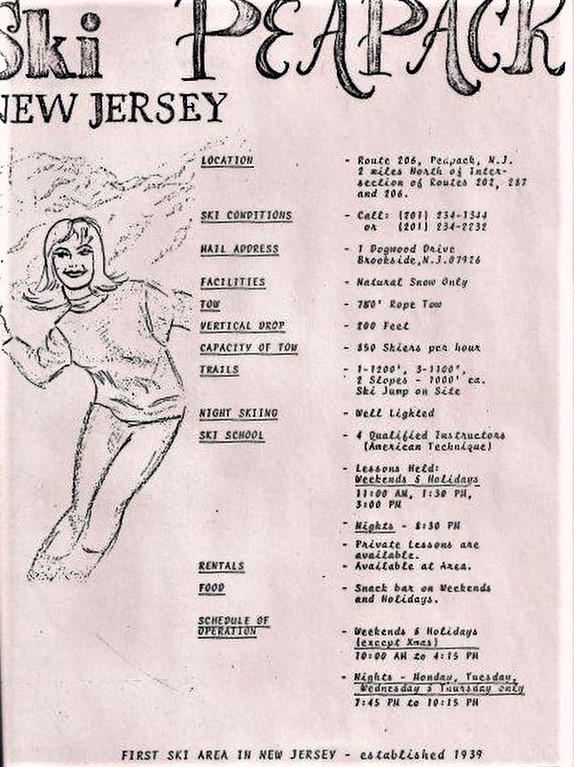 For me, towering over the 200 foot drop was terrifying as a 7 year old for sure. Growing up in Westfield about 30 minutes east, I felt like we were heading to Pennsylvania to Callback, but strangely, we weren't "out there" and found a gem of a stopover. There was no way my folks would drive to PA on a weekday.
The original rope tow was powered by an old 4 cylinder car engine with a three speed trans. Later, a 1948 Chevy truck engine powered the tow. The rope was wrapped around a tire rim a few times and was held up by hubs attached to telephone pole. Some say it was 700′, others say it was 800′.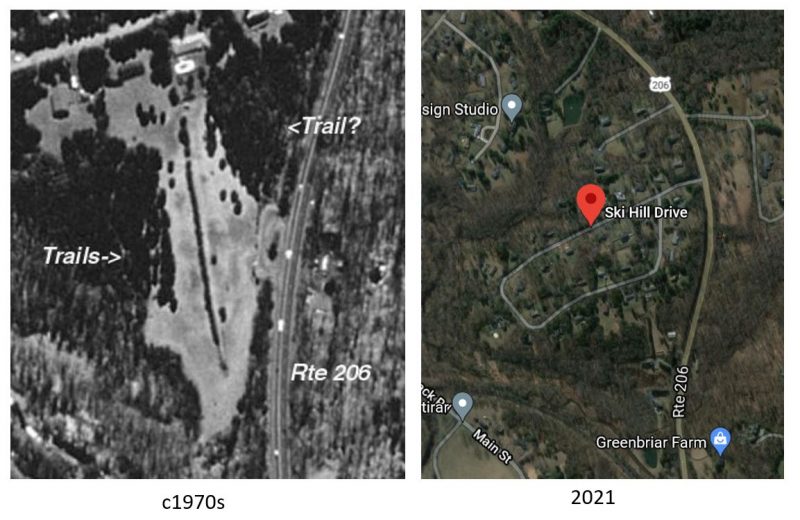 What many people don't know is that the Peapack Ski Tow was actually in Bedminster. Peapack was once part of the township but broke away on March 28, 1912 to become an independent buro. But Peapack Ski Tow sounds better right? I think so.
Owned by Mel Blauffus, Mel would open twice a week typically on Wednesday and Friday nights from 7-10pm. Fee:$3. They rented wooden skis, NORTLAND etc. with leather lace up boots, out of an old station wagon he would drive to the tow area. The rental fee was only a few dollars. Numbers ranged from about 20-30 people at night on the hill.
There were four trails, 2 slopes, 200′ drop. You could only ski when it snowed as there was no snow-making. Two of the slopes were lit at night. In 1974 there were co-owners Eric Hammarstrom, and founder Melvyn and Shirley Blaufuss. Melvyn's mother Christie Blaufuss took care of ticket sales. The Blaufuss's grew up in what's referred to as the Peapack Valley on Walnut Farm on Fox Chase Road, an area that includes the famed Natirar Park and Estate.
Melvyn leased the land in high school and actually cleared it himself and invented the tow. When the land was put up for sale in the 50s, Melvin, along with his parter Eric purchased the property and started expanding the capabilities at the site.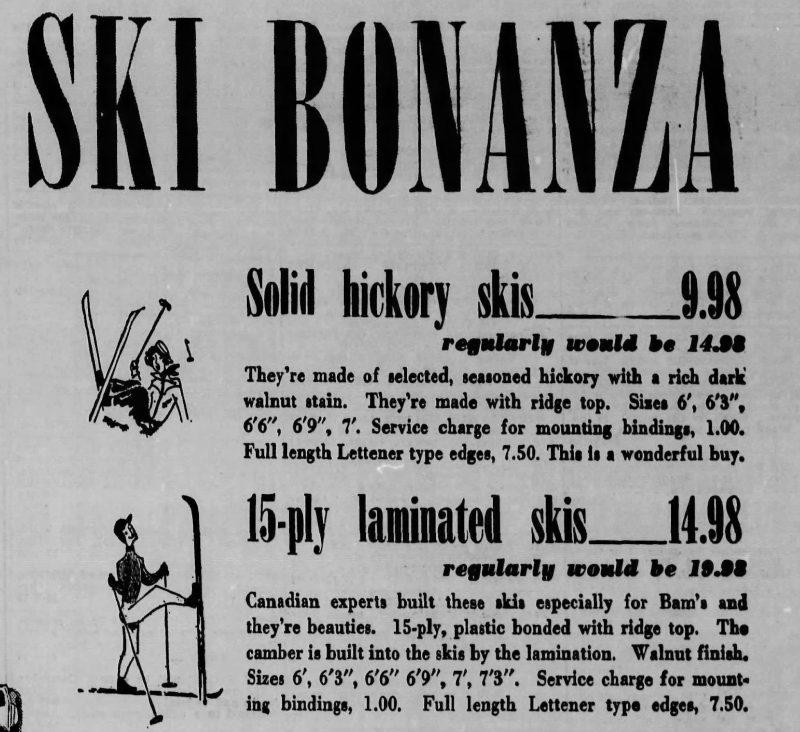 Before closing up in 1987 the adults and kids prices were very reasonable: $8.00 weekends, holidays, $5.00 night. $4.00 group lesson, $10.00 private. They were open December 20- March 10, weekends and holidays: 10am-4:15pm, Mon Thurs – 7:30am-10:15pm the rest of the time. The Ski school director was Edward Fimbel along with three other instructors. There was a snack bar, ski rentals, ski patrol, and ski repair services on site. Oh, and the ski's weren't wood anymore.
At it's peak, the modern version of the tow could accommodate 850 skiers/hour. Quite a feat when compared to when the first tow was set up.
What Happened?
While there are no remnants of the tow or the ski facility, you can drive around the area where the developer created the neighborhood that once was home to the Peapack Ski Tow. As a tribute to the area, the road is named Ski Hill Drive and it shows up on Google as Bedminster Township.
First, sad news. It was noted that co-owner Eric Hammarstrom died in 1982 at the age of 67, So Mel was on his own. Then, without notice, on February 20, 1986 it was reported that after 45 years in operation, the now family run Pepack Ski Area was closing due to a lack of liability insurance demanded by the State of New Jersey.
The land was eventually sold to developers. The only sign that still remains is a street named Ski Hill Drive an a hill with 140 foot elevation that was stated as being 200!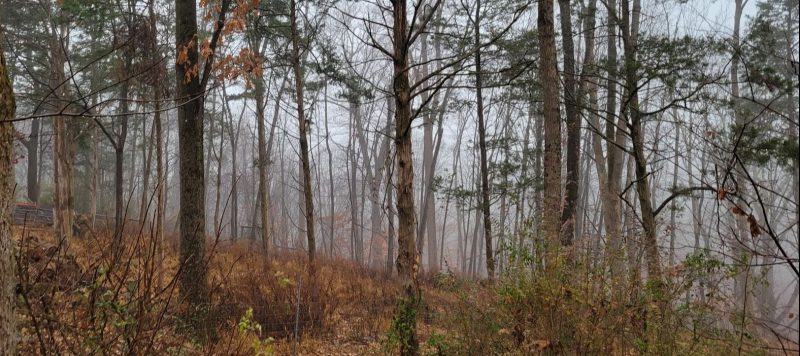 Melvyn Blaufuss later died on Feb. 12, 2009 at the age of 96.
In his obituary, they wrote that he would take the Scouts swimming in the Black River and camping at Swartswood Lake, Silver Lake in Hope, Bear Pond near Lake Hopatcong and Paulinskill Lake. One regular adventure was the annual 50-mile canoe trip down the Delaware River.
As of 1997, the troop had graduated 37 Eagle Scouts and four of the Eagles had gone on to become doctors, Mr. Blaufuss wrote.
Several generations of men and their sons who were in Chester Troop 9 through the years paid homage to the late Boy Scout leader.
Those who knew Mr. Blaufuss had fond memories of the times he would take Scouts to Lake Hopatcong and they would all board his vintage, 1952, mahogany Chris Craft in-board so Scouts could gain their water skiing merit badge. Others spoke of gaining their snow skiing merit badge at the rope lift and ski slope that Mr. Blaufuss owned for many years in Peapack-Gladstone.
Ski Areas Once Known in New Jersey
Peapack _Peapack, New Jersey (Somerset County) Closed 1986
Galloping Hill – Union, New Jersey (Union County)
Belle Mountain – Lambertville, New Jersey (Mercer County) – Closed 1997
Camp Arrowhead – Marlboro, New Jersey (Monmouth County)
Jugtown Mountain – Bethlehem, New Jersey
Ski Mountain – Pine Hill, New Jersey – Closed 1986
Snow Bowl – Lake Hopatcong, New Jersey
Great Gorge – MacAfee, New Jersey
Holly Mountain – Lower Alloways Creek, New Jersey
Pine Needle Slope – Swartswood Lake, New Jersey
Snow Bowl – Hopatcong, New Jersey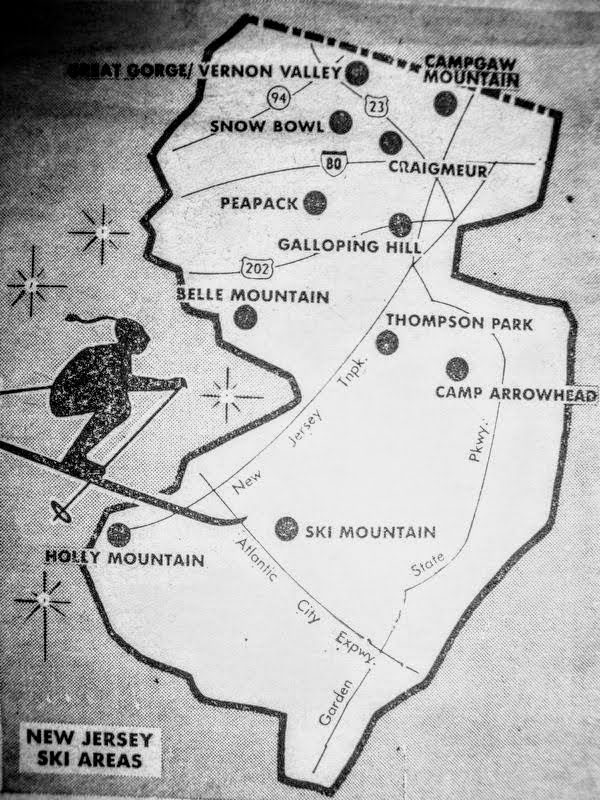 Active Skiing in New Jersey
Additional Information