NOTE: As with many Mr. Local History retrospectives, we often update the post when we learn stories and are sent photos from our community. We will continue to expand this piece as information becomes available.

Mr. Local History Project
The Mr. Local History Project is often asked to dig into particular historic events, historic properties, and historic people. Every February the nation celebrates black history month so we wanted to do some digging, and crowdsource to the local communities to build on honoring the month with stories of our own.
Robert Terry – Tuskegee Airmen and a Basking Ridge Pilot
You would think being black today and being a pilot didn't matter, and it doesn't. In fact it never did. But you put yourself in the shoes of Robert Terry and the Tuskegee Airmen and you learn there was a huge difference. The Mr. Local History Project takes a look back at this inspiring Basking Ridge resident and his story.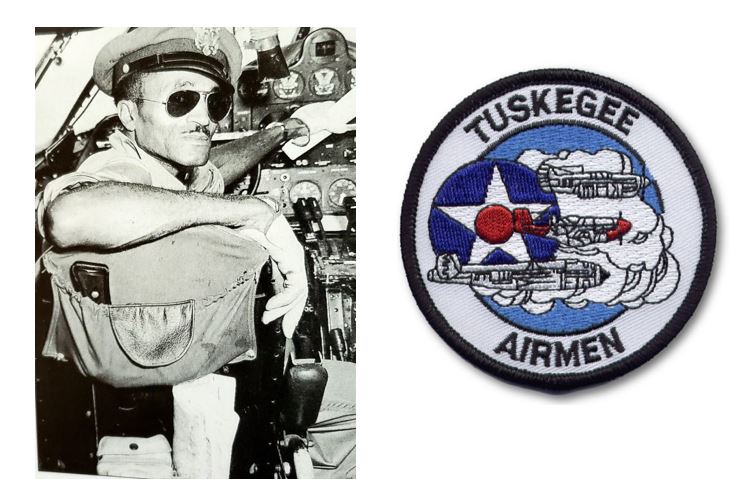 Every once in a while as township historian I get a tip on some interesting sidebar story about something local they'd like to see researched. After writing a retrospective about the Somerset Hills Airport in Basking Ridge a sidebar story appeared about an extraordinary pilot and instructor named Robert "Bob" Terry that learned to fly at the airport. He became the chief instructor and was recruited during WW2 to go teach black pilots how to fly and become fighter pilots. They became known as the Tuskegee airmen.
While the injustices of racial injustice continued in the US, these pilots showed exemplary gratitude and courage defending the principles of our nation. Robert Terry and his wife Estelle, who packed parachutes for pilots in Tuskegee was also a long-standing nurse at the local VA medical hospital for years. After the war the Terry family lived a quiet life just across the street from the airport on Lord Stirling Road. His son, Dr. Qaaim Saalik (Robert Terry Jr.) continued to promote art and history with his influential art and history. Dr. Saalik has passed the torch to his daughters Malika Ra and Dasha Bikceem. The entire community should honor their efforts and know their story.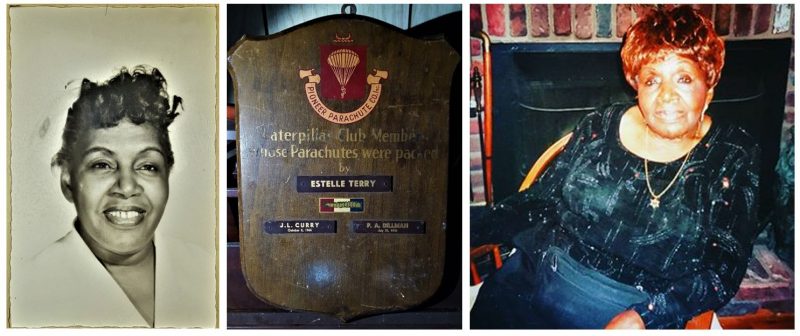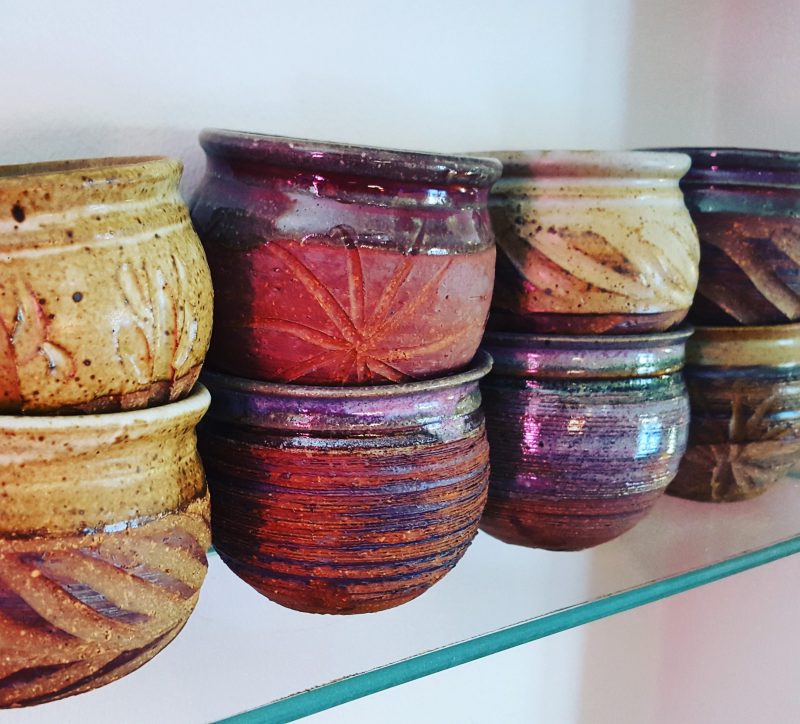 I urge everyone to read this story as well as the films that have surfaced about these incredible men and their pure American heroism. Their fight for inclusion showed inspiration, patriotism, and sacrifice that brought a tear to my eye.
---
Robert Aaron and his "God's Acre" in Bedminster
A burial site for the "Black People in the Neighborhood"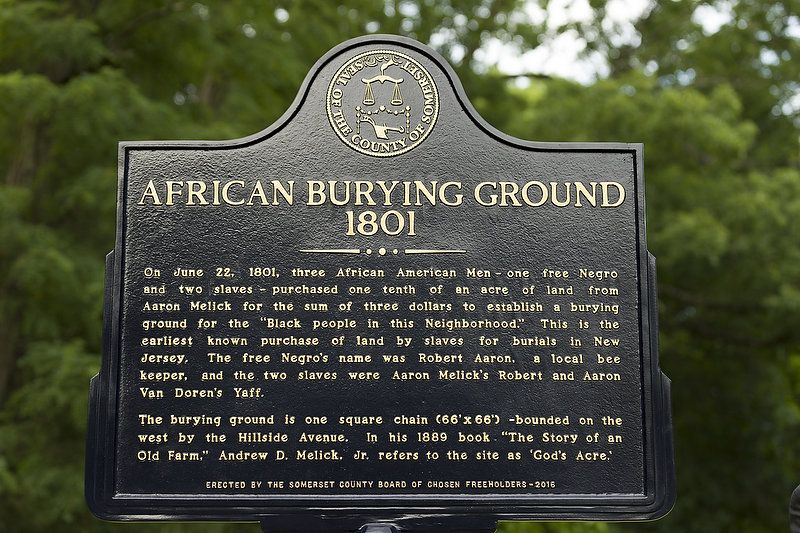 A great story that the Mr. Local History project learned while working with the Mayor Parker of Bedminster Township. The land was actually his and when he found out about the story, he gladly donated the land to the township and seeked to have both Bedminster and Somerset County support the effort to recognize the burial site.
African Burying Ground 1801: On June 22, 1801 three African Men – one free negro and two slaves – purchased on tenth of an acre of land from Aaron Melick for the sum of three dollars to establish a burying ground for the "Black people in this Neighborhood." This is the earliest known purchase of land by slaves for burials in New Jersey. The free Negro's name was Robert Aaron, a local beekeeper, and the two slaves were Aaron Melick's Robert and Aaron Van Doren's Yaff. The burying ground is one square chain (66′ x 66′) bounded on the west by the Hillside Avenue. In his 1889 book, "The Story of an Old Farm," Andrew D. Melick, Jr. refers to the site as "God's Acre."

Somerset County Freeholders
The Somerset County Historical Society did most of the research. "Eight people so far have been identified as having been buried in the African Burying Ground on Hillside Avenue between 1840 and 1850, according to church records obtained by the Somerset County Historical Society. And about 50 people total could be buried at the site, which dates back to 1801.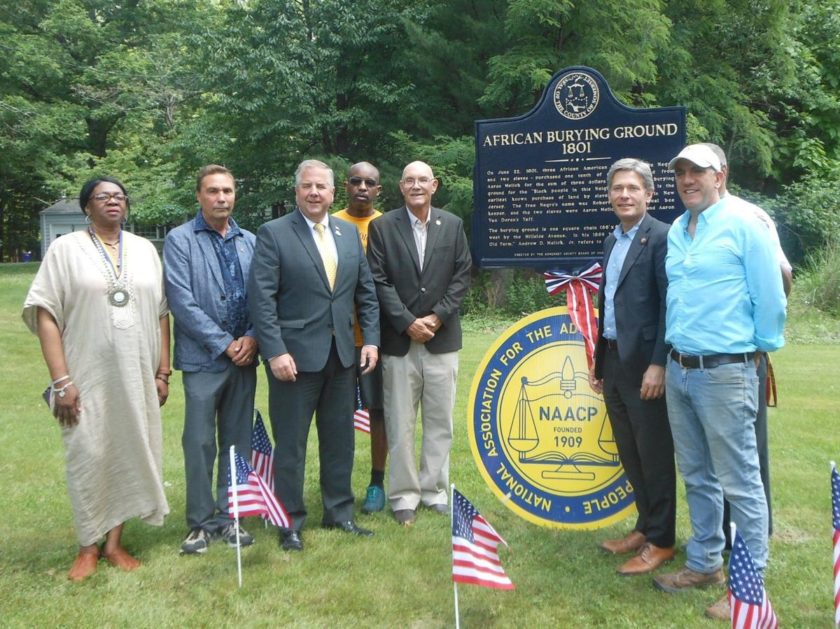 ---
Honoring Civil War Black Soldiers and others at the Lamington Black Cemetery
The Lamington Black Cemetery is an African American cemetery in the Lamington section of Bedminster Township, New Jersey, located on Cowperthwaite Road. It is also known as the Cowperthwaite African American Cemetery.
The cemetery is a contributing property of the Lamington Historic District, which was listed on the National Register of Historic Places on June 21, 1984.
This cemetery appears on the 1873 map but not the 1850. By deed dated June 1, 1857, Martin Kline conveyed .34 acres to the Trustees of the Presbyterian Church at Bedminster in the Counties of Somerset and Hunterdon for $55.00. The black community was historically an important part of Lamington. At one point there were twenty-five black members of the Presbyterian Church.
Although the cemetery was forgotten for years, the Lamington cemetery was rediscovered in the 1990s by William "Buzzy" Hundley. Hundley saw the condition of the cemetery and assembled a group of volunteers to clean it up. Through the efforts of Hundley and many other concerned citizens, the cemetery was cleaned, preserved, and rededicated on October 7, 2001.
Lamington Black Cemetery – 19th century burial ground on the National Register of Historic Places. There are 97 identified graves here: 36 with names and 61 unknown, including former slaves and free blacks who were members of the Lamington Presbyterian Church. Remains of 5 Civil War veterans who fought heroically for the Union are here. As you walk through the grounds, note the Bible passages on some of the markers and enjoy the feeling of peace.

Bedminster Historic Preservation Commission
"Historical records indicate that those buried in the cemetery, which belongs to the Lamington Presbyterian Church, were both slaves and freed blacks.
---
Liberty Corner Church
Black Cemetery Marker

"In memory of our brothers and sisters in Christ of African ancestry who were buried on this site from 1837 to 1865."He will wipe away every tear from their eyes and death shall be no more neither shall there be mourning nor crying nor pain any more. For the former things have passed away."

Rev: 21.4 – 2001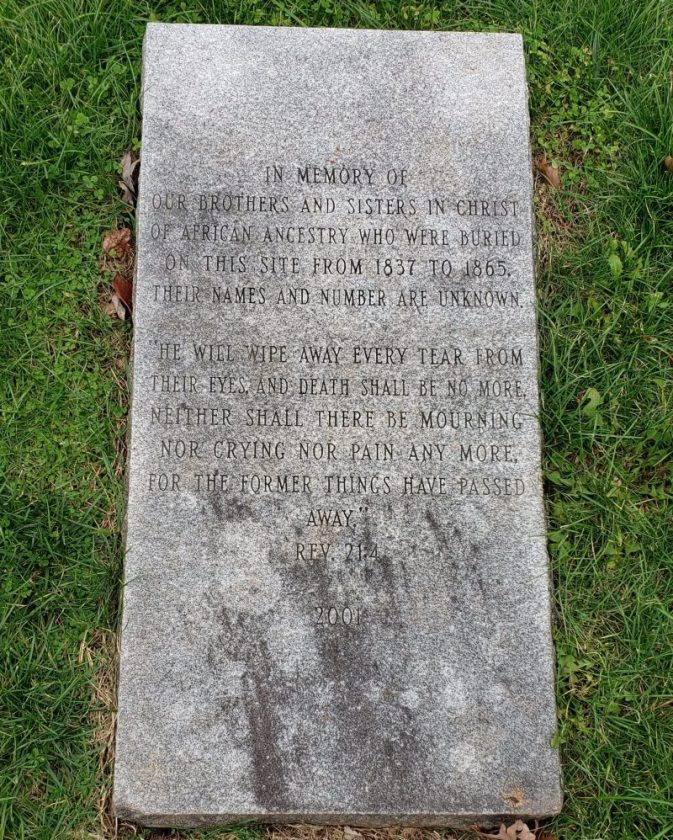 ---
Dr. Robert Finley's Life Work after Basking Ridge To Help Blacks, Defeat Slavery and Colonize Liberia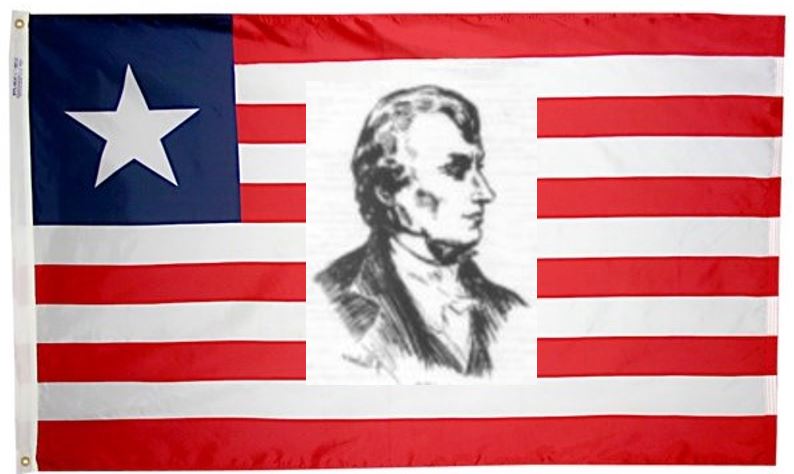 Dr. Robert Finley was a pastor for 20 years at a Presbyterian church in Basking Ridge, New Jersey, and also taught in elementary school and at a boys' academy known locally as the Brick Academy. His name honors his history and support when Main Street in Basking Ridge was renamed in his honor.
An abolitionist, as the name implies, is a person who sought to abolish slavery during the 19th century. Finley, an abolitionist, believed that black people would face better chances for freedom and prosperity in Africa than in the United States. Also, if there were a colony available to them where they could be resettled, abolitionists hoped to gain more manumissions of slaves and eventually end the institution. African Americans gradually moved into positions in the government. The Republic of Liberia declared its independence on July 26, 1847. Between January 7, 1822, and the American Civil War, more than 15,000 freed and free-born American black people, and 3,198 Afro-Caribbeans, relocated to the settlement.
---
Dr. Lena Edwards: Her Charitable Work at the Lyons VA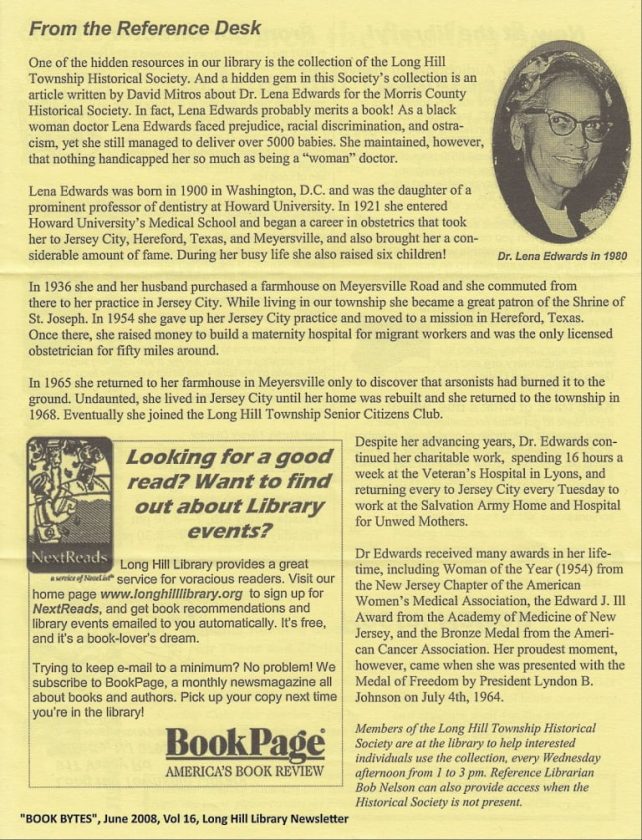 ---
Other Notable Black History Memories
Fifty years ago on February 3, 1972 this editorial was published in the Bernardsville News: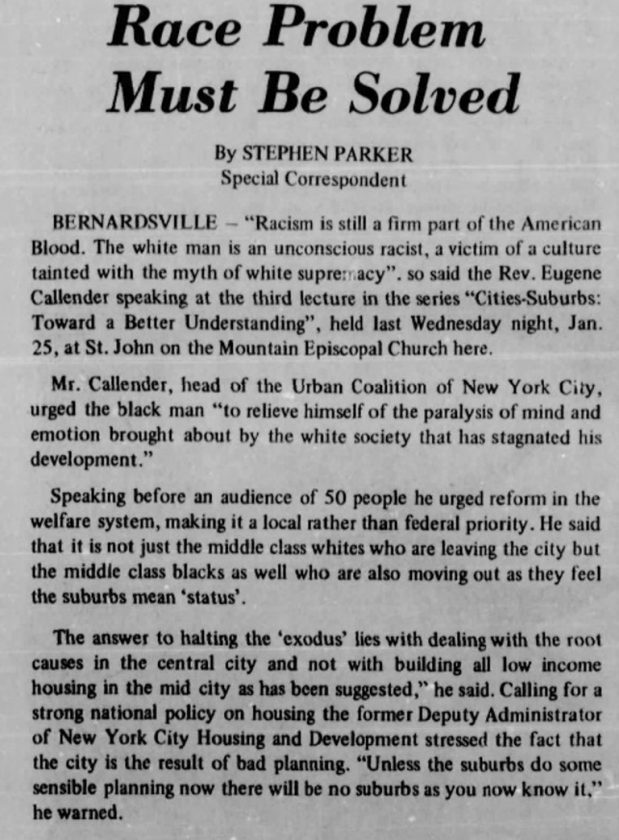 Basking Ridge Presbyterian Church –
Honor to Caesar Hand
The grave of a Negro slave, Caesar Hand, 1825-1883, Grave Number 328 is marked with this tribute from a grateful master: "Faithful and beloved." The epitaph was lost when this stone was restored. A survey taken in 1954 before Westminster Hall was built showed this epitaph.
Nathan Woodward, a former Slave at the Lord Stirling Farm, Born in 1791, Passes at 110.
We honor the former Basking Ridge resident, Nathan Woodward, a black man, familiarly known as "Uncle Nate," died in July 1901 at the age of 110 years. "Nate" was born at Whitehouse, Hunterdon County, and was owned by Simon Wyckoff, who sold him to Matthew Woodward. The record of the sale fixed beyond dispute the age of the old man.
Some years later Woodward sold "Nate" to S. Barckalow, who owned the Lord Stirling Farm, for a yoke of oxen. He married Sara, a slave owned by Mr. Bedell of Basking Ridge, and became He married Sarah, a Blave owned by Mr. Bedell, of Basking Ridge, and became Bedell's coachman. Sarah died about eighteen years earlier, at the age of ninety. Nate is buried in the Evergreen Cemetery off Oak Street in Basking Ridge.
---
History of Slavery and the Somerset Hills
Like all areas in the early colonial days, slavery was part of how agriculture was supported and was common practice. However, what many people don't remember is slavery was not just centered with blacks, as this area had white and indian slaves as well. They were often referred to as indentured servants.
By the days of the American Revolution, Dutch settlers were solidly ensconced In the Bedminster area, where the families of Lesser Crossroads were all said to have owned slaves. At one time there were known to be three slave cemeteries —one on Cowperthwaite Road, just south of Lamington Road, one where the Municipal Building now stands, and one near the Old Stone House on Old Dutch Road. Families in Bernards Township also had their share of slaves, according to advertisements of runaways in newspaper extracts from the collection in the New Jersey Archives. However, there seemed to be an equal number of "High Dutch" and Irish indentured servants who had taken rapid leave of their masters in both Basking Ridge and Bedminster, according to ads of the early days. There seemed to be no distinction among the various classes of servitude in the 1600's. Negro slaves, Indian slaves or servants, and white servants were all lumped together.
In 1798 in New Jersey a law was passed making it illegal for the the importation of slaves " for sale or servitude" into New Jersey. All free Negroes either living in or entering the state, were required to carry written certificates of freedom with them or be subject to arrest. Many of these laws were obviously designed to cut down the number of free slaves in the state. In 1714 the governor baldly stated that he was encouraging the entry of white servants "to better people the colony."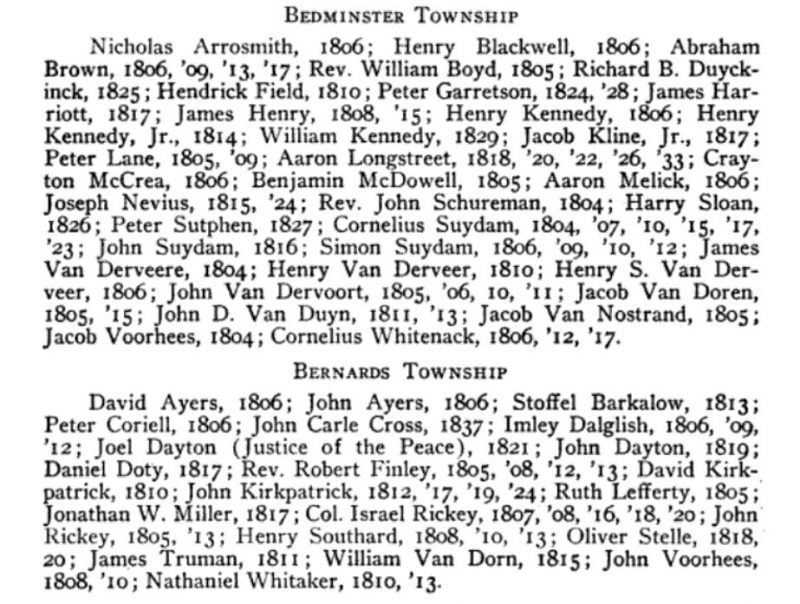 By 1776, there were about 10,000 slaves in New Jersey, up from a total of 4,600 in 1745. Then came the abolitionist movement, spearheaded by the Quakers. In 1804 an aet to free the slaves gradually, was passed, freeing children bom of slaves, although they tad to remain servants of the owner of the mother until age 25. A law finally abolishing slavery was passed in 1846. Freedom was not unencumbered; for slaves became apprentices bound to serve their masters until discharged. It took 200 years, but slavery was fast disappearing. In I860, there were only 18 slaves left in the state. Probably the last slave to die in Somerset County was Reuben Freeman (1835-1915) of Somerville, who had been a slave of William Annin of Liberty Corner.
---
Pingry School Celebrates Black History Month
Sit back and enjoy as the Pingry School in Liberty Corner honors and celebrates Black History Month.
Have a Black History Story to Share?
Post a comment if you have a story you'd like researched or posted to honor Black History Month in the Somerset Hills.
Read each of the stories: