Fagettaboutit. Mr. Local History welcomes author Fred Rossi for a chat about his book JERSEY STORIES. Virtual Discussion and Signing.
Get Fred Rossi's Jersey Stories Book today – write him directly at Fred T. Rossi [email protected] or find him on Facebook – Click Here
Air Date: Wed, October 28, 2020
LIVE VIRTUAL EVENT: JERSEY STORIES – "Stories you may not have heard about people and events in New Jersey's History" A Book Discussion. Why? How? And why these stories…..
Fred Rossi is coming out of the COVID shutdown with a vengeance. Join us as we talk with Fred about his book on lesser-known stories about interesting people and unusual events from the Garden State's history. Among the stories I tell: Albert Einstein's years living in Princeton, a teenage Bruce Springsteen's first time in a recording studio, President Garfield's death in Elberon, the country's first drive-in and fly-in theaters, a Garden Stater who almost became President, the Martian "invasion" of New Jersey in 1938, the Perth Amboy man who cast a historic vote 150 years ago, the arrest of the royal governor during the American Revolution, the Paterson silk worker who changed Italy's history, various "firsts" that took place in New Jersey, and lots more!
About Fred Rossi: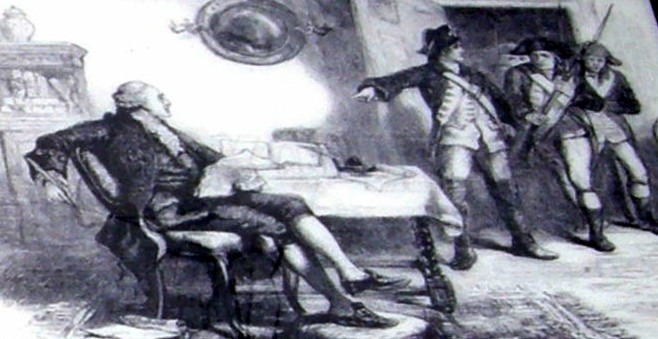 Fred T. Rossi, is a writer and journalist for over 30 years, has extensively researched some of the lesser-known stories about interesting people and unusual events from his home state's history. A resident of Scotch Plains and journalist, this is Fred's first book.
Above Image: Rossi lays claim to his own footnote in history, weaving the tale of his great-great-great-great-great-great grandfather, (six Greats) General Nathaniel Heard. A colonel in the rebel militia seeking independence from the British, it was Heard who on June 17, 1776 just before the Constitutional Convention was to be held in Philadelphia, arrested William Franklin, the Royal Governor of New Jersey and the son of Benjamin Franklin, for treason at The Proprietary House in Perth Amboy. " THANK GOD" MR. LOCAL HISTORY says!