As with all Mr. Local History retrospectives, we often update the post when we learn stories and are sent photos from our community. We will continue to grow this piece as information becomes available. If you have a comment or photo, feel free to post at the bottom of this page or drop us a note.

Mr. Local History Project
As many Bernards Township residents know about the Harry Dunham Park, very few people know about Harry Dunham the man. Mr. Dunham was born in Springfield, Massachusetts and moved to Basking Ridge. Let's dig in and see what we can find about Harry M. Dunham.
Harry Melville Dunham was born on 8 March 1920, in Springfield, Hampden, Massachusetts, United States, his father, Col. Arthur Andrew Dunham, was 30 and his mother, Mary Ellen Wright, was 23. Harry was a descendant of one of the Pilgrims who came to colonial America on the Mayflower.
After moving to Basking Ridge in about 1955, Harry served on the Planning Board for 20 years and was its chairman for 10 years during the 1980s at the beginning of the building boom in Bernards Township. Serving as Planning Board Chair was a daunting task to say the least as residential growth in the township almost doubled from 12,920 in the 1980 US census to 17,1999 in 1990. He was an engineer with New Jersey Bell for 34 years as many locals were, and he retired in 1979. He received a degree in electrical engineering in 1944 from Norwich University in Northfield, VT.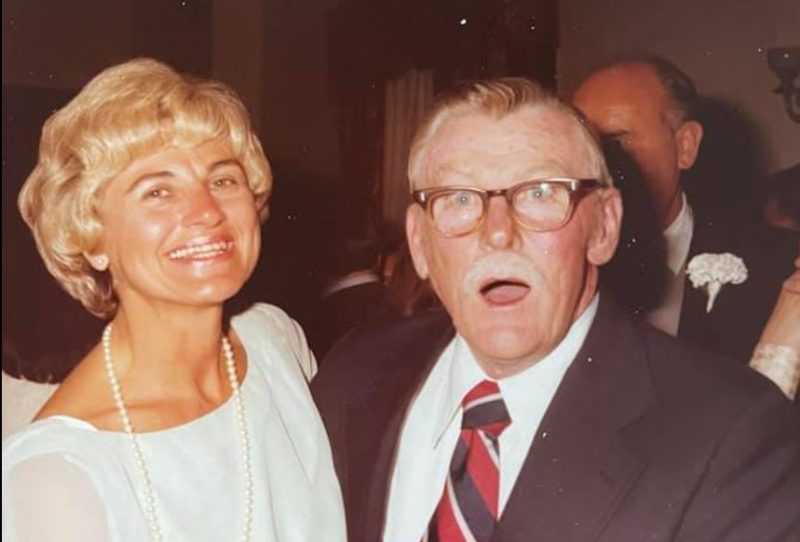 Harry and his family were summer residents of Harvey Cedars for 20 years. He was a captain in the Army's 805th Signal Corps and was a member of the Army Reserves. Harry was a charter member of Somerset Hills Lutheran Church, a member of its council and chairman of its building committee. He was a Republican committeeman and a former member of the Bernards Township Kiwanis Club. He had his wife, Margot W. Dunham; two daughters, Janet E. Seely of Chester and Deborah D. Glassner of Leawood, Kansas, and four grandchildren. Sadly, he passed on January 15, 1990 in Massachusetts at the age of 69.
The John Dunham Society
If your surname is Dunham or you have an ancestor (on either side of your parents) having the last name of Dunham then you may be a descendant of Deacon John Dunham. There are several Mayflower passenger connections interwoven throughout the descendants of Deacon John Dunham.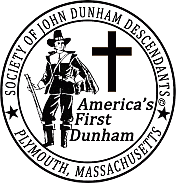 The John Dunham Society was founded by the descendants of Deacon John Dunham. The goals of the society are to maintain the honor, reputation, and lineage of the first Dunham in America. John Dunham came to Plymouth Colony, Massachusetts between 1628 and 1632, and he died 2 March 1668/9 at age 80. The ship on which he traveled to America remains unknown. Harry Dunham was proud of his heritage and did know the history well.
The Dunham Name
We found the defination and origins around the Dunham name:
English (chiefly Norfolk): habitational name from any of several places called Dunham, of which one is in Norfolk,England. Most are named from Old English dūn 'hill' + hām 'homestead'. A place in Lincolnshire now known as Dunholme appears in Domesday Book as Duneham and this too may be a source of the surname; here the first element is probably the Old English personal name Dunna.
The Park
At first, the open space was just that, open space. The Bernards Township Planning Board was considering the corner of Somerville Road and Church Street for a new retail commercial development space. It seemed as if a 40-acre tract, part of the Allan-Deane property, would be rezoned as a residential area with a conditional retail and commercial use. The board projected the property could accommodate up to 150,000 square feet of commercial and retail space. The recommendation, made in front of an angry crowd of about 150 residents, was never implemented by the Township Committee.
School – Retail Space – Park – Golf Course
The site was part of the 1,166-acre Hills Development Company tract before it was dedicated to the township for recreational purposes. The Hills development, which was approved for 1,886 homes, was nearing completion. Building the park was not always assured. In the 1975 township master plan, the site was earmarked for a future school.
In August 1992, after Hills had agreed to dedicate the site, the Township Committee rejected a proposal by the Diocese of Metuchen to buy a 10-acre portion for a future Roman Catholic parish. Committee members said they wanted to keep the l and intact. A contract to design the park was awarded to T&M Associates of Middletown in May 1994. Funding for the park was approved in 1998, with the groundbreaking occurring in March 1999. A dedication was scheduled for June 2000 but was delayed after one of the contractors defaulted.
As a dedicated volunteer and planning expert in Bernards Township, it was really a no brainer when the property was dedicated for recreational purposes and the Township Committee voted to name the area after Harry Dunham.
There was Almost a Golf Course
Peter Messina, former Township Engineer for Bernards Twp. noted in a brief discussion with MLH back in 2008, the United States Golf Association which had relocated just up the road from the park, was interested in expanding its presence down Liberty Corner Road and build a noteworthy golf course as part of the USGA campus. While the USGA never built the 18 hole course, they also had ideas of creating a 4-hole attraction at the USGA.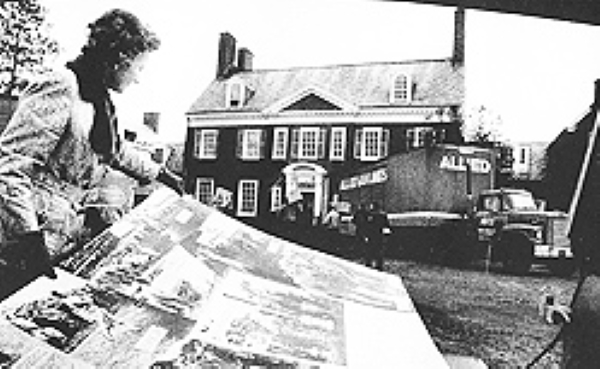 "The USGA course was going to be designed by Robert Trent Jones, and it would have been two holes down, and two holes back to the USGA house. We had a number of private meetings and discussions, but nothing ever materialized. So they then tried just down the road on the Church Street property. " While a course didn't materialize at what is now Harry Dunham Park, the only course that did materialize in the end was the development of the New Jersey National Golf Course which to the west of the USGA facilities, but has no affiliation to the USGA property." The park dodged a golfing bullet.
The 69 Acre Park
On Sunday, June 3, 2001 the park, consisting of 69 acres at Liberty Corner and Somerville Roads and bounded by the Dead River, was named for the late Harry M. Dunham.
"My father would be very pleased with the outcome of this park. I think it reflects his philosophy about how open space should be used."

Janet Seely of Chester, one of Harry Dunham's two daughters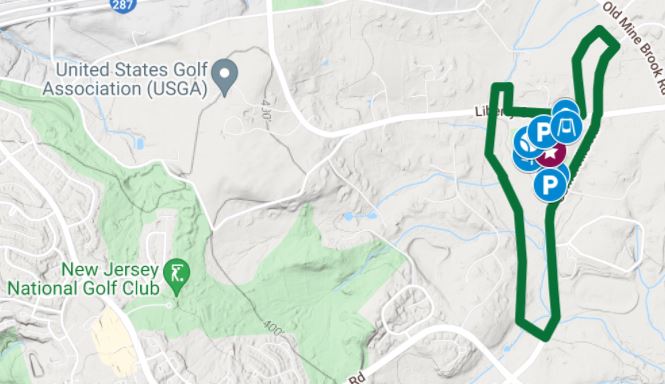 The park would have made Harry Dunham proud, relatives and friends of the late Planning Board member said at the 2001 dedication of the 60-acre recreation area that now bears his name. The park features a baseball field, a playground with swings and slides, a roller hockey arena, a soccer field and 30 acres of preserved land with walking trails along the Dead River. A 911 memorial was later added and dedicated in 2006.
This is truly a lasting tribute to Harry Dunham. It really is a realization of a dream come true. He was truly committed to open space, and here we are preserving open space."

Gaiianne Barth – Bernards Township Committeewoman
The park features a unique mix of active, passive and natural uses. It has a pavilion, a picnic shelter, a multi- purpose field, a baseball diamond, a roller hockey rink, a nine-hole flying disc golf course, a playground, a one-mile paved path, an .8-mile-long nature path and a wildflower meadow and a 9-11 memorial.
Parks Committee Chairman George Cunningham gave credit to Township Parks and Recreation Director Peter Wright and fellow parks committee members. He cited Linda Arnold for providing artistry, Anna Scanniello for identifying children's needs, Milton Washburn for giving the senior perspective, James Milito for lending an architect's insight and William Donzeiser for pursuing the $1.327 million in funding from the township.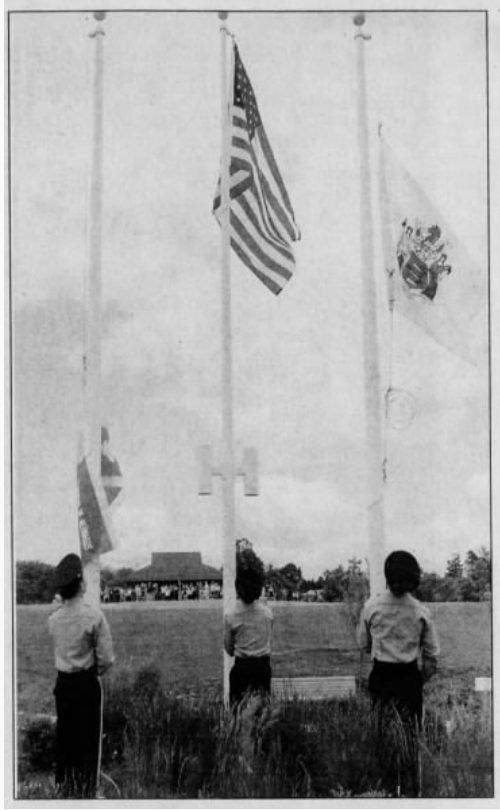 He was chairman of the Planning Board when I worked for Bernards Township. His thoughtful insight, and ability to see all aspects of the future of our growing community were outstanding. I especially remember his last few months battling the awful cancer that would eventually take him; there was a major development project underway, and he bravely soldiered on until that project was finished. I was so delighted when the park was named in his honor. No one deserved it more!

Kathryn Reusse Peer – Bernards Township Planning Board
The dedication of Harry Dunham Park was the first for a township park since 1986, Cunningham noted. "Fifteen years from now, this will be as beautiful as Pleasant Valley Park." "This park should have been dedicated last year," said Freida Babyack, a Basking Ridge resident who attended the dedication. "They kept having problems with the building, though," she said. Pete Messina, the project's manager and township engineer, said the original contractor had gone belly up and the township had to seek another contractor, which delayed the completion of the park. Somerset County Freeholder Denise Coyle was in the audience to see the dedication.
"I live close to here and I walk in the park, Parks like this give people the opportunity to talk to each other and enhance the sense of community. Even today, you see those kids out there on the swings, and people that you've never met will come up to you and start a conversation while you're pushing the kids on the swings."

Denise Coyle, Former Somerset County Freeholder and Bernards Township Resident
Additional Information