What has been coined the "Venice of New Jersey", the iconic Cranford Canoe Club in Cranford, New Jersey is starting the journey for a nomination to the New Jersey and National Registries of Historic places according to Brooks Betz, Board Trustee at the Mr. Local History Project.
The journey began when the last private owner of the Cranford Canoe Club was interested in recognizing the history of the iconic Cranford Canoe Club, the oldest operating canoe club and livery operation in New Jersey. "I couldn't believe that the Canoe Club in Cranford wasn't on the state and national historic registries so I presented the idea to start the nomination process," says Brooks Betz, who's family owned the Canoe Club from 1972 until being sold to the Township of Cranford. "I now have learned to appreciate local history and felt it's the right thing to do."
Betz started by presenting the idea to the Mr. Local History Project (MLHP), a non-profit volunteer organization that focuses on preserving and promoting local history in New Jersey. Betz presented the MLHP board with over 1,000 digital signatures requesting the Canoe Club be added to the registries. He also presented a resident survey identifying the Cranford Canoe Club as the most iconic historic venue in Cranford. "I was really amazed that the CCC was recognized as the most noted historic property in Cranford", stated Betz.
To raise awareness of the campaign, Brooks Betz then took the idea to nominate the Canoe Club to be added to the New Jersey Historic Village Miniature Collection which after being approved, a miniature wooden keepsake was created alongside an artist's rendering of the club on the front and the history on the back. A similar keepsake had been created back in the mid-1990s by the Cranford Garden Club.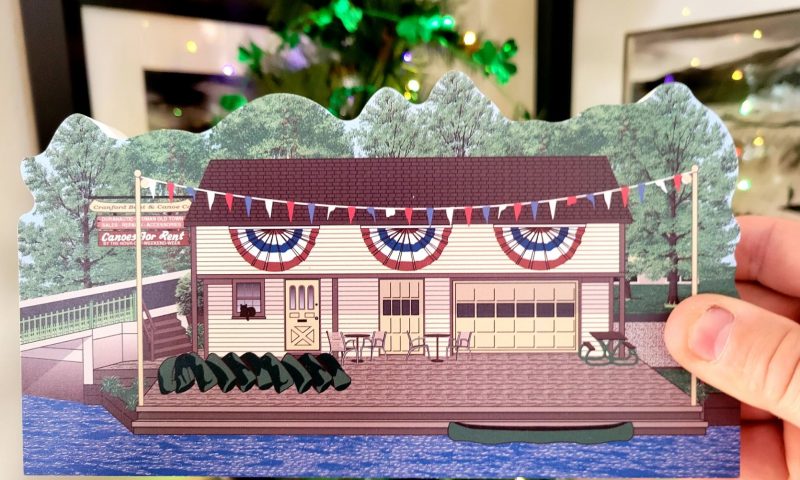 The Cranford Historic Preservation Advisory Board (HPAB) recently stated; "The Board is in complete support for you (MLHP) to get the Canoe Club listed on the State and National registries," according to Steven Saltzman, HPAB Board Member.
The nomination process does not limit use or restoration but it does allow assess to state and federal grant funds when restoration is needed. According to Betz, "Any recommendations and endorsements to the effort will be needed before we proceed. The HPAB and the Cranford Historical Society will be important local organizations to support the effort."
For additional information:
About the Mr. Local History Project
The Mr. Local History Project is a 501c3 all volunteer non-profit organization that brings locals together dedicated to "preserving and promoting local history with a social twist." The project started with New Jersey in the Somerset Hills with interesting articles, photos, games, contests and more. Since then, the group has expanded it's efforts across New Jersey finding new ways to preserve and promote local history with a social twist.
SURVEY: What are Cranford's Most Historic Icons