This Memorial Day, Bernards Township has a new monument honoring veterans and residents Robert & Estelle Terry's Tuskegee Airmen efforts. A granite slab with a bronze plaque, alongside two banners of Captain Robert Terry and his wife Estelle Terry surround the monument. The monument stands under a Somerset Hills Airport historical marker just a few hundred feed where Robert Terry lived, worked, and eventually passed.
Back in 2020, the Mr. Local History Project presented an extensive Retrospective of Captain Robert Terry and his wife Estelle (see below) and we're glad we did. A campaign to create a monument honoring Basking Ridge's Captain Robert and Estelle Terry began in 2021 amid the Covid pandemic, but became a reality in May 2022.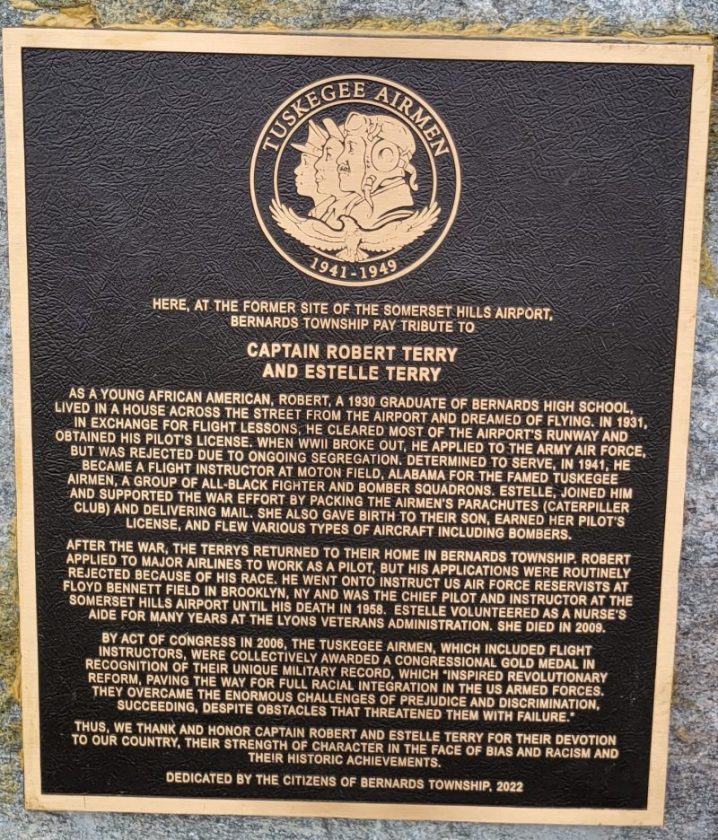 The Terry monument sits directly across the street from Basking Ridge's War Memorial Field on South Maple Avenue on the property of Lord Stirling Village. Five other memorials around Bernards Township honor fallen American soldiers who gave their life serving their country.
Learn about Robert and Estelle's journey by clicking the story after the transcript of the Terry's monument below:
Read More About Robert and Estelle Terry from Basking Ridge, New Jersey