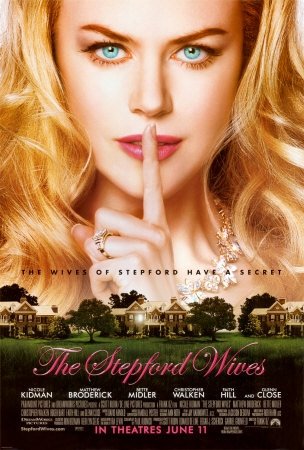 Did you know that portions of the 2004 film The Stepford Wives were filmed in Bedminster (Lamington), New Jersey?
Stepford stars in area to film movie remake
Nicole Kidman, Bette Midler perform in Bedminster, sleep at Bernards Hotel
The Bernardsville News
By SANDY STUART , Staff Writer 07/10/2003
BEDMINSTER TWP. – A picture-perfect barn complex and sunny skies greeted Nicole Kidman and a host of Hollywood actors this week, during the filming of a scene from the new "Stepford Wives" movie. Kidman, Bette Midler, Matthew Broderick, Glenn Close and Jon Lovitz were among the stars who joined some 200 extras – including many local residents – on a Larger Cross Road estate.
The filming of the scene, which depicts a Fourth of July fair in the fictitious upper-class town of Stepford, began Monday morning amid heavy security provided by the local police department. Filming continued throughout the day Tuesday and was scheduled to wrap up yesterday afternoon, Wednesday, assuming cooperative weather.
Many of the cast and crew members – including Kidman, Midler and director Frank Oz – stayed in luxurious rooms at the Olde Mill Inn in Bernards Township during the filming, according to sources. They were said to have checked out by Wednesday.
In the remake of the 1975 classic thriller, Kidman plays the role of Joanna Eberhart, who has just moved from Manhattan with her husband (Broderick) and children. According to publicist Marsha Robertson, the scene in Bedminster shows the Eberhart family meeting the townspeople of Stepford for the first time at a July 4 celebration.
Among those they encounter are Bobbie Markowe (Midler) and her husband (Lovitz), who are also newcomers to Stepford; as well as the town matriarch, played by Close. Other cast members include Faith Hill, Christopher Walken and Bernardsville native Roger Bart, an original cast member of the Broadway hit, "The Producers." Hill and Walken did not appear in the Bedminster scene.Read More »Stepford Wives of Somerset Hills (Bedminster)