For many the downtown village of Basking Ridge is a bucolic vision of a Rockwell American town. Dotted with small shops, churches, and eateries, you don't have to travel back in time too far when one of the biggest businesses in the downtown area was a car dealership. The Mr. Local History project takes you back to 1957 where we introduce you to the history of Werring Chevrolet-Olds right there where the current Basking Ridge Family Dentistry offices stand in 2020.
John H. Werring picked up where Ray Moffet ended taking a car dealership legacy that started all the way back in 1915 in downtown Basking Ridge. John started his automotive career in New York City back in 1946 where he worked as a Chevrolet salesman until 1951 when he moved to the Chevrolet Agency in South Orange. Then in 1955 Werring became a sales manager of Nicola Chevrolet in Summit.
But it wasn't until 1957 when John decided that Basking Ridge was going to be where he'd stake his automotive claim. John became a part owner Moffett Motors in Basking Ridge where he later bought the establishment and launched Werring Chevrolet Olds as owner and manager. Ray Moffett, who had owned Moffet Motors for the past 42 years stayed on with Werring. Moffet had been the oldest standing auto dealership in the Somerset Hills starting back in 1915 as a Ford dealer.
John H. Werring Jr and his family lived on Old Fort Road in Bernardsville. John became the vice president of the Somerset Hills Chamber of Commerce and was chairman of the soap box derby in 1962 and 1963.
In 1962 the one car showroom was converted into a new 10 car showroom. They lost the gas pumps as well. In 1969 it was noted that sales rose 10 times it's opening year and were selling over 600 cars per year. Werring also had a metal workshop and paint shop over in Stirling. He started out with 8 employees that grew in 1972 to 21 employees. Local Eric Alber was the Service Director and Harold Magee was the Parts Manager. Harold Behre was the head mechanic.
In 1987, Werring was Done and Ridge Chevrolet is Born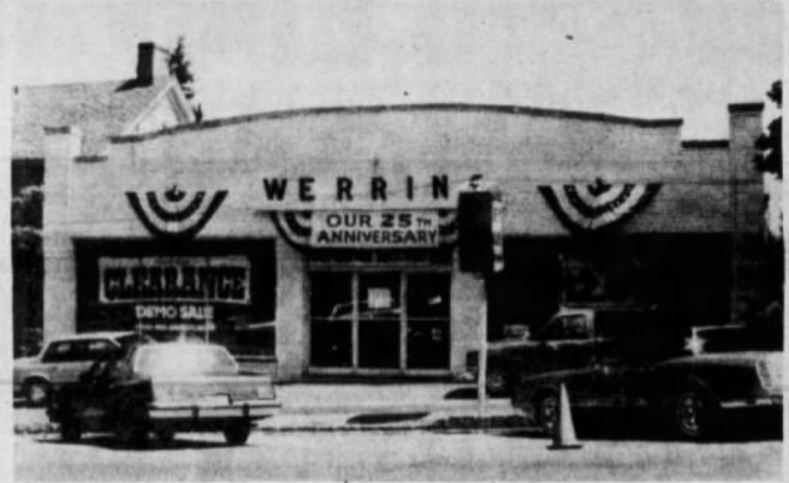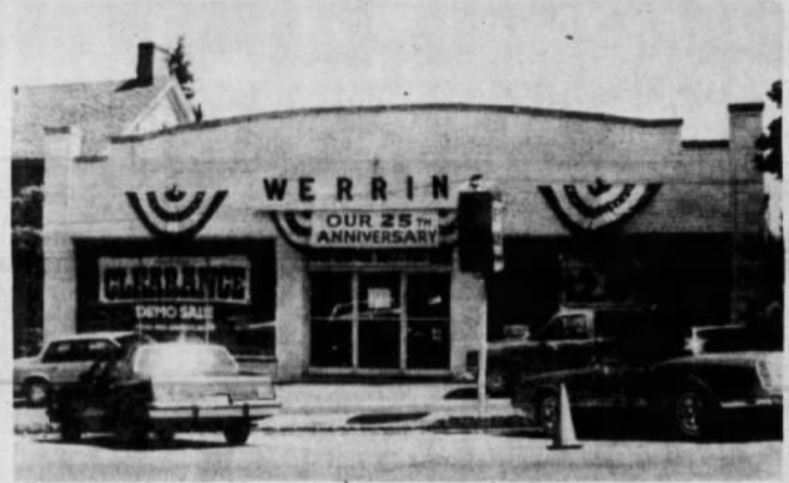 After owning the dealership for 28 years, John sold the dealership to a partnership in West Orange, as the facility changed names to Ridge Chevrolet. He commented that the lack of parking downtown was a major contributor to the demise of the dealership. While there were options on the table to relocate to the Lyons Mall, by the Olde Mill Inn, across the street from Wightman's Farm and even south of Liberty Corner (now Mountainview), nothing panned out. Werring also mentioned to reporters in 1985 that he had been trying to get out of the Finley Avenue location for almost 20 years. "I would still be a dealer if I had moved to Lyons Mall," Werring stated. "I just got burned out operating a business at a very poor facility."

The facility changed hands in 1985 to Ridge Chevrolet owner Michael Pace. Pace had over 21 years experience in the industry focusing on General Motors products. On their 1 year anniversary in 1986 they actually raffled off a VCR for those who visited the showroom.
1985 – The great parking lot debate
A battle had been brewing in the township going back to 1980 when the township committee looked into changing town ordinances to prevent businesses like car dealerships from the downtown landscape. Then in 1985, Bernards Township considered taking the Werring lot and turning it into a parking lot based on a consulting report done by the township. The building would be torn down and divided into parking and retail space. Cost estimates for the property ran from $31,000 up to over $675,000 according to Township Committeeman William B. Wahl.


Werring was also having conversations with Charles McNally's Lanidex Corporation who had developed Lord Stirling Village, Spring Ridge, and Countryside Manor.
Hanson's and Hampshire Properties Changes the Downtown Landscape
The Ridge Chevrolet showroom was vacated in February 1996 but a sale was hampered by on-site environmental issues. Those issues involved underground gas tanks and soil contamination. Township Engineer and Planner Peter Messina said Hampshire, which negotiated with Werring Inc. for months, is aware of the conceptual plan and agreed with demolishing the showroom building that was built in 1928 by Ray Moffett. At the time in 2001, Werring Inc. consisted of three partners Bernardsville developer Frank Petrozzo, Morristown accountant Michael Mondelli and John Werring.
In 2001, Hampshire Management Co. of Morristown signed the contract to purchase the quarter-acre site, long viewed as a focal point of downtown Basking Ridge, from Werring. In 2003 the new building opened Base Camp a hiking and outdoor store. The store lasted for 8 years before moving to Bernardsville in 2011.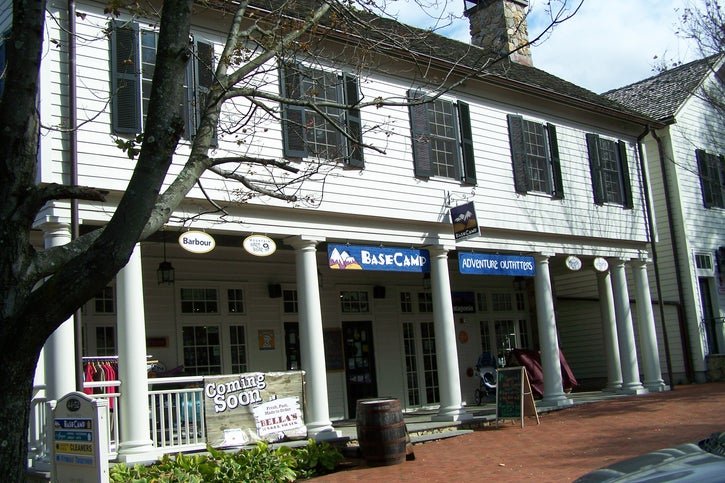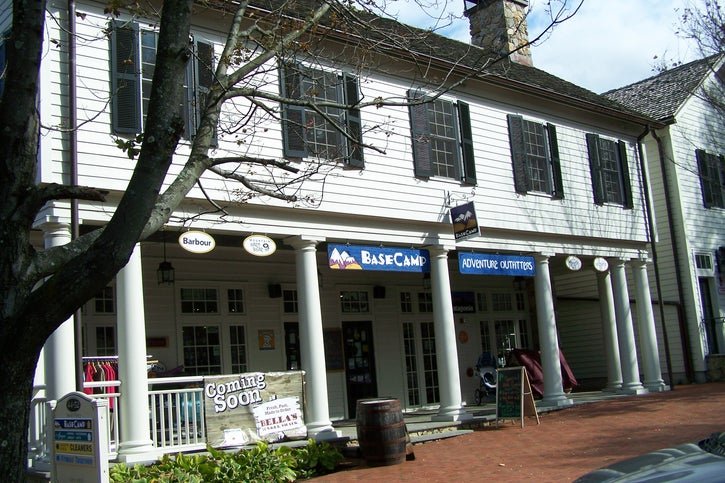 John Henry Werring Jr., 92, passed away in Savannah, Georgia on Feb. 2, 2019, resulting from the injuries sustained during a fall at his home. He was predeceased by his parents, John Sr. and Claire; his sister, Florence; his wife, Dolores; and a great-granddaughter, Elsa.
Did we get it right?
Share any stories you may have by posting a comment below.