Historic documents often meet their tragic ending with swiftness and tragedy. In 1850 in Bernards Township there was known to have been a massive fire at the home of the township administrator, burning all of the townships documents, including it's founding Charter. Now, with a bit a research and some digital technology, a local resident has recreated a rendering of the Charter of Bernardston.
The Charter History
On May 24, 1760 the Governor of New Jersey, Sir Francis Bernard was awarded it's official declaration as a township from England's King George II. The name of the town while originally was Bernardston in honor of the Governor, it later became Bernards Township, joining it's neighbors Bedminster and Bridgewater as officially chartered townships recognized by the thrown.
Recreating the Charter
The project started when at the 2016 Charter Day, volunteers from the Historical Society of the Somerset Hills (THSSH) couldn't locate their copy of the charter they had previously displayed at the annual Charter Day celebration. "After looking at what we had, I realized that even the copy of the charter we had was not the right charter, stated Brooks Betz, a local resident who volunteers at the local historical society. "After doing some digging, I found out that the charter we had was actually a journal entry in a Perth Amboy tax journal." After Charters were approved, they went to the regional tax office and paid a fee to officially register the document. Betz then set out to find it's similar Charter, the 1740 Bedminster Charter. "I couldn't believe what I found," state Betz. "Betz tracked down the original Bedminster Charter in a art gallery warehouse in Queens, New York". When I finally got to see the Charter of Bedminster in person, I realized that the wording was almost exactly the same. The monarchy used a charter template!"
After identifying the transcripts of both charters, the process to recreate the charter was fairly straightforward. The Charter replica is a combination of the wording from the Bernardston Charter and the "look and feel" of the Bedminster Charter, which most likely had the same dimensions, configuration, and similar graphics. Betz noted, "As they say, the rest was history."
The Charter's Future
The Historical Society of the Somerset Hills (THSSH), housed in the Brick Academy in the Basking Ridge section of Bernards Township, will be honoring the rendition of the Charter of Bernardston by presenting a framed copy of the Charter print to Bernards Township .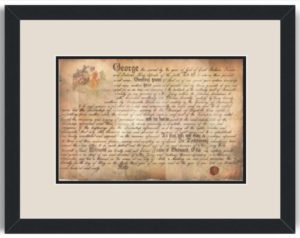 In addition, a new interactive exhibit is being created where people will have the opportunity to sign a copy of an enlarged charter during the 2017 Charter Day Streetfair & Festival . The Historical Society will also be making available a limited number of recreation Charter postcards during the Charter Day celebration, taking place Saturday, May 20, 2017. Stop by the Brick Academy and get one.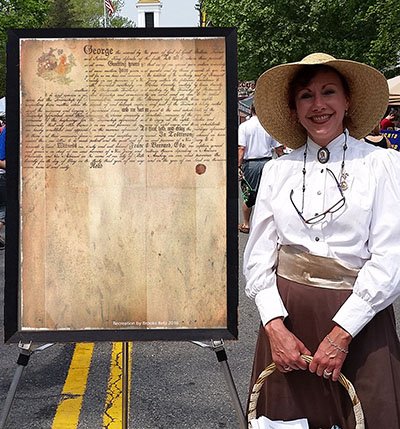 Additional Information
Story: The Lost Charters of Bernardston and Bedminster – Click Here
Event: Charter Day Street Fair & Festival – Click Here
The Historical Society of the Somerset Hills – Click Here