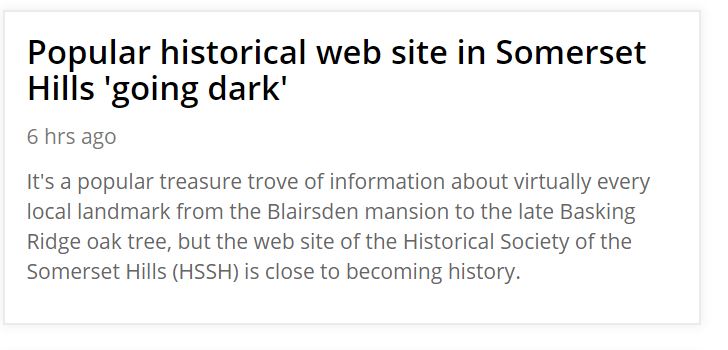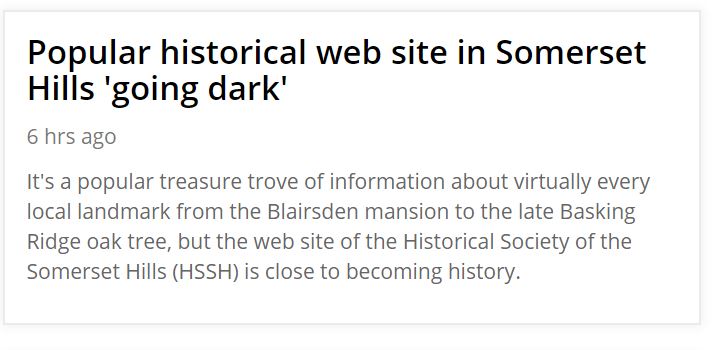 By W. JACOB PERRY Staff Writer March 19, 2019
It's a popular treasure trove of information about virtually every local landmark from the Blairsden mansion to the late Basking Ridge oak tree, but the web site of the Historical Society of the Somerset Hills (HSSH) is close to becoming history.
The site, www.historicalsocietyofsomersethills.org, now features a prominent, stark message by the "host provider" that says it is "going DARK" along with "hundreds of pages, thousands of images, and great news and interest visited by over 2,000 people a month." "If you like this site … don't let this site go dark!" the message says. It implores readers to tell HSSH Chair Sue Zibelli "you LIKE this site and want it." Phone and email contact information is provided.

At issue is a dispute involving Brooks Betz, an HSSH trustee and information technology professional who has long hosted and managed the web site through his company, T3 Consortium. T3 owns the web site domain. "It will be sad for the readers," Betz, a Bernards Township resident, said in an interview on Friday, March 15. "It's going away and it didn't have to." He said he expects to pull the site before Sunday, March 31.
The site's material will be indexed on the internet and preserved but will no longer be seen by the public, he said. Zibelli said in an email response to this newspaper on Thursday, Feb. 28, that the HSSH will launch a new web site. The new website will be "streamlined, easier to use, and more attractive, with an updated look that's welcoming to readers," she wrote."For the record, I also checked with the company that's developing THSSH's new website and they said we could reasonably expect to launch the new site by the end of April," she wrote in a March 16 email to this newspaper. "All of the content and images from the old site that are the property of THSSH will be available. We'll also have the ability to post to Facebook and Twitter from the new website."
Betz, however, voiced skepticism. "A lot of people don't understand the complexity of managing a web
site of this magnitude," he said. He said he and the late June Kennedy of Bernards Township, who died last November at age 90, wrote most of the histories on the current site. He said he has regularly added historical tidbits to keep it fresh, and has also had to scan images of several hundred illustrations, "one at a time."
"All the trustees are now responsible to write" content for the new web site, Betz added. "Half said there's no way they're going to get involved in writing for the web." Betz said that in the meantime, he has continued to provide historical facts and stories on a new site, mrlocalhistory.org.
Long History
The HSSH was established 91 years ago, in 1928. It changed its name in 1988 to reflect an expansion that added Bernardsville, Far Hills, Bedminster Township and Peapack-Gladstone. It is headquartered in the historic Brick Academy on West Oak Street in Basking Ridge.
Betz became an HSSH trustee in 2004. At the time, the non-pro􀃒t organization didn't have much of an online presence. He said that when he asked the trustees if he should create a web site for the HSSH, they eagerly agreed. The site was launched in 2006. In addition to being the HSSH webmaster, Betz also became the online communications chairman, handled online membership and events, and managed HSSH communication on Facebook, YouTube and Twitter.
Betz said he worked on a volunteer basis and typically put in four to six hours a week. He said money he put up to launch the platforms was reimbursed by the HSSH. Other than that, he said, the only HSSH expense was an annual fee for T3 Consortium to host the web site and provide site security. That charge was typically a "couple hundred" dollars per year and rose to about $350 last year, he said. "It was a fun project for me and I loved doing it," he said. The online work essentially ceased last October when Betz was issued a one-year suspension by the HSSH. He said the HSSH cited a variety of reasons but never gave him a chance to discuss them. He characterized the accusations as "just not real."
Zibelli did not address the reasons for the suspension. Betz acknowledged making "maybe innocent mistakes" such as the posting of a copyrighted cartoon figure. With copyrights, "sometimes you know and sometimes you don't know." But he said the HSSH leadership took a relatively minor incident and chose to assume there were many more. "They never talked to me in person," he said. "I was told they were going to build their own site."
In a letter to this newspaper this week, Betz said the HSSH's executive board "has made a spiteful decision to kill 13 years of work and hire a firm to start over." In the interview, he said the organization is spending $2,500 to have the new web site created by a business recommended by a trustee.
His letter went on to state that under Zibelli, "membership is down, programming is down, and trustees are at its lowest level in three decades. "The organization, under her watch, has a museum that's never open and a membership that has no programs," he wrote. "Her confrontational attitude is killing the 90-year-old society."
Betz said in the interview that HSSH membership has dropped from about 250 a year or two ago to 138 as of February. He said that during his suspension, the roles of online membership and programming have gone unutilized, meaning members haven't been able to renew online.
The 2018 annual report of THSSH, which was dated Feb. 5, 2019, and submitted by Zibelli, indicated that THSSH membership totaled 211, down from 220 in 2017.
In another historic society change, Dan Lincoln of Bernardsville, president of the HSSH for more than 20
years, has recently resigned. Betz noted that Lincoln is "doing a lot of work" in trying to restore the historic Dunster House in Bernardsville, and is also co-chair of the borough's Historic Preservation Advisory Committee. But Betz also said Lincoln was also "so frustrated with the current situation – the sheer bitterness and infighting going on." Contacted by this newspaper, Lincoln declined to discuss his reason for stepping down but said it was not related to the website issue.He was still listed as president in the 2018 report.
3/19/2019 Popular historical web site in Somerset Hills 'going dark' | Bernardsville News News | newjerseyhills.com https://www.newjerseyhills.com/bernardsville_news/news/popular-historical-web-site-in-somerset-hills-going-dark/article_4186bc88-919e