Join the community on December 4th in Bernardsville and Basking Ridge as they kick off the holiday season as the Mr. Local History Project is donating over 500 limited edition holiday cards to the community at Saturday's Basking Ridge tree lighting and the Bernardsville Holiday Parade.
Printed by Bernardsville Print Center's Rich Steinberg, there are two versions of the Mr. Local History Project holiday card; one for Basking Ridge and one for Bernardsville. The card symbolizes the local holidays in the area, bringing all the chance to share a bit of local culture and history of the two towns, according to Brooks Betz, founder of the Mr. Local History Project which is based in Basking Ridge, New Jersey.
Over the years the cards have come to symbolize the start of the holiday season as it's the only set of cards that represents everything local in Basking Ridge and Bernardsville. The cards were started back in 2017 and have turned into a classic holiday item. The original renderings of the villages of Basking Ridge and Bernardsville were created by Liberty Corner's own Linda Arnold, a dear local friend of the Mr. Local History Project.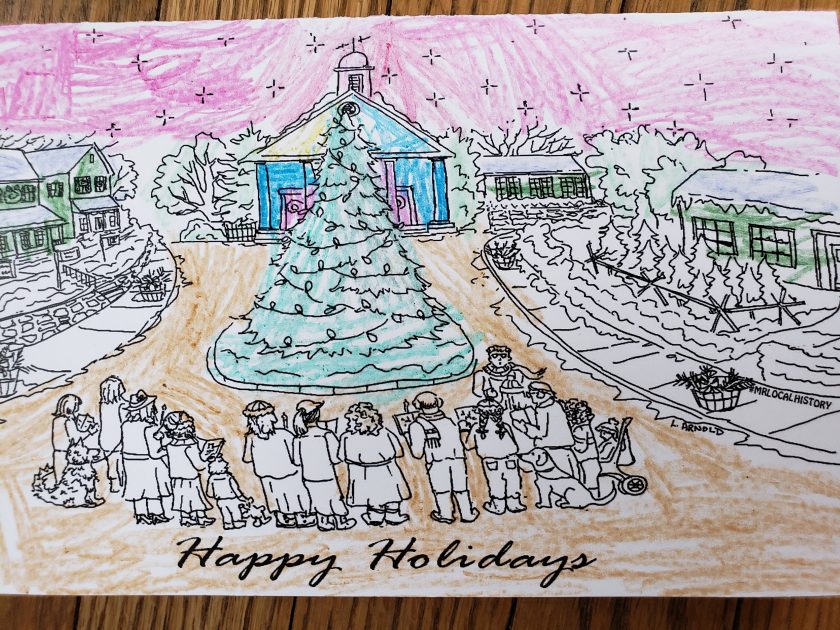 For the 2021 holiday season, the cards are again available as a fundraiser (Available Online via the Holiday Boutique), but the non-profit will also be giving away the card as a gift at the December 4 tree lighting in Basking Ridge at 5pm (at Ridge Family Dentistry), where you can also get a photo with Santa. A Bernardsville version of the card will be available on December 4 starting at 7pm for their annual Holiday parade. Two hundred cards will be handed out on a first come, first serve until they're gone.