Alexander Hamilton's New Jersey Roots – Morristown
Known as the "the cockpit of the american revolution," New Jersey has a rich history from the american revolution. During what was the 2nd winter encampment in Morristown, and the 4th in New Jersey, the winter of 1780 was the worst winter of the war to that point. In fact, historians state the winter of 1780 was the worst winter of the 18th century! Yet for some reason everyone thinks Valley Forge was the worst winter, yet it was Jockey Hollow's cold, snow, and disease filled winter that almost ended the war. There were 28 recorded snow storms. One snow storm dumped over six feet of snow on top of the current foot that was already there. Washington needed the troops to re-enlist for another year on December 31, 1779 and there was a huge uprising. The troops were going AWOL and America's future was in jeopardy. Yet with over 7,600 continental soldiers being frostbitten, tired, sick, and ready to abandon the effort, there was still time for a love story.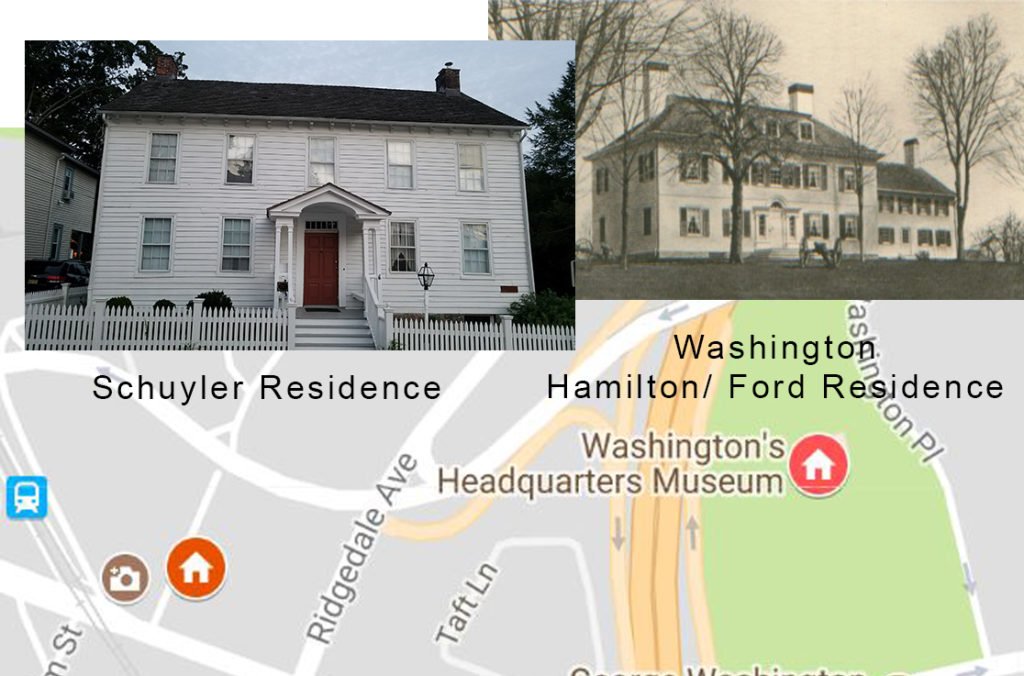 In December 1779, with General Washington in Morristown and the Continental Army stationed five miles south in Jockey Hollow, New Jersey is introduced to Alexander Hamilton. General Washington, Martha Washington, five aides-de-camp and , including Hamilton, and 18 servants stayed in the mansion. Widow Ford and her children also stayed in the house, which typically didn't happen. Hamilton spent the winter serving General Washington as his aid-de-camp. As aid-de-camp, Hamilton was responsible for coordinating the General Washington's correspondence to fellow generals on current strategies and next steps on behalf of the general. Both resided at the Ford Mansion in Morristown. "Washington usually chose the best house in the neighborhood for his headquarters," author Craig Mitchell writes in "George Washington's New Jersey: A Guide to the Crossroads of the American Revolution"
As an aide-de-camp to Gen. Washington from March 1, 1777 (1st Morristown Encampment) to April 1781, Alexander Hamilton served as aide-de-camp with a rank of lieutenant colonel and a monthly pay of US$33. On the battlefield, the aides-de-camp were couriers, delivering Washington's orders on horseback and gathering or relaying intelligence on enemy troop movement.
A Woman That Made Hamilton Forget the War's Worst Winter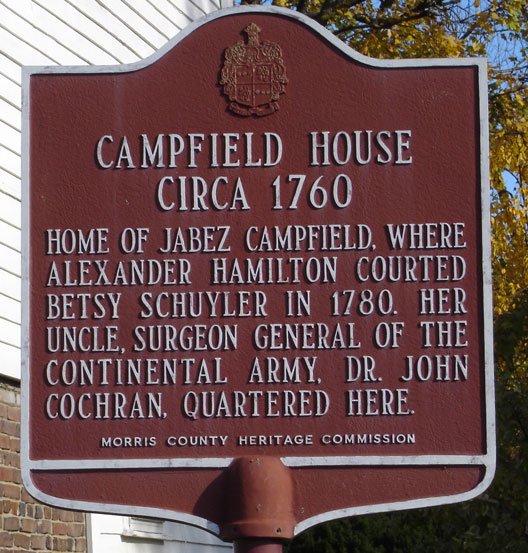 War efforts were typically slow in the winter. While the worst winter of the war was going on, one of the worst jobs as a soldier is the time waiting to fight. The sheer boredom often left many soldiers questioning the freedom cause. So what to do with spare time? They'd spend time with soldiers, colleagues, family and friends. Wives would typically join their husband generals wherever they camped for the winter. Being a general had it's privileges. The army would typically issue payment to homeowners willing to "rent" their house to the major generals for the Winter. These residents were sympathetic to the freedom cause and would rent their homes then typically bunk with nearby family for the duration.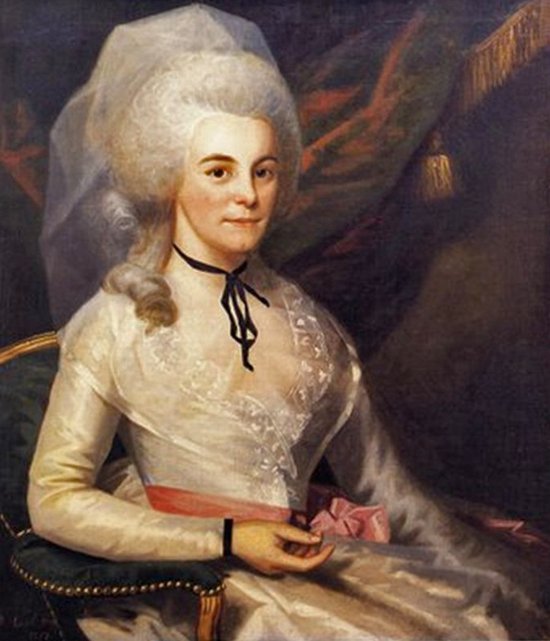 As the daughter of Revolutionary War General Philip Schuyler and heir to two of the wealthiest, and most influential families in New York state politics, Elizabeth, also known as Eliza or Betsey, was considered one of the most eligible singles. In fact, Hamilton on Broadway fans might have seen the playbill where it referenced the Schuyler sisters as "A Woman's World: Hamilton's Leading Ladies, The Schuyler Sisters, on Being the Kardashians of the 1700s."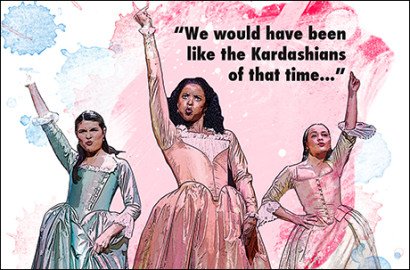 Image – Hamilton on Broadway Playbill – aka the Kardashians of the 1700s!
The play Hamilton made light of the fact that the Schuyler Sisters were looking for husbands.
Luck should have it in January 1780 as Alexander Hamilton was reintroduced for the second time to Elizabeth "Betsey" Schuyler, who by coincidence was visiting her Aunt Gertrude Schuyler Cochran and Uncle John in Morristown. Betsey's Uncle John Cochran was General Washington's personal doctor while in Morristown, The Cochrans were guests of Jabez Campfield, owner of the house at the time. "Washington and his officers hosted four to five dances throughout the winter. At one of those dances, Betsey Schuyler and Alexander Hamilton met," says National Park Service guide Kim Watts.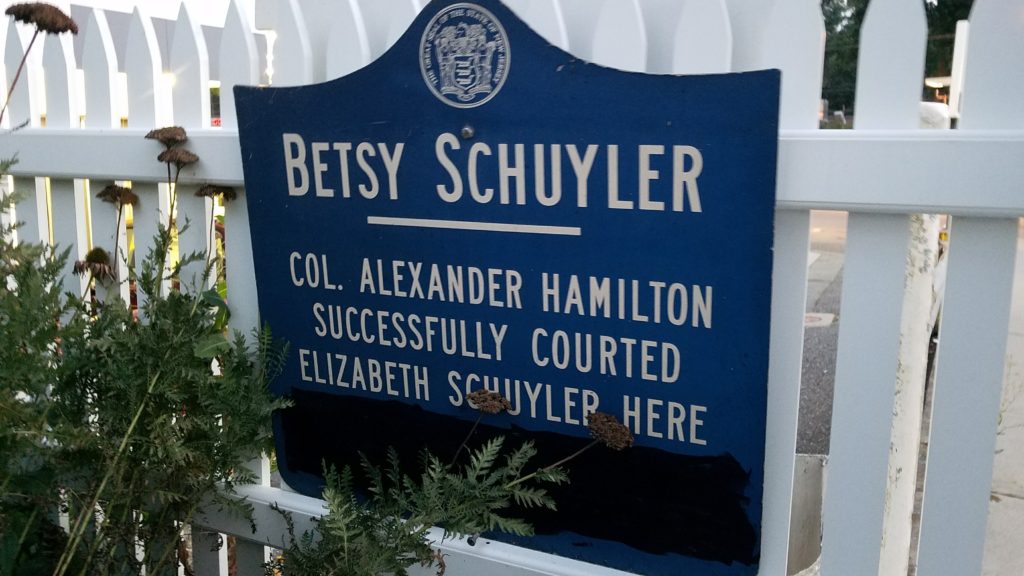 Elizabeth Betsy Schuyler
.
Elizabeth "Betsy" became close friends with Martha Washington, who traveled to live with her husband at the Ford Mansion in Morristown. Betsy visited Martha often. To get from the Cochran house to the Ford Mansion was a less than a 1/4 mile east or about a 5-10 minute walk. Betsey later said of Mrs. Washington, "She was always my ideal of a true woman."
Letters To Elizabeth
While Alexander Hamilton was a soldier in August 1780, he was struggling with the thought of his bride to be bringing herself down to a farmers level. At the time, Hamilton was also writing an attack plan to recapture Manhattan and Brooklyn from the British, so maybe that was the work he couldn't concentrate on while he was thinking about his beloved.
In a letter from Hamilton to Elizabeth in August 1780:
"… I can be happy in any situation, and can struggle with every embarrassment of fortune with patience and firmness. I cannot however forbear entreating you to realize our union on the dark side and satisfy, without deceiving yourself, how far your affection for me can make you happy in a privation of those elegancies to which you have been accustomed." "My heart overflows with every thing for you, that admiration, esteem and love can inspire. I would this moment give the world to be near you only to kiss your sweet hand. Believe what I say to be truth and imagine what are my feelings when I say it. Let it awake your sympathy and let our hearts melt in a prayer to be soon united, never more to be separated."
Click Here to read the entire letter.
Alexander Hamilton's love letters, found in the Columbia University Archives.
Engaged in April 1780 when Betsy was 22, the two were married 8 month later on December 14, 1780. Alexander was 23. They were married at the Schuyler Mansion in Albany, New York. Hamilton later called her his "nut brown maid".
Hamilton's devotion to and love for Elizabeth remained true and constant throughout the rest of his life. His letter to her, penned on July 4th 1804—a week before the duel with Aaron Burr, reads: "…With my last idea; I shall cherish the sweet hope of meeting you in a better world. Adieu best of wives and best of Women. Embrace all my darling Children for me. Ever yours A H. Elizabeth outlived her husband by fifty years. The deepest wish of her heart remained that she would be reunited with her Hamilton in the life beyond.
Alexander Hamilton Bio
Let's see a quick video bio on the life of Alexander Hamilton:
"The Worst Winter" – 1779-1780 Morristown
Back in the day, soldiering was a three season occupation followed by a winter standing down. Soldiers were still soldiers, but would normally not engage their opponent. While the American revolutionary war took eight years from the battles of Lexington and Concord (1775) to the surrender at Yorktown in 1783, For some reason, everyone seems to remember the Winter at Valley Forge. The weather took an especially harsh toll on the 7,460 patriot troops holed up with General George Washington in Morristown, N.J. Hamilton was rising in the military and had been an aide de camp to the Commander in Chief for over two years. Hamilton would spend much of the time at the Ford Mansion dealing with communications, planning, and counseling Washington.
American Fight for Independence Timeline – Click Here
Revolutionary War – Continental Army Winter Encampments
1777 – (Jan-May) Lowantica Valley Morris County, Chatham Township, New Jersey, Washington / Arnold's Tavern (Morristown). Hamilton fights in the battles of Brandywine Creek, Germantown, and Princeton. He is appointed a lieutenant colonel on George Washington's staff.
1777-1778 – Valley Forge – Washington / Isaac Potts House,
1778-1779 – 1st Middlebrook/Pluckemin – Washington / Somerville & others, Knox/Pluckemin, before this Hamilton fights in the Battle of Monmouth.
1779-1780 – 1st Morristown/Jockey Hollow – "The Worst Winter" Washington/Ford Mansion, William Alexander (Lord Stirling) / Basking Ridge. Before this encampment Hamilton writes to John Jay, suggesting that slaves be recruited to fight, and freed. Hamilton is still Washington's Aid-de-camp.
1780-1781 – 2nd Middlebrook – Washington/Thomas Ellison House (Windsor, NY). Before this encampment Hamilton marries Elizabeth Schuyler.
1781-1782 – 2nd Morristown Jockey Holllow – Washington/John Penn House (Phila.) – Hamilton quarrels with Washington, and resigns from Washington's staff.
1782-1783 – New Windsor, Hudson Highlands, Washington/Jonathan Hasbrouck House (Newburg, NY).
Alexander Hamilton's unique vantage point as a member of Washington's staff gave him a clear understanding of the effect of a weak Continental Congress had on the finances of the country, not to mention the inability to finance the army. In an extensive letter written at Morristown but never sent, Hamilton spelled out his own plan to solve the economic problems of the young United States. The plan centers around the creation of ―an American bank, instituted by authority of Congress for ten years under the denomination of The Bank of The United States.‖ Lessons learned at Morristown about government and finance would serve Washington and Hamilton well. Years later, they would be key players in creating and managing a stable financial system and a new Federal Government.
Nearby Generals
Nathaniel Green and his wife Catherine Greene would arrive in Morristown in November, 1779 and stayed at the Arnold Tavern in the center of the town. On January 29, 1780, Catherine Greene gave birth to a boy, Nathaniel Ray Greene, their fourth child.
William Alexander, one of Washington's closest and most trusted Major Generals, also spent the winter in the area. General Alexander, also know as Lord Stirling was a resident of Basking Ridge which was just 11 miles south of Morristown. His wife Kitty was also a very close friend to Martha Washington. So there's a certainty that Hamilton and Alexander met as well during the winter of 1779-1780.
So now our story has a legitimate tie to the Somerset Hills area and the now super famous Alexander Hamilton. From Morristown and Basking Ridge to Broadway.
Join The Historical Society of the Somerset Hills for a Private Tour of the Schuyler-Hamilton House/Museum
Private Tour and Brunch
Sunday, November 12, 2017 at 12:00
Brunch to follow at End of Elms around the corner.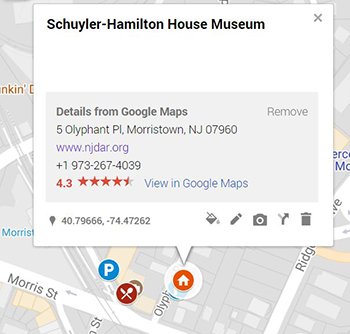 For details and to reserve your tickets – Click Here
Additional Information
People of Morristown 1780 – Click Here
Book: Jockey Hollow – Where a Forgotten Army Persevered to Win America's freedom