We lost 2019 to Charter Day to storms.
We lost 2020 Charter Day to Covid-19.
Now we lost 2021 Charter Day to Covid-19 AGAIN!

Get ready for a fun filled street fair and festival on Saturday, May 15, 2021 in the Historic Basking Ridge Village as Charter Day is BACK! SORRY, WISHFUL THINKING. IT'S CANCELLED (AGAIN). But the Township is now thinking about a fall alternative to Charter Day, so come back later.
On Charter Day – Add Your Photos to the Charter Day Instagram Wall.
ADD #btcharterday to your Instagram or Facebook post!
2022 will be the next celebration so come back next year as Bernards Township will celebrate the 257th anniversary of Bernards Township as we honor the 1760 Charter of Bernardston and the founding of Bernards Township.
Make your own history in 2022 by bringing your camera – or smartphone & post pictures of your friends, kids, pets, your festive table or any other Charter Day activities on our community Facebook page! We're also on Twitter and Instagram. Post and hashtag #btcharterday (see the online album below). Make your own history!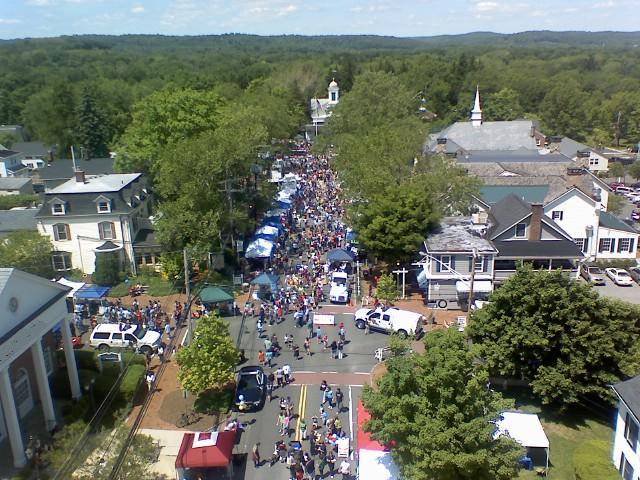 Celebrate Bernards Township History!
Expect visitors to the downtown Basking Ridge section of Bernards Twp celebration to reach over 10,000 as the festivities commence with the Town Crier conducting the opening ceremonies on the downtown green at 12pm.
Bernards Twp includes Basking Ridge, Lyons, Liberty Corner, and West Millington. The annual event, coordinated by the Bernards Twp Recreation Department is an annual event that promises to be a fun and festive day with food, games, rides for the kids, local vendors, art displays, service groups and reminders of history all joined together at this annual street fair and festival right in the heart of the Bernards Twp section of downtown Basking Ridge. The celebration started back on May 20, 1995 and has run every year since. The original Charter of Bernardston was signed May 24, 1760.
Typical Charter Day Schedule
12:00 Opening Ceremonies
Rest of schedule to be posted in April.
The Henry Street Stage Lineup:
Charter Day Idol
There is also an evening concert from 6 to 9 p.m. Amusements will be available from 11 .m. to 6 p.m. at Oak Street School Field. Food will be available all day from 11 a.m. to 8:30 p.m. and a shuttle bus will be available at town hall on Collyer Lane and at Ridge High School on Finley Avenue.
Why We Celebrate Charter Day
Charter Day commemorates the Saturday,May 24, 1760. anniversary of the granting of a township Charter by King George II of England, establishing Bernardston Township. This act was as a courtesy and in appreciation for the services of Sir Francis Bernard, Royal Governor of New Jersey. From January 27, 1758 to July 4, 1760 Sir Francis Bernard, son of a British Reverend was appointed for two years as Royal Governor of New Jersey.
First Charter Day – May 17,1995 honoring the May 24, 1760 event.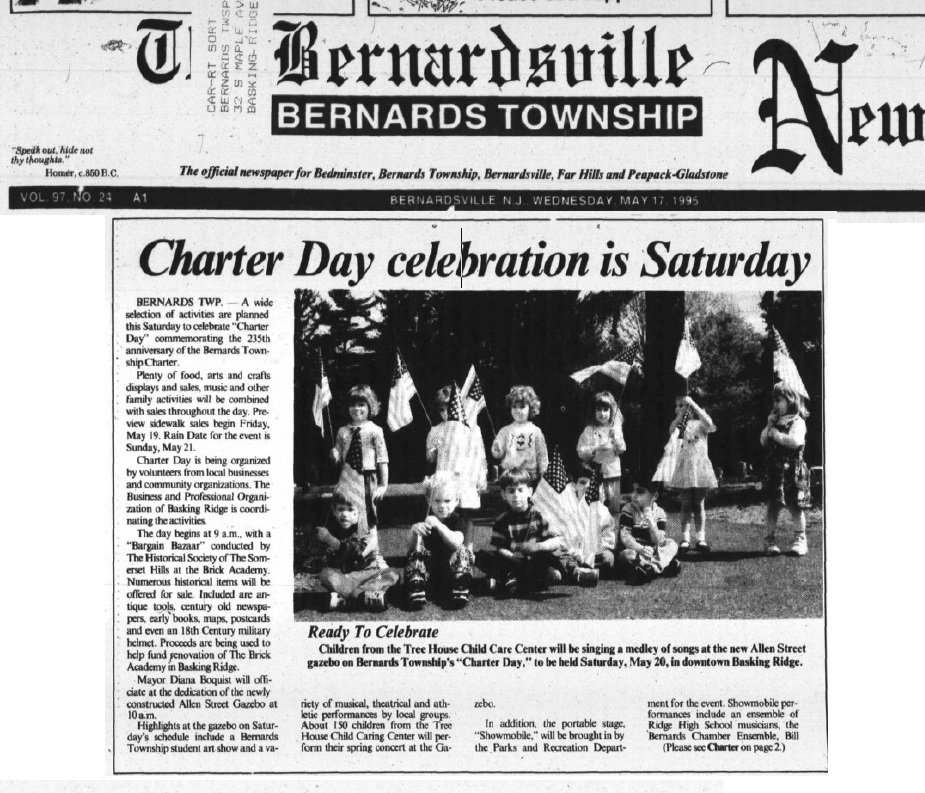 Vendors Notice:
Parking and shuttle bus available at the Municipal Complex on Collyer Lane and Ridge High School.
www.charterday.com is operated by the Mr. Local History Project to provide information and details as it relates to the history of the Charter of Bernardston, the history of Charter Day, and events sponsored by the Bernards Township Recreation Department and its volunteer organizations.
For additional questions about the Bernards Twp Charter Day Festival or
official information visit www.bernards.org
or contact:
Bernards Twp Parks & Recreation Dept.
1 Collyer Lane, Bernards Twp 07920
[email protected]
Tel: 908-204-3003
Realtime Weather Update