Local Lore –Flag Designer Betsy Ross and her Basking Ridge Ties
Betsy Ross's name at her death was actually Elizabeth (Betsy) Griscom Ross Ashburn Claypoole. Claypoole was a Morris County man.
June 14 commemorates Flag Day the birthday of the first U.S. flag, was supposedly made by Betsy Ross (1752-1836) at the request of George Washington.  It is also the best known symbol of America. Mrs. Ross, a seamstress, it's been disputed as to the original designer but apparently Ross came up with the idea of five-pointed stars. According to Ross's grandson, Ross was visited in her home in June 1776 by Robert Morris, George Ross (her husband's uncle), and George Washington, who asked her to create a new nation's flag. Betsy was only 24 years old at the time.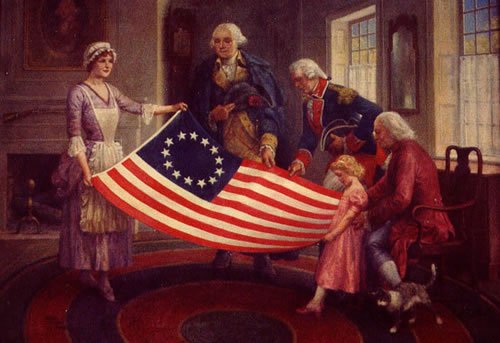 Born in Gloucester City, New Jersey on January 1, 1752, she died in Philadelphia at the age of 84 on January 30, 1836.  She was the eighth of seventeen children and was raised a Quaker, but was shunned by that denomination after eloping with John Ross, an Episcopalian.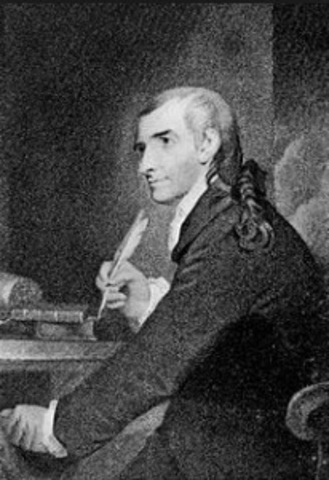 Burial Site
Today Betsy Ross's officially listed grave is at the Betsy Ross House on Arch Street in the city of Philadelphia. Or is it? Is it correct or just a front?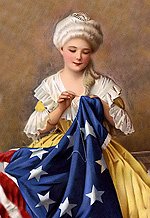 Betsy learned of her 2nd husband's death from her old friend, John Claypoole, another sailor imprisoned at the brutal Old Mill. In May of 1783, Betsy was married for the third time, the ceremony performed at Christ Church. Her new husband was none other than old friend John Claypoole.

Betsy Ross Claypoole convinced her new husband to abandon the life of the sea and find landlubbing employment. Claypoole initially worked in her upholstery business and then at the U.S. Customs House in Philadelphia. The couple had five daughters (Clarissa Sidney, Susannah, Rachel, Jane, and Harriet, who died at nine months).
Claypoole passed on in 1817 after years of ill health and Betsy never remarried.
Pennington Mentions Ross (Claypoole) Burial
Accounts that Ross was buried in Basking Ridge were prevalent in the early 1900s. When doing research for a book about the Bernards Township Library in 1995, I found scrapbooks compiled by the late Dr. William Pennington that revealed clippings about the Ross burial in Basking Ridge.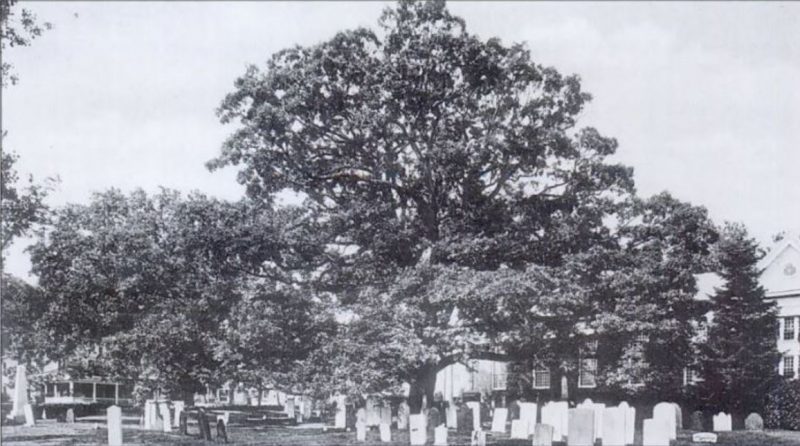 The earliest mention was in a July 4, 1876 speech given by E.M. Pennington (relationship to Dr. Pennington not known). He states; "Here lies the woman who made the first banner containing the stars and stripes after that honored old ensign had been adopted, June 14, 1776." The speech was made in the vicinity of the revered old oak tree (in Basking Ridge, NJ).
What Does the Betsy Ross House Say?
The Betsy Ross House reported that the seamstress had been buried three times due to city expansion. One problem is that burial records of the Presbyterian Church are incomplete. Ross was married three times and died as Mrs. John Claypoole. Her late first and second husbands were John Ross and Joseph Ashburn, respectively.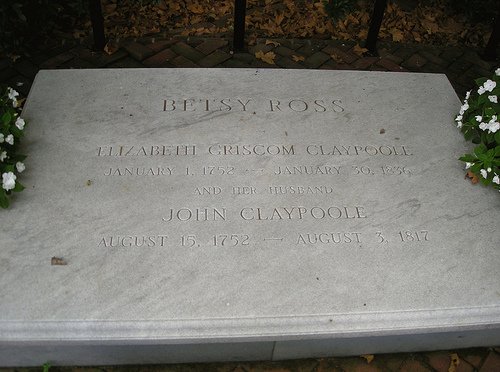 Ironically, the local historical society had a large framed broadside announcing the 100th Anniversary of America's freedom with a parade, picnic, etc. an oration delivered by E.M. Pennington, noted orator, on July 4, 1876. In his speech, he referred to the fact that "beneath our feet are the mortal remains of the woman who sewed our first stars and stripes."
In a July 4, 1876 centennial address, a noted orator referred to a spot under the oak tree as the final resting place of Betsy Ross, maker of America's first flag. In 1901 Sexton John Craig recalled seeing a tombstone for Betsy Ross but said it had mysteriously disappeared. There are 35 Revolutionary War veterans and those of the country's other wars buried at the cemetery.
The second reference in Dr. Pennington's scrapbooks was a June, 1901 news clipping: "Oak Marks Grave of Betsy Ross"; "Maker of the First American Flag Buried Under a Giant Tree in Basking Ridge"; "Her Headstone Has Been Stolen".
Residents of Basking Ridge were about to raise a fund "to mark the spot in the old Presbyterian Cemetery where they say lies the body of Betsy Ross," the article stated.
June 16,1901 Ross Story Comes Out Again
A Sunday, June 16, 1901 headline read :
A second article from the Philadelphia North American on June 21, 1902 carried the headline "Betsy Ross Supposed Grave to be Remarked". "Residents of Basking Ridge were about to raise a fund to mark the spot in the Old Presbyterian Church where they say lies the body of Betsy Ross" the article said…"John Craig, venerable sexton of the church, always points out to visitors the location of the grave at the foot of the giant oak."
Two other sources made a passing reference for the alleged burial site. The Revolutionary War Scene in New Jersey, written by Robert V. Hoffman in 1942 and "History of Basking Ridge", based on a play written by the Church of St James Holy Name Society in 1950. Inquires to the Betsy Ross House, Public Library of Philadelphia, Philadelphia Historical Society, and The Philadelphia Inquirer all proved negative. Officials insist Betsy Ross was interred in a park next to the home where she and her family lived at Arch Street in Philadelphia.
1942 Book mentions Ross Again
In 1942, a book about the revered historic 600 year old white oak in Basking Ridge, The Revolutionary Scene in New Jersey includes: "The tradition persists that Betsy Ross, who made the first American flag, is buried in the yard." Authorities in Philadelphia deny any truth to the above-mentioned references however; Betsy Ross was married three times: John Ross, Joseph Ashburn and John Claypoole. Presumably, she would have been listed as Elizabeth Claypoole at her death. In the 19th Century, there were Claypoole families residing in the Morristown area. John Claypoole was Betsy's third husband
Over the past two decades, more than half a dozen references to this story have been uncovered in the archives at the Brick Academy and in the files of the Bernards Township Library history room. The first mention appeared in a clippings scrapbook compiled by retired physician, Dr. William Pennington, who lived around the turn of the19th century and spent much of his life collecting newspaper articles.
Additional Information:
Learn about the first official American flag. Hint, it wasn't the Betsy Ross flag!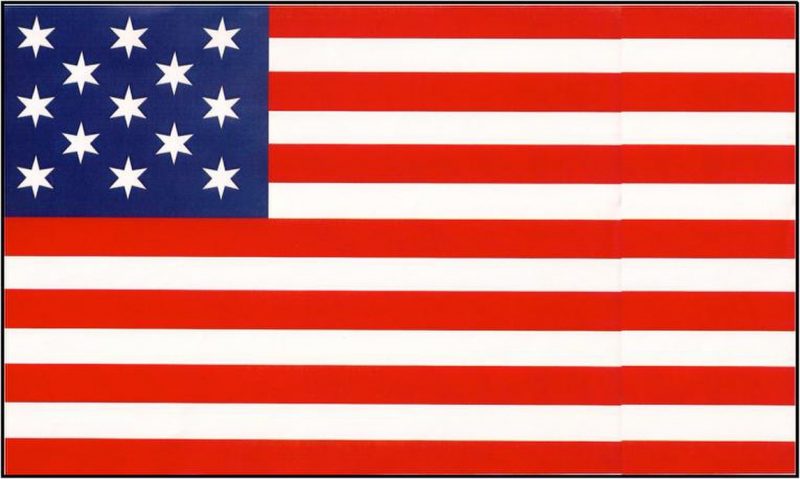 THE First American Flag and Middlebrook, New Jersey

Betsy Ross Facts and Footnotes
Betsy Ross was born January 1, 1752 and died at the age of 84 on January 30, 1836.
Betsy had 7 children, 5 of whom lived to adulthood. She had no children with John Ross, however.
At the age of 21, she eloped across the Delaware River to Gloucester, New Jersey, and was married at a tavern.
She was the 8th of 17 children.
She claimed to have done tailoring for George Washington.
John Claypoole and Betsy were married on May 8, 1783. A year later, Betsy returned to her Quaker roots when she and her husband joined the Society of Free Quakers.
In late May or early June of 1776, according to Betsy's telling, she had that fateful meeting with the Committee of Three: George Washington, George Ross, and Robert Morris, which led to the sewing of the first flag. See more about this on the Betsy Ross and the American Flag page.
She has been buried in three (maybe 4) different locations: Free Quaker burial ground at South 5th St. near Locust, Mt. Moriah Cemetery, and now on Arch Street in the courtyard adjacent to the Betsy Ross House. and now perhaps Basking Ridge, New Jersey
A major Philadelphia bridge is named in her honor.
Original article by Bernards Township Historian June O. Kennedy – Newsletter – May 2009 and June 2004.
Updated: Bernards Township Local Historian Brooks Betz.