If it wasn't for this event, the world might have had a different look.
Basking Ridge, New Jersey's most famous Incident occurred at about noon time on December 13,1776. General Charles Lee (1731-1782), was "alarmed" by Major Wilkinson while he was writing a letter to General Gates about George Washington in an upstairs bedroom of the Widow White's Tavern. Widow White's Tavern, named after Ebenezer White's wife Mary Brown White, became the centerpiece of Revolutionary War history on that day, because It was on this most unfortunate day for General Lee that General Lee became a prisoner of the British Army, leaving General Washington.
It was almost General Charles Lee over General George Washington until Basking Ridge Happened
There was no secret that General Charles Lee had disdain for General Washington. General Charles Lee, who had been captured in Basking Ridge on December 13,1776, was held by the British as a prisoner until exchanged in 1778. He once remarked, "Washington is not fit enough to command a Sergeant's Guard". Washington attempted to secure Lee's release through a prisoner exchange, but he had no captives of similar rank with which to bargain, and Lee remained in British custody for almost 18 months. Based on the capture, no one from Congress was willing to back Lee to lead the Continental Army and the position remained with General Washington.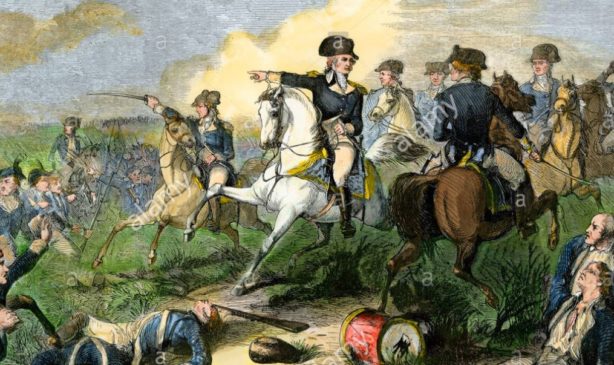 During this time Lee appears to have wavered in his allegiance to his adopted country. In 1858 a document titled "Mr. Lee's Plan, 29th March 1777" was discovered; it advised Howe on a way to defeat the Continental Army.
Up to the time of his death he continued to express animosity toward Washington as a "puffed up charlatan." In Lee's last will and testament he asked that he not be buried in a churchyard. "I have kept so much bad company when living," he wrote, "that I do not choose to continue it when dead." Despite these wishes, Lee was buried at the cemetery at Christ Church, Philadelphia.
Visit the Spot
It's very simple. If the British didn't find out that General Lee was at the Basking Ridge tavern he may have been able to sway the Continental Congress to select him as the Continental Army's primary General. Washington would have had to serve as a subordinate. Lee would have most likely retreated (as he did from the Battle of Monmouth) and as they say, the rest would have been history.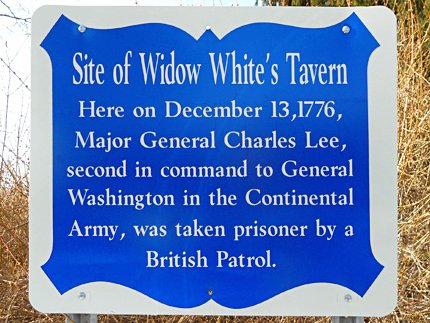 So next time you're traveling around Basking Ridge, stop by the sign post on the corner of Cedar Avenue and South Finley Avenue and remember the moment when Basking Ridge history changed the world forever.
Want to Know More?
Read Our Research
Article – Widow White's was more than just a Grog Stop
Article – General Charles Lee Timeline
Keepsake – a new wooden collectible honors the Widow White's Tavern