Basking Ridge, New Jersey
A mans love of country and his personal patriotism keeps American flags flying.
NOW HE NEEDS YOUR SUPPORT!
Nick Sant Foster served in the US Marine Corps reserve in the early 1960's. "Putting up the flags is an expression of love, love for our country." Our big problem right now is terrorism, which is fear, and the great cure of fear is love. Love heals fear." Foster notes that his efforts are just as important today as it was when he started. "I love this country and I love our flag", noted Sant Foster.
The American Flag Man courtesy of VideoTrekker Films
Have you ever seen those American flags on highway overpasses and wondered "Gee, I wonder who puts up those American flags on the highway overpasses?" Meet Nick Sant Foster, known locally as "The Flagman" who shows love of country and takes personal pride at his own expense to keep the American flag flying.
Sant Foster does not know who originally placed the flags on the overpasses, but suspects it was one person. In any event, "I've been really impressed how often people stop while I'm putting up or repairing a flag."
Sant Foster moved to Basking Ridge in 1996. Prior to that, Nick lived in Bernardsville (16 years) as a photographer and writer. The American flags cover bridges within a 45 mile radius including Interstate 287 and Route 78. Most of the flags have been 3'x5′. 4′ x 5′. Locally, you can find flags draping the Martinsville Road and Somerville Road I-78 overpasses, and Oak Street crossing Route 287. "Do you know why I use the big ones there?" asks Sant Foster, "Because that's the highest visible cross point in the area."
You might also have seen Nick in his spare time during the holidays. Sant Foster can normally be found at the Christmas Eve caroling event in downtown Basking Ridge dressed as the "Candy Cane Hat Man", handing out candy canes to the children on the town green. Again, he buys everything using his own money, year after year. Nick also volunteers at the US Veterans Hospital in nearby Lyons, New Jersey and also at the Woman's Correctional Facility in nearby Clinton.
The Flag Project
"Nick the Patriot Flagman" has been putting out his own personal money to hang American flags. Many have been blown away by this man's generosity and patriotism which is why I'm compelled to get his message out and help him raise the estimated $800 he spends every year hanging American flags on roadway overpasses.
Donate to The Flag Project
How can you help Nick the Flagman and The Flag Project? We at the Mr. Local History Project thought it'd be easier to raise $1 each from 800 people verses $800 from one person. So if you'd like to support this grass roots effort, we hope you'd consider making an online donation to support "The Flag Project".
LETS GET HIM HIS $800!!!!!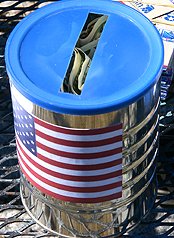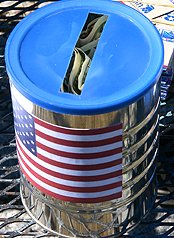 If you feel more comfortable sending a check,
please feel free to mail your contribution to:
Nicholas Sant Foster
24 N Finley Avenue,
Basking Ridge, New Jersey 07920
Keep the Flag Project campaign alive!
Donate whatever you can.
TWEET and FACEBOOK ABOUT THESE TRUE PATRIOTS:

Each one of these flags will be taken down after this event and used to replace the tattered flags along the area's highways, overpasses, and roadways that need replacing.
Where are the flagmen?
If you see Nick, or any of his flags, snap a picture and post it!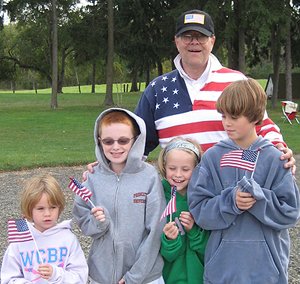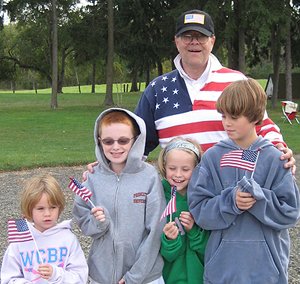 Flagman 2008 with some admirers!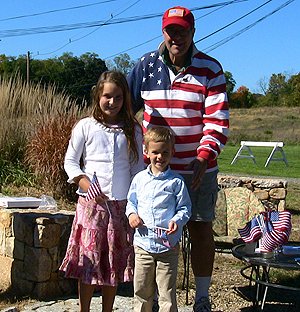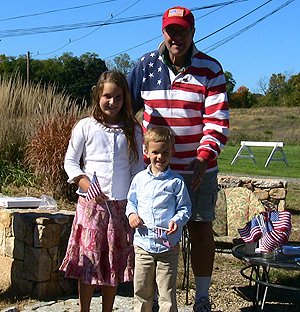 Nick the Flagman – 2010 – History Weekend – Boudinout House
It's a grass roots effort at its best!
Other Flag Stories:
Keep America Flags Flying
Flagkeepers.org – Welcome to the Flag Keepers Project Where you can help make America a better place! Click Here
Unflagging patriots Two men maintain post-Sept 11 highway displays of glory 5 Aug 2004
Joe Pouech – Tens of thousands of American Flags are displayed along the nation's highways. For a variety of reasons, many fall into neglect. And some are so neglected that they become rags. Every few weeks he replaces the old flags with new ones. More than 30 currently line the fence. Pouech estimates he has gone through about 500 in the nearly three years he has been maintaining the patriotic display. All told, he figures it has cost him about $3,000, not chump change for a guy renting a one-bedroom apartment near the highway and laying carpet for a living.
The Over The Road Project
The OTR Project drivers spot unserviceable flags, note their condition, and report the flags via our website or mail in the report. Click Here
Flagman in Orange County hits Roadblock
October 2006 Article – Steve Saville, a spokesman for the California Department of Transportation in San Diego said that because of the 2003 federal court ruling, the freeway right of way cannot be used for displaying U.S. flags. Click Here
Vegas council orders American flag down
A Las Vegas HUMMER dealer, Dan Towbin of Towbin HUMMER, has been ordered to take down a 30′ x 60′ American flag he's flown 100 feet above his dealership for a year because his neighbors have complained about the sound of the flag flapping and the obtrusiveness of its looming pole. Click Here
Barack Obama Stops Wearing American Flag Lapel Pin
WATERLOO, Iowa — Democratic presidential candidate Barack Obama says he doesn't wear an American flag lapel pin because it has become a substitute for "true patriotism" since the Sept. 11, 2001, terrorist attacks. Click Here
Mr. Sant Foster was a freelance photographer associated with the Image Bank (now part of Getty Images) and a photography teacher at Drew University. He is a former resident of Bernardsville and currently resides in Basking Ridge.