Mr. Local History Video Magazine
If you're not familiar with YouTube Channels, it's a great fun way to share original content as well as videos we have found and like. It our own TV channel. Below are just a few of the playlists we've compiled.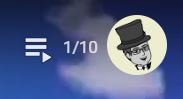 How playlists work – Each video window below is part of a playlist. On the upper left hand section of each video window is an icon like the one here. See all the videos that are part of that collection and select the one you like. Or just click the arrow in the middle and play them all in sequence.
Historic Mansions in the Somerset Hills
Historic People
The Blairsden Tour – Inside the Famous Mansion
Local Lore – Tales from the Darker Side
Historic Places
Videos WE Like
Visit our Full YouTube Channel
We're so glad you visited and hope you come back soon. Our full channel can be found by clicking the link below.